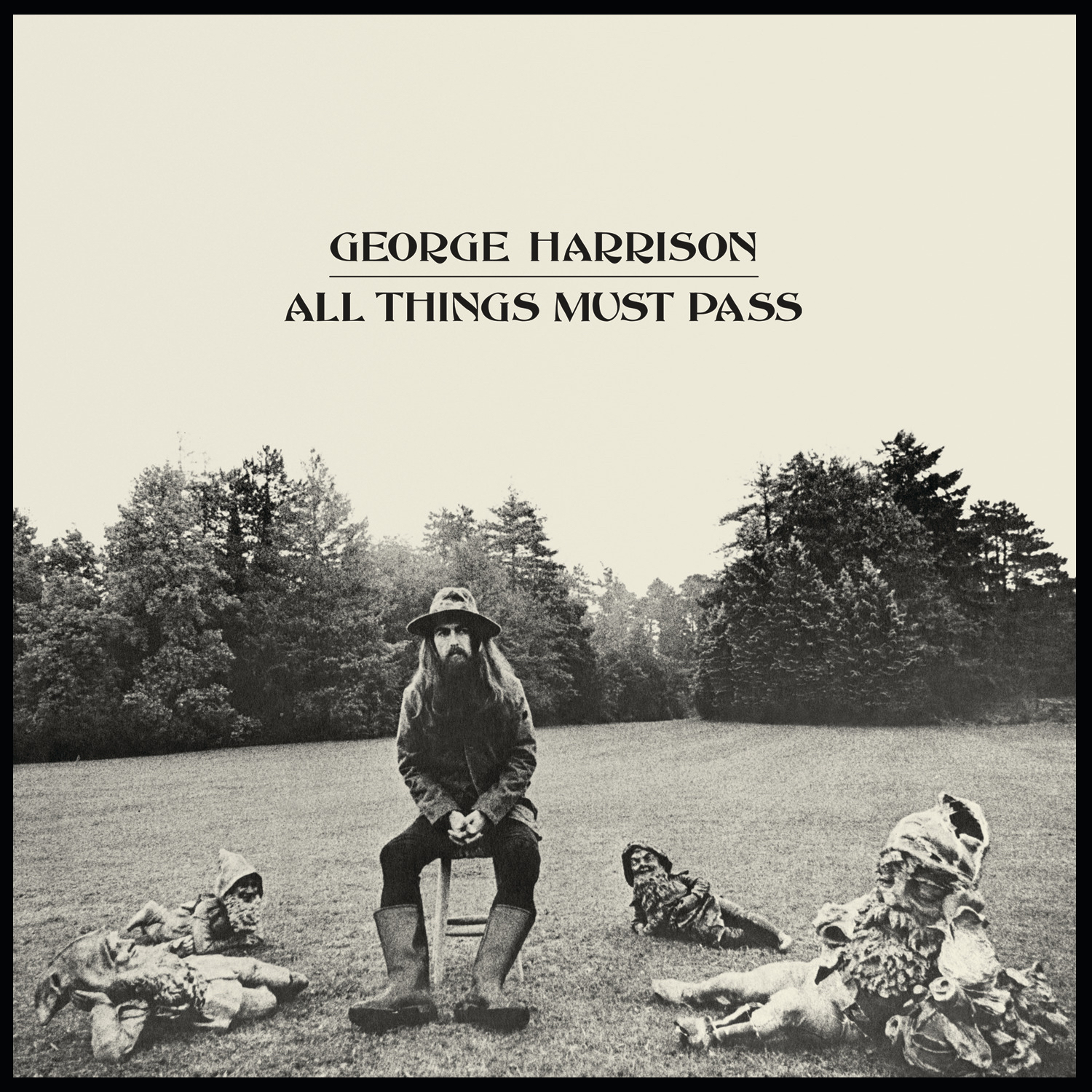 The quiet Beatle surprised everyone when he released this triple album (the first from a solo artist) masterpiece.
A
ll Things Must Pass
is a lot to digest. George Harrison's songwriting talent had long been suppressed in the shadow of Lennon and McCartney; and so, he had a lot of material saved up that didn't make it onto any of the fab four's releases. There are numerous in-jokes and even more guest appearances.
throughout the six sides, the playing is masterful. The sweeping, orchestral majesty of the ballads is balanced by the rawness and spontaneity of the apple jams. What I like most is that you can get lost in the individual songs, each of which is excellent in its own right. This album rewards repeated listens. It's message of love unfolds by degrees as you open to it, much like the spiritual quest it describes. It is a statement of the spiritual power of music, an enlightening and inspiring tour de force that stands as the pinnacle of Harrison's artistry. It topped the album charts on both sides of the Atlantic, sold six times platinum, and is the best selling solo Beatle record.
From the opening appeal of "let me in here, I know I've been here" in 'I'd Have You Anytime' (co-written with Bob Dylan) you know you are being brought into something very warm and intimate. I like to think that it's a message to all of us from God; not an angry or judgmental God, but a loving and accepting God.
The title track is a mystical ballad inspired by the
Tao Te Ching
that uses sweeping horns and strings to describe the cycles of life: "daylight is good at arriving at the right time." As the sun sets in one place, it rises in another: "it's not always going to be this grey."
'Run of the Mill' is a horn-driven call for spiritual responsibility. It seems to take on the perspective of God, gently reminding us the karmic lesson: "only you'll arrive at your own made end, with no one but yourself to be offended. It's you that decides."
'What Is Life' kicks off with an upbeat guitar and a driving horn section. When the chorus asks "what is my life without your love?", it's unclear whether it is romantic or spiritual love or even whether it is from the perspective of man or God. In any case, it's one of the most immediately catchy songs on the album. As the second single, it made it to number ten on the U.S. charts.
'The Art of Dying' is a hard rocking treatise on the cycle of reincarnation and karma: "living through a million years of crying." The soaring guitar borders on acid rock and takes everything up a notch, spiraling out of control in a dizzying wail.
George advises us to seek the light in 'Beware Of Darkness'. "Sadness", "hopelessness", "greedy leaders", and "Maya" all tie into the same pernicious sense of despair that will "take you where you should not go."
The rollicking wall-of-sound (this is the one song that doesn't sound any different on the cd version) of 'Awaiting On You All' reminds us that God is there waiting for us to connect with him, and that we don't need a lot of the things we are led to believe we need to do so. There is a controversial couplet that you have to listen hard to decipher (since it isn't included in the printed lyrics): "the Pope owns fifty one percent of General Motors; the stock exchange is the only thing he's qualified to quote us." There is no monopoly on God.
The instrumental jam 'Out of the Blue' starts suddenly; and it sounds much better on the reissue following the abrupt finish of 'Pepperoni' than it did on the original release starting side five.
My favorite of the apple jams; i
t is also the longest and the most intriguing. It gallops along and gradually slows down to a thoughtful and atmospheric walk that builds up again to charge through to a dynamic conclusion that closes the new version of the album.
All Things Must Pass
full album:
1, 00:00:00 "I'd Have You Anytime"
2, 00:03:00 "My Sweet Lord"
3, 00:07:39 "Wah-Wah"
4, 00:13:20 "Isn't It A Pity (Version One)"
5, 00:20:34 "What Is Life"
6, 00:25:02 "If Not For You"
7, 00:28:37 "Behind That Locked Door"
8, 00:32:08 "Let It Down"
9, 00:36:04 "Run Of The Mill"
10, 00:38:59 "Beware Of Darkness"
11, 00:42:52 "Apple Scuffs"
12, 00:46:02 "The Ballad Of Sir Frankie Crisp (Let It Roll)"
13, 00:49:53 "Awaiting On You All"
14, 00:52:42 "All Things Must Pass"
15, 00:56:30 "I Dig Love"
16, 01:01:31 "Art Of Dying"
17, 01:05:15 "Isn't It A Pity (Version Two)"
18, 01:10:02 "Hear Me Lord"
19, 01:15:53 "Out Of The Blue (Apple Jam Sessions)"
20, 01:27:10 "It's Johnny's Birthday (Apple Jam Sessions)"
21, 01:28:02 "Plug Me In (Apple Jam Sessions)"
22, 01:31:22 "I Remember Jeep (Apple Jam Sessions)"
23, 01:39:32 "Thanks For The Pepperoni (Apple Jam Sessions)"