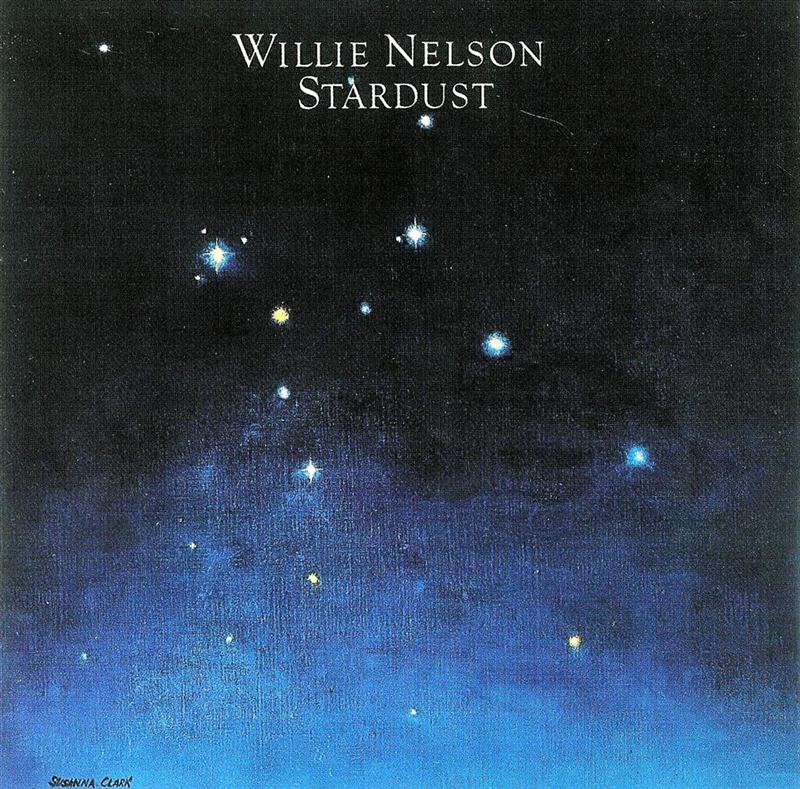 Willie Nelson took a huge risk and had his greatest success with this collection of pop standards. After years of massive acclaim with his outlaw country concept albums like 'The Red Headed Stranger',
Nelson defied expectations by reinterpreting some of his favorite songs from his childhood:
"Honestly I did most of my own songs until I started running out and then I did the 'Stardust' album ...
I was living in L.A., in an apartment, right underneath the apartment of Booker T. Jones. He was married to Rita Coolidge's sister at the time -- Priscilla. He and I hung out together a lot, and the more I got to know him, the more I realized that this was the time to do the Stardust album. I'd wanted to do all those songs for a long time, but I just didn't find the right producer and arranger. I knew that in order to do songs like that, I would need to have someone in there, who knew everything there was to know about writing and arranging. Booker T. was the guy that I felt could do it. Sure enough, he was the guy...When you have a producer, you've really got to trust him. You've got to say, 'Okay, take it.'You've got to believe in the guy before you can do this. So, I believed in Don Was, I believe in Chet Atkins, and I believe in Daniel Lanois. Spirit, I produced that myself. But, Stardust was Booker."
The sessions featured
Willie Nelson on vocals and guitar; Bobbie Nelson on piano; Paul English and Rex Ludwick on drums; Jody Payne on guitar; Bee Spears on bass; Chris Ethridge on bass; Mickey Raphael on harmonica;
and Booker T. Jones on organ and piano.
Nelson admits: "I
t's more of a challenge to do those pop classics and standards because I grew up singing Your Cheating Heart and the Hank Williams songs is second nature to me, but to do 'Stardust' and 'Moonlight' and 'Vermont' and songs like that, you really have to be on your game a little bit ...
I have gone through cycles where the commercial stations play some of our stuff and then I go through cycles where they don't. It was a long time before I really got anything going on the radio stations, early hit 'Blue Eyes Crying in the Rain', that was one of the first things that sort of crossed over and got a lot of play country, and even the pop rock and roll stations played it and it was pure country. Then along with the 'Stardust' album and that is completely opposite from country and yet it was on the country charts for ten years. It just goes to prove to me that a good song is always a good song."
'Stardust' reached number thirty on the US album chart, twenty-eight in Canada, five in Australia, and number one in New Zealand and on the US and Canadian country album charts. The album spent ten years on the US country album chart. Nelson won a Grammy Award for Best Male Country Vocal Performance for 'Georgia on My Mind'.
'Stardust'
has sold more than eighteen million copies worldwide.
http://willienelson.com/
'Stardust'
full album:
Side one
1.

"Stardust"
Hoagy Carmichael Mitchell Parish
3:53
2.

"Georgia on My Mind"
Carmichael Stuart Gorrell
4:20
3.
"Blue Skies"
Irving Berlin

3:34
4.

"All of Me"
Seymour Simons Gerald Marks
3:54
5.

"Unchained Melody"
Alex North Hy Zaret
3:50
Side two
1.

"September Song"
Kurt Weill Maxwell Anderson
4:35
2.

"On the Sunny Side of the Street"
Jimmy McHugh Dorothy Fields
2:36
3.

"Moonlight in Vermont"
Karl Suessdorf John Blackburn
3:25
4.

"Don't Get Around Much Anymore"
Duke Ellington Bob Russell
2:33
5.

"Someone to Watch Over Me"
George Gershwin Ira Gershwin
4:03