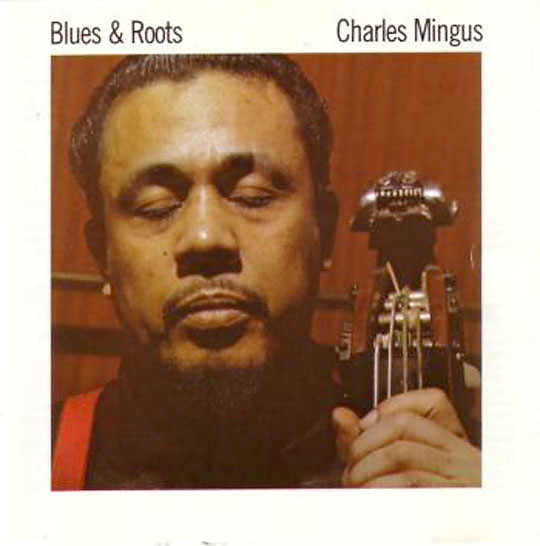 Charles Mingus got down to earth with the holy rolling swing of this moaning groaning jelly roll soul. After a series of adventurous albums that included
Pithecanthropus Erectus
,
The Clown
, and
East Coasting;
as well as
Mingus Ah Um
and
Mingus Dynasty
(both recorded in 1959 after
Blues & Roots
; but released before), Mingus accepted a challenge from producer Nesuhi Ertegün to record an entire album in the swinging blues style of
"Haitian Fight Song"
from
The Clown
.
'Blues & Roots'
was recorded with a nine piece band on February 4, 1959 at Atlantic Studios in New York City with Nesuhi Ertegün producing with engineer Tom Dowd. The session featured Charles Mingus on bass; John Handy and Jackie McLean on alto sax; Booker Ervin on tenor sax; Pepper Adams on baritone sax; Jimmy Knepper and Willie Dennis on trombone; Dannie Richmond on drums; and Horace Parlan on piano, except for "E's Flat Ah's Flat Too" where Mal Waldron sat in.
http://mingusmingusmingus.com/
'Blues & Roots'
full album:
https://www.youtube.com/watch?v=Y9KcMfQhn6w
All tracks composed by Charles Mingus.
1. Wednesday Night Prayer Meeting - 0:00
2. Cryin' Blues - 5:42
3. Moanin' - 10:44
4. Tensions - 18:48
5. My Jelly Roll Soul - 25:18
6. E's Flat Ah's Flat Too - 32:08
Original Liner Notes
My music is as varied as my feelings are, or the world is, and one composition or one kind of composition expresses only part or the total world of my music. In the notes for another album, I go into more detail as to why my pieces are so different from one another and ·don't have one specific, unalleviated mood, sound or style. At a concert or night club I call tunes in an order that I feel is right for the particular situation and what I'm trying to say in that situation. Each composition builds from the previous one, and the succession of compositions creates the statement I'm trying to make at that moment. The greatness of jazz is that it is an art of the moment. It is so particularly through improvisation, but also, in my music, through the successive relation of one composition to another.
This record is unusual - it presents only one part of my musical world, the blues.
A year ago, Nesuhi Ertegun suggested that I record an entire blues album in the style of Haitian Fight Song (in Atlantic LP 1260), because some people, particularly critics, were saying I didn't swing enough. He wanted to give them a barrage of soul music: churchy, blues, swinging, earthy. I thought it over. I was born swinging and clapped my hands in church as a little boy, but I've grown up and I like to do things other than just swing. But blues can do more than just swing. So I agreed.
I decided to memorize the compositions and then phrase them on the piano part by part to the musicians. I wanted them to learn the music so it would be in their ears, rather than on paper, so they'd play the compositional parts with as much spontaneity and soul as they'd play a solo. And I decided to use a larger group to play in a big band form I'd like to hear that has as many lines going as there are musicians. I called musicians that I knew had great ears for playing and understanding my music.
The first tune, Wednesday Night Prayer Meeting, is church music. I heard this as a child when I went to meetings with my mother. The congregation gives their testimonial before the Lord, they confess their sins and sing and should and do a little Holy Rolling. Some preachers cast out demons, they call their dialogue talking in tongues or talking unknown tongue (language that the Devil can't understand). The solos are taken by John Handy, Willie Dennis, Horace Parlan, Booker Ervin and Dannie Richmond.
The Cryin' Blues is a blues without the usual tonic, sub-dominant, tonic, dominant changes. Booker Ervin opens with the group. After the last solo, Horace Parlan solos on piano, and Jackie McLean plays with the ensemble on the out chorus.
Some time before making this album I'd bought a book of Jelly Roll Morton tunes that I planned to arrange. I then misplaced the book, and later I wrote My Jelly Roll Soul – an impression of or afterthoughts on Jelly Roll's forms and soul. The solos are by Jimmy Knepper, Horace Parlan, Jackie McLean and Dannie Richmond and I pass the progressions around in bars of four and two.
E's Flat Ah's Flat Too is composed in pyramid lines and canon form. The solos are by Mal Waldron, Booker Ervin, Jackie McLean, John Handy and Dannie Richmond.
The solos on Tensions are by myself, Jackie McLean, Booker Ervin and Horace Parlan.
In Moanin', each musician plays separate lines, simple blues lines. The solos are by Jackie McLean, Pepper Adams and Booker Ervin.
We played down to earth and together, and I think this music has a tremendous amount of life and emotion.
- Charles Mingus
(as told to Diane Dorr-Dorynek)