John Williams reached the pinnacle of his illustrious career with the music for this epic imperial expansion. Born in Floral Park, New York, John Towner Williams grew up in Los Angeles, where he attended North Hollywood High School and the University of California, Los Angeles. After being drafted, he conducted and arranged music for The U.S. Air Force Band. He went to New York to study at the Juilliard School and the Eastman School of Music, working as a jazz pianist in clubs and a session player for studios with the nickname "Little Johnny Love" Williams. He collaborated with Henry Mancini on Peter Gunn, Days of Wine and Roses, and Charade; and did work for several television programs including Gilligan's Island and Lost in Space.
His first Academy Award nomination came in 1967 for Valley of the Dolls and another two years later for Goodbye, Mr. Chips. He would win with his adapted film score for Fiddler on the Roof in 1972. Another nomination came a year later for Images. His scores for a trio of successful disaster films (The Poseidon Adventure, The Towering Inferno, and Earthquake) led to a collaboration with Steven Spielberg for The Sugarland Express and then Jaws, which earned him his second Academy Award. While working with Spielberg on Close Encounters of the Third Kind, the director recommended Williams to George Lucas for his space adventure 'Star Wars' . The film and its soundtrack became one of the biggest successes of all time and won Williams an Academy Award for Best Original Score.
The sequel
'Star Wars: The Empire Strikes Back'
saw Williams revisit the leitmotifs from 'Star Wars' with the notable addition of "The Imperial March" and "Yoda's Theme". Williams would reveal: "
The music for Star Wars provided me with my first opportunity to work with the London Symphony Orchestra.
The Empire Strikes Back
is the fifth soundtrack I have done in the past three years with this great orchestra. Performing film scores is not a new thing to them. They played the film scores of William Walton and Vaughan Williams and that goes back many years. They bring to a recording an ensemble precision and balance that comes from being a group of people who play together fifty-two weeks a year
...Most symphony orchestras comprise 104 players and during the recording of this score the number varied depending on the type of music being played. Sometimes we would have 80 players, other days over 90, and for the most elaborate passages and the finale we had the full complement of 104...Many passages required special instrumentation. For example, the music for "Battle in the Snow" has unusual orchestration calling for five piccolos, five oboes, a battery of eight percussion, two grand pianos, two or three harps, in addition to the normal orchestra complement. This was necessary in order to achieve a bizarre mechanical, brutal sound for the sequence showing Imperial Walkers, which are frightening inventions advancing across a snowscape...
We did eighteen sessions of three hours each spread over a period of two weeks. That's quite a bit of time, but we had a lot of music. We did nearly two hours of music for the film and for the LP. In a normal symphony setting you wouldn't need eighteen sessions to record an LP with an hour-long piece on either side. But in recording for film you have problems of synchronisation that slow down the process, especially in a score for a film so complex as
The Empire Strikes Back
... I wrote 117 minutes of music for this picture. It opens with the Star Wars March and it includes the Force theme. With that as a basis I wanted to try to develop material that would wed with the original and sound like part of an organic whole: something different, something new, but an extension of what already existed. So, in the creation of new themes and the handling of the original material, the task, both in concept and instrumentation, was one of extending something that I had written three years before. I had to look back while at the same time begin again and extend."
'The Empire Strikes Back'
score garnished another Academy Award nomination for Williams. It was orchestrated by Herbert W. Spencer, recorded by engineer Eric Tomlinson, and edited by Kenneth Wannberg with supervision by Lionel Newman. John Williams took over as record producer from Star Wars creator George Lucas. The soundtrack has been released in several different versions over the years.
http://www.johnwilliams.org/
http://www.starwars.com/
http://www.starwars.com/films/star-wars-episode-v-the-empire-strikes-back
"The Imperial March"
https://www.youtube.com/watch?v=hNv5sPu0C1E
"Yoda's Theme"
https://www.youtube.com/watch?v=HUwesDm-0f0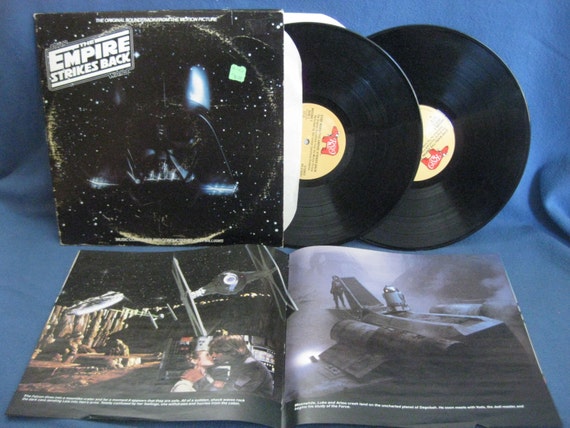 'The Empire Strikes Back'
complete score reissue:
-------------------
0:00:00 20th Century Fox Fanfare
0:00:20 Main Title/Ice Planet Hoth
0:08:29 The Wampa's Lair/Vision of Obi-Wan/Snowspeeders Take Flight
0:17:12 The Imperial Probe/Aboard the Executor
0:21:33 The Battle of Hoth
0:36:17 The Asteroid Field
0:40:33 Arrival on Dagobah
0:45:25 Luke's Nocturnal Visitor
0:47:57 Han Solo and the Princess
0:51:22 Jedi Master Revealed/Mynock Cave
0:57:04 The Training of a Jedi knight/The Magic Tree
1:02:17 Imperial March
1:05:17 Yoda's Theme
1:08:44 Attacking a Star Destroyer
1:11:48 Yoda And The Force
1:15:50 Imperial Starfleet Deployed -City In The Coulds
1:21:54 Lando's Palace
1:25:46 Betrayal At Bespin
1:29:30 Deal With The Dark Lord
1:32:04 Carbon Freeze/Darth Vader's Trap/Departure of Boba Fett
1:43:55 The Clash Of Lightsabers
1:48:12 Rescue from Cloud City/Hyperspace
1:57:21 The Rebel Fleet -End Title
'The Empire Strikes Back'
original vinyl release on RSO.
Side one
"Star Wars (Main Theme)" – 5:49
"Yoda's Theme" – 3:24
"The Training of a Jedi Knight" – 3:17
"The Heroics of Luke and Han" – 6:18
Side two
"The Imperial March (Darth Vader's Theme)" – 2:59
"Departure of Boba Fett" – 3:30
"Han Solo and the Princess" – 3:25
"Hyperspace" – 4:02
"The Battle in the Snow" – 3:48
Side three
"The Asteroid Field" – 4:10
"The City in the Clouds" – 6:29
"Rebels at Bay" – 5:23
"Yoda and the Force" – 4:01
Side four
"The Duel" – 4:07
"The Magic Tree" – 3:32
"Lando's Palace" – 3:52
"Finale" – 6:28
Total Time: 74:34