Steely Dan fell on hard times as they tried to shake it whim for whim to achieve a polished perfection. With a half dozen increasingly successful albums under their belt (Can't Buy a Thrill in 1972, Countdown to Ecstasy in 1973, Pretzel Logic in 1974, Katy Lied in 1975, The Royal Scam in 1976, and Aja in 1977), soul survivors Donald Fagen and Walter Becker changed labels from ABC to MCA and relocated to New York with longstanding producer Gary Katz to begin recording their next album 'Gaucho'.
The sessions were fraught with problems as they struggled to achieve the sound they desired with dozens of studio musicians. At one point, months of work on one of the songs was accidentally erased by an assistant engineer. After laboring with session drummers to get the right take, engineer Roger Nichols created a drum machine called "Wendel" to get them what they wanted; but it was a time consuming process. At the same time, Becker's increased drug use became an issue with a wrongful death lawsuit following the overdose of his girlfriend Karen Roberta Stanley. Becker was sidelined for six months when he was hit by a car while walking home in Manhattan.
The recording process stretched out over two years at Sigma Sound in Philadelphia, Village Recorders in Los Angeles, Soundworks recording in Astoria, Automated Sound and A&R in New York City, and Producer's Workshop in Hollywood featuring Donald Fagen on lead vocals, synthesizer, electric piano, and organ; and Walter Becker on bass and guitar; with Rob Mounsey on piano, synthesizer, and horn arrangement; Don Grolnick on electric piano, and clavinet; Pat Rebillot and Joe Sample on electric piano; Steve Khan on guitar and lead guitar; Mark Knopfler and Larry Carlton on lead guitar; Hugh McCracken, Hiram Bullock, and Rick Derringer on guitar; Chuck Rainey and Anthony Jackson on bass; Bernard Pretty Purdie, Rick Marotta, Steve Gadd, and Jeff Porcaro on drums; Crusher Bennett, Steve Gadd, Victor Feldman, Ralph McDonald, and Nicholas Marrero on percussion; Tom Scott on alto saxophone and clarinet, tenor saxophone, lyricon, and horn arrangement; Michael Brecker and Dave Tofani on tenor saxophone; David Sanborn on alto saxophone; Ronnie Cuber on baritone saxophone; Randy Brecker on trumpet and flugelhorn; George Marge, Walter Kane on clarinet; Wayne Andre on trombone; and backing vocals by Michael McDonald, Patti Austin, Valerie Simpson, Frank Floyd, Diva Gray, Gordon Grody, Lani Groves, Leslie Miller, Zachary Sanders, and Toni Wine.
Fagen says: "New York is the depository for misfit Americans – there's a reason that we're here. And why we don't live in Cincinnati...I think New York has revitalized our stuff. But L.A. did a lot for us as far as giving us a perspective on America ... We started using sequencing and stuff on Gaucho out of desperation really. We were having trouble laying down 'Hey Nineteen'. We tried it with two different bands and it still didn't work, so one of us said something like 'It's too bad that we can't get a machine to play the beat we want, with full-frequency drum sounds, and to be able to move the snare drum and kick drum around independently.' Roger [Nichols] replied 'I can do that.' This was back in 1978 or something, so we said 'You can do that???' To which he said 'Yes, all I need is $150,000.' So we gave him the money out of our recording budget, and six weeks later he came in with this machine and that is how it all started ... We write the songs individually. They are single audio objects; we don't plan the album conceptually. So it's hard to characterize the thing as a whole...It's possible that we took a few steps backward with this album. In a way, it's rhythmically more simplistic than Aja.. But the harmonies are interesting. I don't know if it's better or worse...The way we write – it's more improvisational and instinctual. We don't really use "strategies" consciously...It's a matter of maturing. Becoming more selective with material, knowing what to write about, being able to pick and choose – showing more discretion than in earlier days. Musically, our harmonic vocabulary and so on has expanded a great deal… so I feel we've progressed a lot since our first records."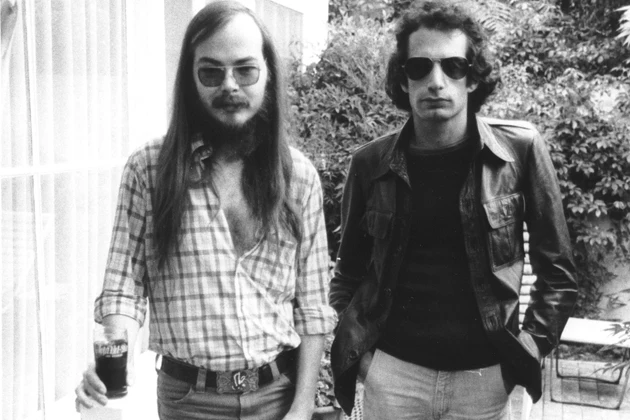 Becker looks back: "In some ways, the early, rougher ones sound better now than the later ones, whereas at the time it seemed like we were ever rising towards the light. I think because of the kind of music we were doing, it seemed to us that it should be real seamlessly put together and have a high level of polish to make it work. We didn't want it to sound like kids trying to play jazz - which I think it did pretty much sound like sometimes, and which now I kind of like the sound of. But at the time we thought what we were doing was so different to other things that were going on, and our own harsh appraisals of our talents dictated to us that we work harder to make it really smooth and flawless...A lot of times we didn't know what we wanted. Donald and I would write a song on piano, or piano and guitar, and sometimes we'd have a very primitive demo, but often as not we'd go in the studio and we'd be hearing the song played by a band for the very first time. And sometimes it didn't sound like what you'd thought it would sound like, and you had to try and figure out why that was, whether your conception of the song was wrong, or who could change their part, or how to rethink what you were doing to make it work. So a lot of times we didn't know exactly what it was we needed to do at a given moment to get things to be the way we wanted them to be...Other times, we just wanted it to be better, so we'd keep trying for another take. We kept adjusting our standards higher and higher, so many days we'd make guys do 30 or 40 takes and never listen to any of them again, because we knew none of them were any good: but we just kept hoping that somehow it was just going to miraculously get good...Working together as long as we did, Donald and I followed a certain line of thinking to its logical conclusion, and then perhaps slightly beyond - that was what we realised when we'd finished Gaucho: it was not as much fun...It wasn't fun at all, really."
'Gaucho' was another platinum success for the band, going to number forty-four in the Netherlands, twenty-seven in the UK, eighteen in Canada, fifteen in Sweden, nine in Australia and the US, seven in New Zealand, and five in Norway.
http://www.steelydan.com/
"Hey Nineteen"
"Babylon Sisters"
'Gaucho'
full album:
All songs written by Becker and Fagen, except where noted
Side one
"Babylon Sisters" – 5:55
"Hey Nineteen" – 5:10
"Glamour Profession" – 7:29
Side two
"Gaucho"
(Becker, Fagen, Jarrett)
– 5:32
"Time Out of Mind" – 4:14
"My Rival" – 4:34
"Third World Man" – 5:13
outtakes: