The Kinks kontinued to kompound their konversion from koarse krunching riffage to more konceptual kompositions through the kreative konflict of this killer kollection. The group had established themselves as major players in the burgeoning British explosion with two albums (Kinks aka You Really Got Me in 1964, and Kinda Kinks earlier in 1965) and a slew of classic hit singles including "You Really Got Me", "All Day and All of the Night", "Tired of Waiting for You", "Set Me Free", "See My Friends", and "A Well Respected Man"; but there was trouble brewing. Their fighting onstage during their tour of the US in 1965 led to them being banned from performing anywhere in the country for three years.
Mick Avory: "It used to blow hot and cold with Kinks on the road. It could absolutely euphoric or a real downer...All a bit hazy now [how we got banned in the US]; but we did shows when the unions had called a strike and arguments started and the Kinks had their own strike, right on this bloke's nose...My relationship with Dave was up and down as he was a volatile character and didn't take a lot to upset him, and had a foul temper, but he was good company and sociable on his good side. I used to call him Mr Hyde. I let grievance build up in me and it finally came to a head ... [After Dave knocked over my kit, I hit him in the head with a cymbal stand] because that was all I had left to hit him with. He went down, and I left the building at speed."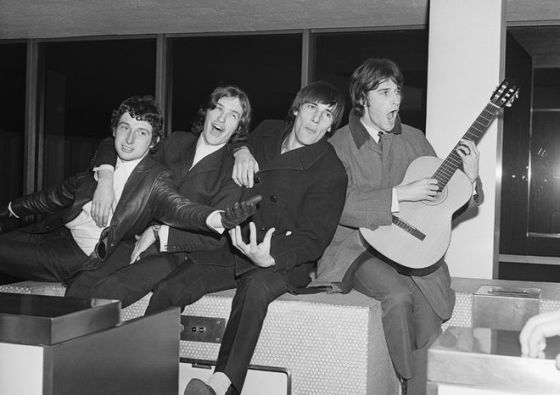 Dave Davies: "We were so green, and our management was green, too, We were rough and rebellious and we didn't realize the power of the unions. Management may have rubbed them the wrong way. Also, the name 'Kinks' was connected to perversion and weird people. We didn't have a lot going for us ... Looking back, I met some really unusual characters, some wonderful people and some of them are still friends. But intertwined in all that were some pretty shady people. It's the sort of business where you meet some wonderfully talented people but there are also some shark-infested waters, to say the least."
After the tour, the pressure got to Ray Davies and he had a nervous breakdown: "I'd been ill, partly because of all the lawsuits and partly because I realised other people depended on me for a living ... Some albums that we struggled with at the time, like The Kink Kontroversy, I've underrated that, it had songs that had to be written on the session and turned around in a day. The second album [Kinda Kinks] was funny because it literally had to be made in a week ... Yeah, [pop music is disposable]; but it's also dealing with people's dreams and their emotions, and you've got to tread carefully. Because you're dealing with something that becomes somebody's memory, something they carry around with them. They come home - I've been the same - they want to hear a great record today...It gets you though the evening, sets you up. It becomes the soundtrack to people's lives. It's disposable, but a lot of people rely on that to get them through. So it can't be trivialized that much."
Pete Quaife: "Mick was already with us and playing when we went into Pye studios and I think it was him that had to do most of the adjusting! Mick was our drummer and it was a great surprise to us to find that he was not allowed to play on most of the early recordings...That was in the very beginning of our career. At this time, because we were still trying to get used to recording, we just let everything go and happily banged away at our instruments, hoping that the producer could put it all together again! So the strange bass lines in Milk Cow Blues was simply me showing off and trying to be nothing more that the lead guitarist! I cringe now when I hear it! As far as arrangements go - there were none! Nothing serious anyway. We knew the numbers off by heart and we simply started each one and then did anything we could possibly think of to make the number more exciting. It didn't always work!"
'The Kink Kontroversy' features Ray Davies on lead and backing vocals, rhythm guitar, and harmonica; Dave Davies on lead guitar, backing vocals, lead vocals on "I Am Free" and "What's in Store for Me", and shared lead vocals on "Milk Cow Blues" and "You Can't Win"; Pete Quaife on bass guitar and backing vocals; and Mick Avory on drums (tracks 1, 2 and 9) and percussion; with Clem Cattini on drums (tracks 3-8, 10-12); Nicky Hopkins on keyboards; Rasa Davies on backing vocals (track 6 and 9); and Shel Talmy on guitar for "It's Too Late".
'The Kink Kontroversy' made it to number ninety-five in the US and nine in the UK
http://www.thekinks.info/
http://www.kindakinks.net/
"Milk Cow Blues"
"Till the End of the Day"
"Dedicated Follower of Fashion"
'The Kink Kontroversy'
full album:
All songs written and composed by Ray Davies, except where noted.
Side one
1. "Milk Cow Blues"
(Sleepy John Estes; arranged by The Kinks)
2. "Ring the Bells"
3. "Gotta Get the First Plane Home"
4. "When I See That Girl of Mine"
5. "I Am Free"
6. "Till the End of the Day"
Side two
7. "The World Keeps Going Round"
8. "I'm On an Island"
9. "Where Have All the Good Times Gone"
10. "It's Too Late"
11. "What's in Store for Me"
12. "You Can't Win"
Liner Notes:
Milk Cow Blues - Ray and Dave swop over lead
Ring The Bells - Ray, solo
Gotta Get The First Plane Home - Ray singing and playing harmonica
When I See That Girl Of Mine - Dave and Ray share vocal
I Am Free - Dave moans on his own
Till The End Of The Day - Ray, Dave and (help!) Pete, but Ray sings lead
The World Keeps Going Round - Ray mainly but with Dave and Pete in background
I'm On An Island - I Think it's Ray?
Where Have All The Good Times Gone - Ray and Dave
It's Too Late - Ray and Dave singing, but with Shel Talmy on guitar and Ray in the control box
What's In Store For Me - Dave sings assisted by Ray
You Can't Win - Ray and Dave, share
Before you proceed any further, ask yourself why you are reading this. Surely, the important thing is not to read about, but to listen to, the LP? It is because you are attracted by the look of the four young men enticing you to sample some KINKS KONTROVERSY? Or is it because you hope that by reading something on the back of an album cover, it will make you desperately want to buy what is inside?
Maybe you are simply hung up on the Kinks. If you are, then you are wasting valuable listening time reading what is, after all, only the designer's fill-in on the back. And, you should really be gazing, enraptured, at the photograph of Ray, Dave, Pete and Mick on the other side.
Should you be idly browsing through a stack of LP sleeves without the slightest intention of buying anything, read on. It will help absorb a few brief seconds of your life. And who knows, your curiosity might even be sufficiently aroused for you to want to hear this LP.
For the uninitiated--and it is conceivable that there may be one or two people around who still aren't hip--the Kinks compromise two brothers, Ray and Dave Davies; a bassist by the name of Peter Quaife, and a drummer, Mick Avory. They are four seperate identities and four conflicting personalities. Yet, somehow, they gell with a magnetism and force that has made them not only one of the country's most consistent groups, but gathered them hordes of followers throughout Germany, Scandinavia, France and America as well.
Ray, is one of England's most enlightened songwriters. His lyrics are very simple, to the point of being basic. They mask the complex character that evolves them.
Dave's main preoccupation is the diverse pursuit of happiness. But, he too, swings between the extremes of frustration, elation and black boredom.
Peter Quaife is everybody's friend. Rarely upset, he regards being a Kink infinitely preferable to being a commercial artist--his former occupation.
Mick Avory is at his happiest when he is drumming. He says little, and drums a great deal.
But enough is enough. Now is the fatal moment of decision. Take out the LP, listen and buy. You won't be disappointed. You never are with the Kontroversial Kinks.
MICHAEL ALDRED