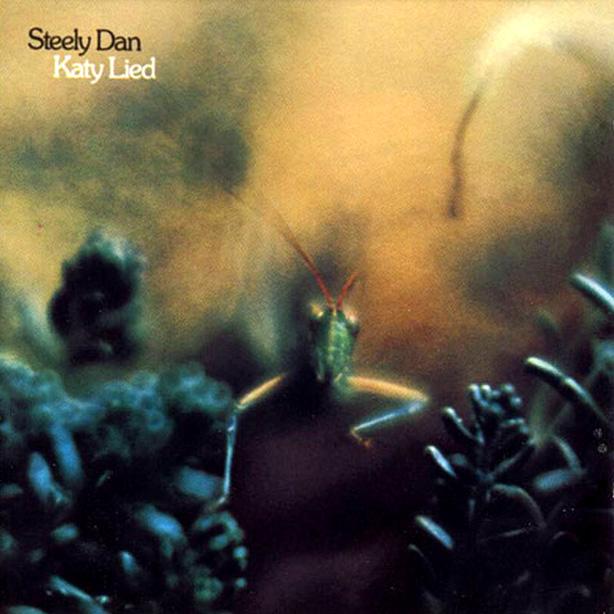 Steely Dan went searching for the song in hot licks and rhetoric and almost dug themselves a hole with this slick and sophisticated stridulating jazz pop excavation. The band had seen numerous lineup changes with each of their first three albums (
Can't Buy a Thrill
in 1972,
Countdown to Ecstasy
in 1973, and
Pretzel Logic
in 1974) with songwriters Walter Becker and Donald Fagen remaining the only full time members remaining for the recording of
'Katy Lied'
. The sessions took place at ABC Recording Studios in Los Angeles and featured Donald Fagen on vocals, piano, keyboards, and saxophone; Walter Becker on bass and guitar (solo on "Black Friday", "Bad Sneakers"); Jeff Porcaro on drums on all songs except "Any World (That I'm Welcome To)"; Michael Omartian and David Paich on pianos and keyboards; Wilton Felder and Chuck Rainey on bass guitars; Victor Feldman on percussion; Hugh McCracken on guitar; Denny Dias on guitar (solo on "Your Gold Teeth II"); Rick Derringer on guitar (solo on "Chain Lightning"); Dean Parks on guitar (solo on "Rose Darling"); Elliott Randall on guitar (solo on "Throw Back the Little Ones"); Larry Carlton on guitar on "Daddy Don't Live in That New York City No More"; Jimmie Haskell on horn & horn arrangement on "Throw Back the Little Ones"; Bill Perkins on horn on "Throw Back the Little Ones"; Phil Woods on alto saxophone solo on "Doctor Wu"; Hal Blaine on drums on "Any World (That I'm Welcome To)"; Michael McDonald on background vocals; and Myrna Matthews, Sherlie Matthews, and Carolyn Willis on background vocals on "Everyone's Gone to the Movies". 'Katy Lied' was produced by Gary Katz; engineered by Roger Nichols; mastered by Rick Collins; and arranged by Jimmie Haskell; with sound consultant Dinky Dawson; and consultant Daniel Levitin.
Fagan fumes:
"We had a problem with
Katy Lied
from a technical standpoint. We went through a noise-reduction system which had just come out on the market and it ruined our record; it broke our record and as Walter says, the moral is don't be so hasty to use the latest and the greatest piece of equipment."
Katz gripes: "We had to decide whether we were just going to scrap the album or put it out. It was close...it suffered 85 percent. I can't listen to it. I hate to hear an album that we're involved in that's not up to our standards. It was the best-sounding thing I ever heard before it was ruined...The ABC studio is a mess."
Dias reveals:
"Records that are re-released with the indication "direct from the master tape" are generally disappointing because here is the last chance for the people who made the record to correct any mistakes made during mixing. A little adjusting here and there can really make a record sparkle.
"Katy Lied"
needed more than a little adjustment...The mastering process now became a desperate attempt to produce a vinyl disk that could be played on an average phonograph...Walter stepped in to produce the final release version. It was still disappointing, but it sounded better on more sound systems so it was the better choice."
Becker says: "If you heard that album the way it originally went down on tape, you would have heard something else ... The information about equipment] was an attempt at humor more than anything else. The design and notes were a parody of a 50's Atlantic jazz LP."
'Katy Lied'
went to number
twenty-eight in Australia, thirteen in the UK and the US, twelve in Canada, and number ten in New Zealand. The album cover is a photograph of a katydid by Dorothy White.
http://www.steelydan.com/
http://www.steelydan.com/lyrkaty.html
"Black Friday" peaked at number thirty-seven on the US pop chart.
https://www.youtube.com/watch?v=erVb0xGC7nw
"Doctor Wu" gives the album its title.
https://www.youtube.com/watch?v=1ATPFtDWW_k
'Katy Lied'
full album:
https://myspace.com/steelydan/music/album/katy-lied-8179433
All songs written by Walter Becker and Donald Fagen.
Side one
"Black Friday" – 3:33
"Bad Sneakers" – 3:16
"Rose Darling" – 2:59
"Daddy Don't Live in That New York City No More" – 3:12
"Doctor Wu" – 3:59
Side two
"Everyone's Gone to the Movies" – 3:41
"Your Gold Teeth II" – 4:12
"Chain Lightning" – 2:57
"Any World (That I'm Welcome To)" – 3:56
"Throw Back the Little Ones" – 3:11
liner notes:
Original liner notes from the 1975 LP
This is a hi-fidelity recording. Steely Dan uses a specially constructed 24-channel tape recorder, a "State-of-the-Art" 36-input computerized mixdown console, and some very expensive German microphones. Individual microphone equalization is frowned upon. The sound created by musicians and singers is reproduced as faithfully as possible, and special care is taken to preserve the band-width and transient response of each performance. Transfer from master tapes to master lacquers is done on a Neumann VMS 70 computerized lathe equipped with a variable pitch, variable depth helium cooled cutting head. The computerized logic circuits of the VMS 70 widen and narrow the grooves on the disc in accordance with its own bizarre electronic mentation for reasons known only to its designers; this accounts for the lovely light and dark patterns that can be seen on the surface of the pressing. Vinylite compound is used. For best results observe the R.I.A.A. curve.
Liner notes from the 1999 MCA re-issue
"Peachy went south for the week."- Michael Caine , in a movie
What to call this latest instalment in the saga? "Too Little, Too Late"? "Almost Good"? "And Then There Were Three"? "The Rape of the Domini"? (Forget it, we're saving that one for later.) In any case, by the end of 1974 we had learned a number of important life lessons, to wit:
1. There is indeed no business like show business.
2. Background singers, when on the road and deciding whom to fuck first, will start with the roadies and move up from there, without necessarily ever getting to the stewards of the actual intellectual property upon which the success of the enterprise depends.
3. Valium - one blue equals two yellows equals five whites. The purple ones are for veterinary use only.
4. When in London, don't neglect to visit a certain Dr. Bell.
5. Powerful antibiotics should be avoided unless absolutely necessary.
6. Against all odds, an inebriated teamster (with or without underage girl in tow) may be the most excellent and inspiring of M.C.'s.
7. Two drummers are much better than one, sometimes.
8. Men are beasts.
Which is why, by summer of that self-same year, we found ourselves back in Los Angeles with no band, no manager, no plans to tour, no money, some minor albeit possibly irreversible brain damage, and, thanks to Gary Katz, the keys to a certain unused office on the ground floor of the ABC/Dunhill Records complex. It was there that we repaired on an autumn evening to lick our wounds and hopefully, begin work on a new suite of songs which would someday adorn the greatest Steely Dan album ever.
Even a cursory perusal of the previous paragraph convinces the authors that they have raised more questions than they have answered. To wit:
1. What happened to the band?
When we came off the road after the long gruelling "Pretzel Logic" tour - penniless, infirm, disillusioned - we had long since come to the conclusion that certain individuals were not suited by temperament or constitution to the rigors of long road trips in the company of superannuated prep school hooligans, especially if the goal of said trips - crisp and stirring recitals of the latest cutting-edge jazz-pop ditties for appreciative audiences in near-ideal acoustical environments - were impossible to achieve, or very nearly so. whereas certain of our bandmates had come to a very different and completely incompatible conclusion, namely, that we should get back out on the road as soon as possible and stay there until our very dicks turned green and fell off. So it was with some regret that we concluded that a parting of the ways was inevitable, and that there was no time like the present to clean house and say our goodbyes, and, in the words of Robert Heinlein, "no time like the future to get things done."
2. What happened to the manager?
A band with no plans to tour, now or ever, has no need of a manager. 'Nuff said.
3. What happened to the money?
Don't ask.
But three things we still had - Gary Katz, guitarist Denny Dias, and the benediction of the great Jay Lasker, president and absolute ruler of ABC/Dunhill Records. Although somewhat skeptical about our contention that our careers would survive and in fact rhrive now that we were no longer a touring band, Jay was still in the marketplace from which to hawk their wares, that is, we still had a record deal and a budget, at least for the time being.
By now well-acclimated to the bland vagaries of the L.A. scene, for a time that fall we drove each evening from Studio City across Laurel Canyon to Beverly Boulevard, where we had the empty ABC/Dunhill offices all to ourselves. In our little room, equipped with a leather couch, a piano, a lamp, and nothing else, we worked away on our sad little tunes. When we needed a break, we could always go upstairs and make trunk calls on Dennis Lavinthal's WATS line, or sit for a spell in Marv Helfer's big leather chair. If we were inclined to investigate in any way the workstations of the beautiful and nubile secretaries whom we perhaps worshipped from afar, we wouldn't tell you about it anyway, especially now. Even the incredible discovery we made one night while rifling Judy's bottom drawer - even that, we are saving for another occasion.
In the last days of our final '70s touring band, which on one or two magical evenings may have sounded almost good, we had stumbled onto a configuration of players which featured the considerable talents of drummer Jeff Porcaro and keyboardist / vocalist Mike McDonald. Porcaro, at the tender age of 21, was already a veteran of the "Sonny And Cher Show" studio band; in fact, on the very first tracking date for the new album, he arrived hours late and somewhat the worse for wear after having spent the night partying at Cher's Malibu digs. This was in sharp contrast to New York studio ace Hugh McCracken, who had arrived in town a day early, although without a guitar.
The first order of business was to go and pick up a Stratocaster that had been left off at a repair shop on a previous visit some months or years earlier. What can we say about those long-ago sessions that has not been previously said or else rejected as unworthy of mention? Here is what we know for sure:
1. Because Jeff Porcaro was late and because he had slightly injured his hand the night before, no recording was done on the first scheduled tracking day.
2. On the evening of that day, Chuck Rainey and Hugh McCracken went bowling.
3. The little studio at ABC/Dunhill was very nicely tricked out with a brand new Bosendorfer piano, our splendid double Magn- eplanar monitor system, and a newly acquired and fabulously expensive set of Audio Research D-76 tube power amps to go with the Maggies. You should have been there.
4. Denny arrived at the tracking session and made the announcement that "Dolores was back in town." Having said that, we turn to the trusty studio library with the aim of consulting Mr. Brian Sweet's controversial critical biography of your unworthy narrators - only to discover that they only have the Japanese edition in stock at this time. A replaying of the Katy Lied album proper, for the purposes of refreshing our failing memories, is out of the question.
5. The shiny new rack of DBX noise reduction units - did we mention those?
6. What about maintenance man Bob "Love Machine" DeAvila, he of the splendid Real Time Analysis unit, which we used to sweep the control room clean of real or imagined sonic cooties, on a thrice-monthly basis - did that guy think we were nuts, or what? O, the things we've seen and heard! - an Arp synthesizer burning in the courtyard of a West Hollywood sound stage - the thunder of a DeTomaso Pantera parked beneath the echo chambers of Studio C - the mighty room-service bill from the Beverly Wilshire hotel, reflecting the cost of the joyful reunion of Mr. Phil Woods and 200 of his closest L.A. studio/jazz-musician pallies - the world's first and last DBX noise reduction unit with factory installed wings, and a Bosendorfer piano that actually got louder after being struck - all things considered, the Katy Lied experience poses, we think, nothing so much as the musical analog of Richard Burton's famous query, in the sword and sandal epic "The Robe" - "were you...out there?" Yes, we were.
To be continued....
Donald Fagen & Walter Becker