Sigur Rós created glowing galvanic moments out of little adventures in the delicate dynamics and swelling strings of this rapturous requital. The Icelandic quartet had developed their unique ethereal sound over three albums ('Von' in 1997, 'Ágætis Byrjun' in 1999, and '( )' in 2002), three EP's (Rímur in 2001, Sigur 1 / Sigur 9 in 2003, and their composition for Merce Cunningham's Split Sides Ba Ba Ti Ki Di Do in 2004), and the instrumental electronic soundtrack to the documentary Hlemmur in 2002.
'Takk...'
was recorded at their Sundlaugin "swimming pool" studio near Álafoss, in the town of Mosfellsbær. The sessions featured Jón Þór Birgisson on vocals and guitar; Kjartan Sveinsson on keyboards; Georg Hólm on bass guitar; and Orri Páll Dýrason on drums; with strings by Amiina, Kristín Lárusdóttir, Júlía Mogensen, Stefanía Ólafsdóttir, Eyjólfur Bjarni Alfreðsson, Ingrid Karlsdóttir, Gréta Salóme Stefánsdóttir, Matthías Stefánsson, and Ólöf Júlía Kjartansdóttir; brass by Eiríkur Orri Ólafsson, Snorri Sigurðarson, Helgi Hrafn Jónsson, Samúel Jón Samúelsson, and Össur Geirsson; Frank Aarnink on percussion; and Álafosskórinn as the choir on "Hoppípolla". The band co-produced the album with Ken Thomas.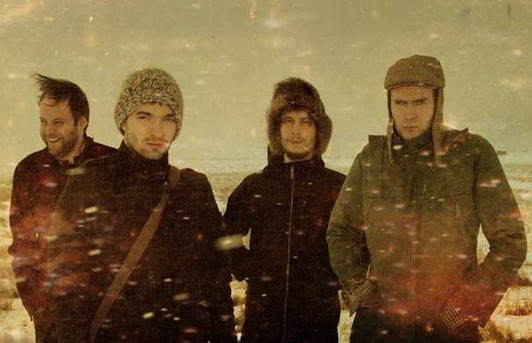 Kjartan Sveinsson: "We're thankful for we've been able to do, and for the appreciation we get. We really love where we are...We didn't set out to do anything. I think it's more heavy-ish and slow...We very rarely try to do anything. It's always just things happen in a way. We're always learning, of course. We did things differently but I'm not sure how to describe it exactly...It always develops. We mess with things until the last moment. So, no, I wouldn't say there's a goal when we start the process...We're just trying to do good music and enjoy it and have fun...We're really bad at practicing. The only time we play together is just when we're writing music. Then of course we play so much when we tour. We would never actually to go to the studio to practice our own songs. That's really boring to us. We should always be writing something new...They're kind of stories, some of them are just a few sentences, and it's all very childlike, fairy tale-y. They're not deep and meaningful lyrics on this album, no! It's more stories, short stories ... We have never been much for concepts even though it sometimes looks like it. Concepts come afterwards. When you look closely at a work it's always easy to find a concept there but we have never approached a project with a predetermined concept in mind. It's not our style, really. Sigur Rós is not a clever band. There are no deep thoughts behind what we are doing...If we don't [agree] we always manage to find a way to work it out. We've played together for so long and know each other inside out...No one is exactly the same. It's like a marriage. You have to nurture the relationship and make comprimises. Otherwise it won't last. This is especially valid for bands who form at a young age. You're always learning new things about behavioural patterns and about the different characters you meet. The difference is that in a marriage there are only two people who have to settle their differences...We've been working on this record for twenty months, which is a normal period of time. For Sigur Rós at least...You never know what will happen. This is our baby. It's exciting. Very exciting."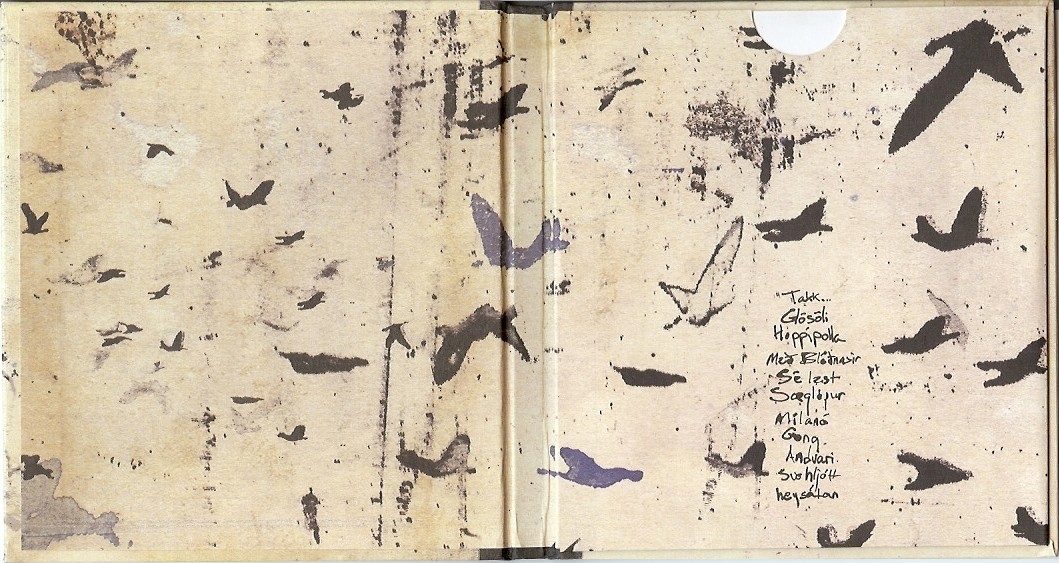 Georg Hólm: "It comes as a surprise. It's as if we're constantly starting over. When we were making Ágætis Byrjun that's how it felt. The brackets album was more of an extension. It was a tough period. Now we're fresh again and it feels like we're starting anew. We took a vacation before we started this album and when we came together again it felt like we were all about to burst. Like we had been storing up creativity which was trapped inside us. It was a very pleasant feeling...We play in response to our surroundings. When we begin playing and writing we exaggerate the atmosphere around us. The songs exaggerate our feelings. We never decide on a fixed goal. We don't sit down and play a riff we wrote at home last night...We all agree to have no direction. It's just the four of us playing around, not discussing things we are doing...For us, music is the magic that happens in a moment. If you start dissecting it then you might spoil it. Sometimes you can discover new facets in music by talking in a superficial way about it but as soon as you try to get any deeper than that, you're in trouble. After all, things that are dissected usually need to be dead first."
Jón Þór Birgisson: "It's been a long process. We've been doing it for two years and toured in between. I'm terribly excited now that it's being released. It will be fun to see how people react to it...Takk is probably richer than the other albums. We're always learning. When we made Von we had to learn how to use the recording equipment because we wanted a certain sound and mood to come forth in the recordings. We also learned a lot from Ken Thomas while recording Ágætis Byrjun. He taught us that music is about a feeling and a mood rather than frequency and other bullshit. The brackets [( )]album was to a certain extent the most difficult. We had been playing the songs for so long and were tired of them when we went into the studio. It's hard to be creative when you're tired. We learned from this and have now gained a lot of important information which I think will benefit us in the future...We've been able to do [as we please] from the start. People often ask me what it's like being signed to a big label and I tell them it's exactly like being signed to a small label. We just get more space. We've been playing for twelve years and have proven ourselves as artists and don't need any supervision anymore. No one is monitoring us. We do everything ourselves: arrange, record, mix, master. We even make the videos ourselves. The label knows they don't have to worry about us so they just don't bother. They help us instead...We are feeling the pressure now though. In addition to all the music we're doing the album cover ourselves and handling the first video through internet correspondence. We handled the prep work and now it's being processed. We've never let go of creative control and let others do things for us. I guess it would be healthy for us to just trust other people. Somtimes the work we put into the band is more of a lifestyle. It's so much fun to be the four of us in a band, playing at concerts and stuff, but there are so many practical things that make it difficult. A lot of energy goes into these practical things. It's laboursome but in the end it pays off to have a grasp the bigger picture...It was fun writing lyrics this time. It's always been quite a challenge for us to express ourselves through words. Somehow music flows more easily. When it comes to words we freeze up. We listened to the songs together and let the music trigger words in us. I think we learned something from this experience. The lyrics are very simple and naive. Moments and small adventures. Nothing too deep...People tend to overinterpret and find meaning in something which isn't remarkable to begin with. It's funny."
'Takk...'
reached number
thirty in France, twenty-seven in Germany and the US, nineteen in Australia, sixteen in Denmark and the UK, twelve in Sweden, eight in Finland, six in Ireland, four in Italy and Norway, and number one in Iceland.
http://www.sigur-ros.co.uk/
'Takk...'
full album:
1. Takk... "Thanks..." 00:00
2. Glósóli "Glowing Sole" 1:57
3. Hoppípolla "Hopping into Puddles" 8:12
4. Með blóðnasir "I Have a Nosebleed" 12:40
5. Sé lest "I See a Train" 14:57
6. Sæglópur "Lost at Sea" 23:37
7. Mílanó "Milan" 31:16
8. Gong "Gong" 41:41
9. Andvari "Zephyr" 47:14
10. Svo hljótt"So Quietly" 53:54
11. Heysátan "The Haystack" 1:01:18
Sigur Rós Live in Reykjavík 2005 (Full Set)
Setlist:
0:00 Takk...
2:20 Glósóli
8:47 Ný batterí
19:10 Sæglópur
26:36 Untitled #4 (a.k.a Njósnavélin/The nothing song)
34:55 Gong
40:00 Andvari
46:30 Hoppípolla
51:20 Með blóðnasir
54:10 Sé lest
1:02:55 Olsen Olsen
1:11:25 Viðrar vel til loftárása
1:22:10 Svo hljótt
1:28:50 Heysátan
1:35:50 Hafsól
1:44:40 Untitled #9 (a.k.a. Smáskífa)
1:53:44 Untitled #8 (a.k.a. Popplagið/The pop song)