Paul McCartney began his solo career with these organic homegrown recordings of lovely leftovers and joyous junk. In the wake of the recording for The Beatles' 'Abbey Road', John Lennon had announced to the rest of his bandmates his desire to leave the group. With the pending negotiations and releases going on at the time, Lennon agreed to keep his decision a secret; while McCartney, devastated at the news, took an extended break with his family to High Park Farm in Campbeltown, Scotland: I nearly had a breakdown. I suppose the hurt of it all, and the disappointment, and the sorrow of losing this great band, these great friends ... I was going crazy...I wouldn't get up in the morning; and when I did get up I wouldn't shave or bother with anything; and I'd reach for the whisky."
As a means of relieving his depression, his wife Linda convinced him to begin working on his own material apart from The Beatles. When the McCartney family returned to London in December of 1969, Paul began working on new recordings using a Studer four-track tape recorder at his home in St John's Wood. In early January of 1970, he took part in the final recording sessions for The Beatles film project 'Get Back' which would be released later that year as
'Let It Be'
. In February, he booked time under the pseudonym "Billy Martin" at London's Morgan Studios to transfer his four track recordings to eight track to allow more overdubs. Later that month "Billy Martin" booked time at Abbey Road Studios for more recording and mixing.
'McCartney'
features Paul McCartney on vocals, guitar, steel guitar, bass guitar, piano, keyboards, organ, Mellotron, xylophone, drums, maracas, bongos, tambourine, cowbell, wineglasses, hand percussion, aerosol, bow and arrow; with Linda McCartney adding backing vocals.
McCartney muses: "I was like a professor in his laboratory. Very simple [set-up], as basic as you can get ... Even now that album has an interesting sound. Very analogue, very direct ... They were almost throwaways, you know? But that's why they were included. They weren't quite throwaways. That was the whole idea of the album: all the normal things that you record that are great and have all this atmosphere but aren't that good as recording or production jobs. Normally that stuff ends up with the rest of your demos, but all that stuff is often stuff I love."
The release date for
'McCartney'
was slated for mid-April of 1970, held back a couple of weeks so as not to compete with The Beatles US compilation
'Hey Jude'
in February or Ringo Starr's solo debut
'Sentimental Journey'
in March. When Phil Spector reported that the work on the
'Let It Be'
soundtrack album was almost finished, the band's new manager Allen Klein (who McCartney refused to support) decided to delay
'McCartney'
until June so as not to overlap with a late April release date for the soundtrack to coincide with the release of the film. McCartney was furious and took it out on the messenger: "Ringo visited me, bringing two letters signed by George and John with which, he said he agreed. These letters confirmed that my record had been stopped. I really got angry when Ringo told me that Klein had told him that my record was not ready and that he had a release date for the Let It Be album. I knew that both of these alleged statements were untrue and I said, in effect, this was the last straw, and, 'If you drag me down, I'll drag you down.' What I meant was, 'Anything you do to me, I will do to you.' I had to do something like that in order to assert myself because I was just sinking. Linda was very helpful, she was saying, 'Look, you don't have to take this crap, you're a grown man, you have every bit as much right...' I was getting pummelled about the head, in my mind anyway."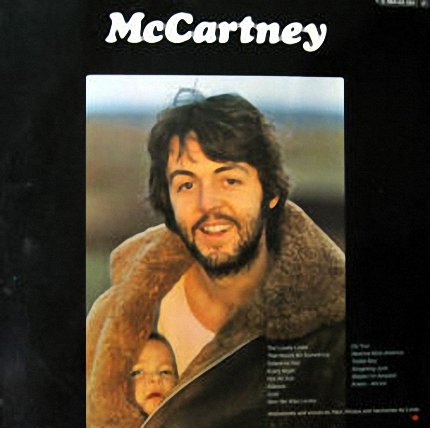 McCartney won out and got his solo album out in April; but refused to do any press for it. Instead, he did a press release for the album that explained that he was not sure if his break with The Beatles would be temporary or permanent. The press ran with the idea that Paul had broken up the band: "The world reaction was like 'The Beatles Have Broken Up – It's Official' – we'd known it for months. So that was that, really. I think it was the press who misunderstood. The record had come with this weird explanation on a questionnaire of what I was doing. It was actually only for them. I think a few people thought it was some weird move of me to get publicity, but it was really to avoid having to do the press."
Despite having no singles,
'McCartney'
went to number fifteen in Germany, thirteen in Japan, four in France, three in Australia and the Netherlands, two in Norway and the UK, and number one in the US.
http://www.paulmccartney.com/
"Maybe I'm Amazed"
https://www.youtube.com/watch?v=cm2YyVZBL8U
"That Would Be Something"
https://www.youtube.com/watch?v=VHTCWY7Lvpk
"Every Night"
https://www.youtube.com/watch?v=3mt_HTeERRg
"Teddy Boy"
'McCartney'
full album:
https://myspace.com/paulmccartney/music/album/mccartney-17720166
All songs written by Paul McCartney.
Side one
00:00 - The Lovely Linda
00:46 - That Would Be Something
03:27 - Valentine Day
05:11 - Every Night
07:50 - Hot As Sun
09:20 - Glasses
09:59 - Junk
11:55 - Man We Was Lonely
Side two
14:57 - Oo You
17:46 - Momma Miss America
21:53 - Teddy Boy
24:18 - Singalong Junk
26:55 - Maybe I'm Amazed
30:48 - Kreen Akrore
https://www.youtube.com/watch?v=i6mT7G08Ouc
Q: Why did you decide to make a solo album?
A: Because I got a Studer four-track recording machine at home - practiced on it (playing all instruments) - liked the results, and decided to make it into an album.
Q: Were you influenced by John's adventures with the Plastic Ono Band, and Ringo's solo LP?
A: Sort of, but not really.
Q: Are all songs by Paul McCartney alone?
A: Yes sir.
Q: Will they be so credited: McCartney?
A: It's a bit daft for them to be Lennon/McCartney credited, so "McCartney" it is.
Q: Did you enjoy working as a solo?
A: Very much. I only had me to ask for a decision, and I agreed with me. Remember Linda's on it too, so it's really a double act.
Q: What is Linda's contribution?
A: Strictly speaking she harmonizes, but of course it's more than that because she's a shoulder to lean on, a second opinion, and a photographer of renown. More than all this, she believes in me - constantly.
Q: Where was the album recorded?
A: At home, at EMI (no. 2 studio) and at Morgan Studios (Willesden!)
Q: What is your home equipment (in some detail)?
A: Studer four-track machine. I only had, however, one mike, and as Mr Pender, Mr Sweatenham and others only managed to take six months or so (slight delay) I worked without VU meters or a mixer, which meant that everything had to be listened to first (for distortion etc...) then recorded. So the answer - Studer, one mike, and nerve.
Q: Why did you choose to work in the studios you chose?
A: They were available. EMI is technically very good and Morgan is cozy.
Q: The album was not known about until it was nearly completed. Was this deliberate?
A: Yes, because normally an album is old before it even comes out. (aside) Witness GET BACK.
Q: Why?
A: I've always wanted to buy a Beatles album like people do and be as surprised as they must be. So this was the next best thing. Linda and I are the only two who will be sick of it by the release date. We love it really.
Q: Are you able to describe the texture or the feel of the album in a few words?
A: Home, family, love.
Q: How long did it take to complete?
A: From just before (I think) Xmas, until now. THE LOVELY LINDA was the first thing I recorded at home, and was originally to test the equipment. That was around Xmas.
Q: Assuming all the songs are new to the public, how new are they to you? Are they recent
A: One was from 1959 (HOT AS SUN). Two are from India - JUNK and TEDDY BOY, and the rest are pretty recent. VALENTINE DAY, MOMMA MISS AMERICA and OO YOU were ad-libbed on the spot.
Q: Which instruments have you played on the album?
A: Bass, drums, acoustic guitar, lead guitar, piano and organ-mellotron, toy xylophone, bow and arrow.
Q: Have you played all these instruments on earlier recordings?
A: Yes, drums being the one that I normally wouldn't do.
Q: Why did you do all the instruments yourself?
A: I think I'm pretty good.
Q: Will Linda be heard on all future records?
A: Could be. We love singing together and have plenty of opportunity for practice.
Q: Will Paul and Linda become a John and Yoko?
A: No, they will become Paul and Linda.
Q: What has recording alone taught you?
A: That to make your own decisions about what you do is easy, and playing with yourself is very difficult, but satisfying.
Q: Who has done the artwork?
A: Linda has taken all the photos, and she and I designed the package.
Q: Is it true that neither Allen Klein nor ABKCO have been nor will be in any way involved with the production, manufacturing, distribution or promotion of this new album?
A: Not if I can help it.
Q: Did you miss the other Beatles and George Martin? Was there a moment when you thought, 'I wish Ringo were here for this break?'
A: No.
Q: Assuming this is a very big hit album, will you do another?
A: Even if it isn't, I will continue to do what I want, when I want to.
Q: Are you planning a new album or single with the Beatles?
A: No.
Q: Is this album a rest away from the Beatles or the start of a solo career?
A: Time will tell. Being a solo album means it's "the start of a solo career..." and not being done with the Beatles means it's just a rest. So it's both.
Q: Is your break with the Beatles temporary or permanent, due to personal differences or musical ones?
A: Personal differences, business differences, musical differences, but most of all because I have a better time with my family. Temporary or permanent? I don't really know.
Q: Do you foresee a time when Lennon-McCartney becomes an active songwriting partnership again?
A: No.
Q: What do you feel about John's peace effort? The Plastic Ono Band? Giving back the MBE? Yoko's influence? Yoko?
A: I love John, and respect what he does - it doesn't really give me any pleasure.
Q: Were any of the songs on the album originally written with the Beatles in mind?
A: The older ones were. JUNK was intended for ABBEY ROAD, but something happened. TEDDY BOY was for GET BACK, but something happened.
Q: Were you pleased with ABBEY ROAD? Was it musically restricting?
A: It was a good album. (No. 1 for a long time.)
Q: What is your relationship with Klein?
A: It isn't. I am not in contact with him, and he does not represent me in ANY way.
Q: What is your relationship with Apple?
A: It is the office of a company which I part own with the other three Beatles. I don't go there because I don't like offices or business, especially when I am on holiday.
Q: Have you any plans to set up an independent production company?
A: McCartney Productions.
Q: What sort of music has influenced you on this album?
A: Light and loose.
Q: Are you writing more prolifically now? Or less so?
A: About the same. I have a queue waiting to be recorded.
Q: What are your plans now? A holiday? A musical? A movie? Retirement?
A: My only plan is to grow up!
1: THE LOVELY LINDA
When the Studer 4 track was installed at home, this was the first song I recorded, to test the machine. On the first track was vocal and guitar, second - another acoustic guitar - then overdubbed hand slaps on a book, and finally bass. Written in Scotland, the song is a trailer to the full song which will be recorded in the future.
2: THAT WOULD BE SOMETHING
This song was written in Scotland in 1969 and recorded at home in London - mixed later at EMI (No. 2). I only had one mike, as the mixer and VU meters hadn't arrived (still haven't).
1 vocal, guitar
2 tom-tom and cymbal
3 electric guitar
4 bass
3: VALENTINE DAY
Recorded at home. Made up as I went along - acoustic guitar first, then drums (maybe drums were first). Anyway - electric guitar and bass were added and the track is all instrumental. Mixed at EMI. This one and MOMMA MISS AMERICA were ad-libbed, with more concern for testing the machine than anything else.
4: EVERY NIGHT (Blues)
This came from the first two lines, which I've had for a few years. They were added to in 1969 in Greece (Benitses) on holiday.
This was recorded at EMI with:
1 vocal and
2 acoustic guitar.
3 drums.
4 bass.
5 lead guitar (acoustic).
6 harmony to the lead guitar.
7 double-tracked vocal in parts.
8 ? electric guitar (not used).
9 track.
5: HOT AS SUN
A song written in about 1958 or 9 or maybe earlier, when it was one of those songs that you play now and then. The middle was added in Morgan Studio, where the track was recorded recently.
1 acoustic guitar.
2 electric guitar.
3 drums.
4 rhythm guitar.
5 organ.
6 maracas.
7 bass.
8 bongos.
6: GLASSES
Wineglasses played at random and overdubbed on top of each other - the end is a section of a song called SUICIDE – not yet completed.
7: JUNK
Originally written in India, at Maharishi's camp, and completed bit by bit in London. Recorded vocal, two acoustic guitars, and bass at home, and later added to (bass drum, snare with brushes, and small xylophone and harmony) at Morgan.
8: MAN WE WAS LONELY
The chorus ("Man We Was Lonely") was written in bed at home, shortly before we finished recording the album. The middle ("I used to ride...") was done one lunchtime in a great hurry, as we were due to record the song that afternoon. Linda sings harmony on this song, which is our first duet together. The steel-guitar sound is my Telecaster played with a drum peg.
1 guitar.
2 voices (two tracks).
3 bass drum
4 bass.
5 steel guitar.
9: OO YOU
The first three tracks were recorded at home as an instrument that might someday become a song. This, like MAN WE WAS LONELY, was given lyrics one day after lunch, just before we left for Morgan Studios, where it was finished that afternoon.
Vocals, electric guitar, tambourine, cow bell, and aerosol spray were added at Morgan, and it was mixed there.
On the mix, tape echo was used to move feedback from guitar from one side to another.
10: MOMMA MISS AMERICA
An instrumental recorded completely at home. Made up as I went along - first a sequence of chords, then a melody on top.
Piano, drums, acoustic guitar, electric guitar.
Originally it was two pieces, but they ran into each other by accident and became one.
11: TEDDY BOY
Another song started in India, and completed in Scotland and London, gradually. This one was recorded for the Get Back film, but later not used.
Rerecorded partly at home ... (guitar, voices and bass) ... and finished at Morgan.
Linda and I sing the backing harmonies on the chorus, and occasional oos.
12: SINGALONG JUNK
This was take 1, for the vocal version, which was take 2, and a shorter version.
Guitars, and piano and bass, were put on at home, and the rest added at Morgan Studios.
The strings are Mellotron, and they were done at the same time as the electric guitar, bass drum, and sizzle cymbal.
13: MAYBE I'M AMAZED
Written in London, at the piano, with the second verse added slightly later, as if you cared.
Recorded at EMI, No. 2 Studio. First
1 piano.
2 vocal.
3 drums.
4 bass.
5 and vocal backing.
6 and vocal backing.
7 solo guitar.
8 backing guitars.
Linda and I are the vocal backing group.
Mixed at EMI.
A movie was made, using Linda's slides and edited to this track.
14: KREEN-AKRORE
There was a film on TV about the Kreen-Akrore Indians living in the Brazilian jungle, their lives, and how the white man is trying to change their way of life to his, so the next day, after lunch, I did some drumming. The idea behind it was to get the feeling of their hunt. So later piano, guitar and organ were added to the first section.
The second had a few tracks of voices (Linda and I) and the end had overdubbed breathing, going into organ, and two lead guitars in harmony.
Done at Morgan. Engineer, Robin Black.
The end of the first section has Linda and I doing animal noises (speeded up) and an arrow sound (done live with bow and arrow - the bow broke), then animals stampeding across a guitar case.
There are two drum tracks.
We built a fire in the studio but didn't use it (but used the sound of the twigs breaking).