Bo Diddley defined rock and roll with the irresistible groove of his signature five accent rhythm. Ellas Otha Bates AKA Ellas McDaniel was born in Mississippi and grew up in the South Side of Chicago. He studied violin under Professor O.W. Frederick at the Ebenezer Baptist Church. It was around this time that he got a new moniker. Diddley would reveal: "I was in grammar school in Chicago and the kids started calling me Bo Diddley. I used it when I used to box in the neighborhood. We called ourselves The Little Neighborhood Golden Gloves Bunch. We used to spar with each other, stuff like that, so it was like a nickname."
A "diddley bow" is also a one-stringed African guitar; and Diddley learned to make his own box shaped guitars when he was still a teenager at Foster Vocational School. He played on street corners in Chicago and worked his way inside the clubs with a group called the Hipsters: "I saw a guitar and I wanted it because it had strings on it and I'd seen that if John Lee Hooker could play guitar, I knew I could learn how...I play as if I had one hand playing the drum. That actually comes from the violin playing also with the strokes at the bow and bridge movement...I didn't want to be like anybody else, so I had to try to create a thing that would, if I did anything….I would be recognized for what I did, not copying somebody else...We didn't do the blues because I couldn't play it so we did rhythm, the same as I do today. I'm a rhythm fanatic!...We decided to change the name from The Hipsters to The Langley Avenue Jive Cats. That came from a song that a group had out in Chicago . Those guys went, (singing) "Hit that jive jack, put it in your pocket right in the back. We're going downtown to see my girl. Da Dee Da Dee Dee Dee." These guys were what we call hip cats. I said we will name our group The Hipsters and then came The Langley Avenue Jive Cats. We wanted to be seen, heard, and remembered so we figured that word, Hipsters, would catch onto people and it did. All in Chicago we had it going on...Oh my goodness….I was about sixteen years old."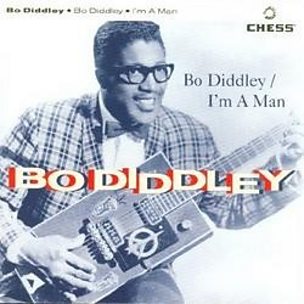 He recorded demos of "Bo Diddley" (then called "Uncle John") and "I'm A Man" with harmonica player Billy Boy Arnold, drummer Clifton James, and bass player Roosevelt Jackson. On February 2, 1955, the songs were re-recorded at Universal Recording Studios in Chicago, Illinois with Otis Spann on piano, Lester Davenport on harmonica, Frank Kirkland on drums, and Jerome Green on maracas. Diddley adapted an Afro-Cuban clave rhythm to create a whole new sound. Both sides of the single went to number one on the R&B charts and spawned legions of imitators. Diddley would look back: "That's what I had at the time. I went to Chess records and sang it for them and they told me to go back home and rewrite the words to "Uncle John" because it was a little bit rough and I went and came back with "Bo Diddley." ... I like singing about me because I'm crazy about me ... [My sound is about] energy. And mass destruction...of your mind. My music makes your body move in places you didn't think you could move...I just came up with the Bo Diddley beat, and it seems everybody around the f**king world is copying it...I'm not getting a dime for it, and I'm really getting tired of this ... I don't care about imitation, just pay me. If people want to imitate me, it must be that I was doing something worth imitating ... I never got a royalty check from Chess Records. It went to Sugar Hill and I ain't seen no money yet. Everything that I own, I got it from working one nighter's."
http://bodiddley.com/
Diddley became the first African American to perform on the Ed Sullivan Show.
https://www.youtube.com/watch?v=lJj22Z006ec
Bo Diddley bought his babe a diamond ring
If that diamond ring don't shine
He gonna take it to a private eye, if that private eye can't see
He'd better not take the ring from me
Bo Diddley caught a nanny goat
To make his pretty baby a Sunday coat
Bo Diddley caught a bear cat
To make his pretty baby a Sunday hat
Mojo come to my house, ya black cat bone
Take my baby away from home
Ugly ole Mojo, where ya been?
Up your house and gone again
Bo Diddley, Bo Diddley have you heard?
My pretty baby said she wasn't for it
https://www.youtube.com/watch?v=8XxGUIbYjmY
"I'm a Man" was inspired by Muddy Waters' version of Willie Dixon's "Hoochie Coochie Man". Waters recorded "Mannish Boy" as a response to Diddley's song.
https://www.youtube.com/watch?v=RYti8CIiOak
Now when I was a little boy,
At the age of five,
I had somethin' in my pocket,
Keep a lot of folks alive.
Now I'm a man,
Made twenty-one,
You know baby,
We can have a lot of fun.
I'm a man,
I spell M-A-N, man.
All you pretty women,
Stand in line,
I can make love to you baby,
In an hour's time.
I'm a man,
I spell M-A-N, man.
I goin' back down,
To Kansas to
Bring back the second cousin,
Little John the conqueroo.
I'm a man,
I spell M-A-N...man.
The line I shoot,
Will never miss,
The way I make love to 'em,
They can't resist.
I'm a man,
I spell M-A-N, man.