Joe Walsh found his most enduring success as a solo artist with the inspired introspection of this sarcastic statement on fortune and fame. Walsh had shined working with groups like the James Gang
and Barnstorm
before going solo.
His album '
The Smoker You Drink, the Player You Get'
led to his joining the Eagles to replace Bernie Leadon and contribute to their greatest success on 'Hotel California'.
Members of the Eagles also played his live album 'You Can't Argue with a Sick Mind'.
'But Seriously, Folks...' was produced by Joe Walsh and Bill Szymczyk and features Joe Walsh on vocals, guitars, bass guitar, keyboards, and synthesizer; Don Felder on guitar, Steel guitar, and backing vocals; Jay Ferguson on keyboards and vocals; Joey Murcia on guitar; Bill Szymczyk on tambourine, vocals, and background vocals; Joe Vitale on drums, percussion, keyboards, synthesizer, flute, and vocals; Willie Weeks on bass guitar; and Jody Boyer, Glenn Frey, Don Henley, and Timothy B. Schmit on backing vocals.
Walsh recounts the creation of the underwater album cover:
"I had to do that a couple of times, but I did go down to the bottom of the pool, and almost drowned... but it was fun. Not at the time, but it was fun to do. We weighted everything down, but it was very involved and it took a long time, and I was real proud of it. As long as you have access to art, or visually presenting something with your record, I would like to use that, pursue it and try to make it an integral part of the music. It was hard to do, but when I look at it, I can't believe it either, I can't believe I was stupid enough to do that, but I was proud of it. I won't be repeating it, I can assure you!"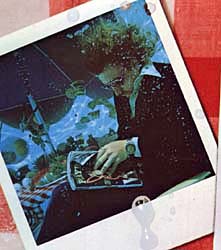 'But Seriously, Folks...'
peaked at number eight on the US album charts. With the success of the album, Walsh made a run for president with the campaign slogan, "free gas for everyone!" He said that he would make the single 'Life's Been Good' the national anthem if he won. He didn't.
http://www.joewalsh.com/
"Life's Been Good"
was edited down from eight to just under five minutes and released as a single,
going to number fourteen in the UK and number twelve in the US. Walsh considered:
"I wanted to make a statement involving satire and humor, kind of poking fun at the incredibly silly lifestyle that someone in my position is faced with – in other words, I do have a really nice house, but I'm on the road so much that when I come home from a tour, it's really hard to feel that I even live here. It's not necessarily me, I think it paraphrases anyone in my position, and I think that's why a lot of people related to it, but basically, that's the story of any rock star – I say that humbly – anyone in my position. I thought that was a valid statement, because it is a strange lifestyle – I've been around the world in concerts, and people say 'What was Japan like?', but I don't know. It's got a nice airport, you know... so it was kind of an overall statement."
http://www.youtube.com/watch?v=BXWvKDSwvls
I have a mansion forget the price
Ain't never been there they tell me it's nice
I live in hotels tear out the walls
I have accountants pay for it all
They say I'm crazy but I have a good time
I'm just looking for clues at the scene of the crime
Life's been good to me so far
My Maserati does 185
I lost my license now I don't drive
I have a limo ride in the back
I lock the doors in case I'm attacked
I'm making records my fans they can't wait
They write me letters tell me I'm great
So I got me an office, gold records on the wall
Just leave a message maybe I'll call
Lucky I'm sane after all I've been through
Everybody says I'm cool (He's cool)
I can't complain but sometimes I still do
Life's been good to me so far
I go to parties sometimes until four
It's hard to leave when you can't find the door
It's tough to handle this fortune and fame
Everybody's so different I haven't changed
They say I'm lazy but it takes all my time
Everybody says Oh yeah (Oh yeah)
I keep on going guess I'll never know why
Life's been good to me so far
"Life's Been Good" – 8:04
http://www.youtube.com/watch?v=BXWvKDSwvls
"Indian Summer" – 3:03
http://www.youtube.com/watch?v=GRvLgOyxmuY
"Inner Tube" /
"Theme from Boat Weirdos"
http://www.youtube.com/watch?v=W1d4kgFRlQY