King Crimson punctured all the ballyhoo and scarred the sacred tablet of wax with the upholstered visions of megaphonium pandemonium. With the widespread acclaim afforded their groundbreaking debut 'In the Court of the Crimson King', the band embarked on a tour that ended in December of 1969. It was at this point that Ian McDonald and Michael Giles decided to leave the group (releasing the 'McDonald and Giles' album together in 1970). Robert Fripp reveals: "The band died in December of that year, while we were staying in Los Angeles. With all the pressure finally off, the group ran around the room in glee. I couldn't do the same. I had realized that King Crimson was too important to let die. That particular band was especially good, perhaps because we shared an intense frustration and animosity towards the world in general and ourselves in particular. We were very creative, most definitely because pain and frustration lends itself to such a fruitful artistic state."
The sessions for their second album, 'In the Wake of Poseidon', brought back Michael Giles (returning only as a session drummer) with his brother Peter on bass. Keith Tippett joined the proceedings on keyboards; while Greg Lake (who went on to form Emerson, Lake & Palmer) stuck around to do most of the vocals on the sessions; while Fripp invited former bandmate from The League of Gentlemen Gordon Haskell to sing on one song. Mel Collins sat in on two tracks (one with sax and one with flute) as well.
Haskell and Collins became full fleged band members for the third album 'Lizard'. As a parting gesture, Lake had introduced drummer Andy McCulloch (a tenant of Keith Emerson's) to the group. Tippett was offered membership in the band; but preferred to remain a session contributor, bringing in Nick Evans and Marc Charig.
Haskell remembers: "[When Fripp asked me to join the band] I straight away, without any hesitation, said 'absolutely not'. I was totally r&b oriented and it wasn't my sort of music. I didn't like King Crimson. Anyway, after a while I said I'd think about it, and my wife got to work on me because she wanted a regular income so in the end I joined. I did some vocals on 'In The Wake of Poseidon', and then we got down to rehearsing 'Lizards' and.... the drummer, Andy McCulloch, was in tears - Fripp used to bully him unmercifully. He bullied us all. I don't go for that though, so where Andy would cry I would just laugh. At the end of one song, 'Indoor Games', I just burst out laughing. You can hear it on the album. They thought it was really freaky, that I'd understood the lyrics and my part - but the truth of the matter is, it was a lousy song, the lyrics were ludicrous and my singing was atrocious so I just burst out laughing. And they thought it was wonderful!"
'Lizard' featured Robert Fripp on guitar, Mellotron, synthesizer, organ, devices, and remixing; Peter Sinfield on lyrics, VCS3, pictures, and sleeve conception; Mel Collins on saxophone and flute; Gordon Haskell on bass guitar and vocals; and Andy McCulloch on drums; with Keith Tippett on acoustic and electric pianos; Robin Miller on oboe and cor anglais; Mark Charig on cornet; and Nick Evans on trombone. Jon Anderson did a guest appearance on vocals for "Prince Rupert Awakes". The lineup dissolved before there could be a tour. Haskell and McCulloch made their exit, leaving behind the official trio of Fripp, Sinfield, and Collins. 'Lizard' charted at number one hundred and eighteen in the US, sixty in Canada, and twenty-nine in the UK.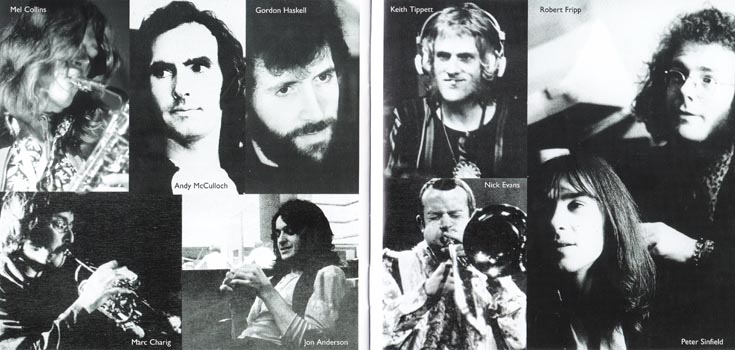 Mel Collins looks back: "We would go and see King Crimson on a Sunday and they would come and see us on a Wednesday and that's how I first got to meet Robert Fripp. He obviously liked what I was doing in Circus - after Philip left I was pretty much the leader of the band, anyway - and Crimson had been having a troubled time on tour in America, Mike Giles and Ian MacDonald had left the band, girlfriend problems, or whatever, and when they came back from the States they were minus a drummer and a sax player. Fripp came down to see us one night and asked me if I would be interested in joining. So that was the beginning of my leaving Circus to join King Crimson. Originally it was just on a session basis, during the recording of the 'Wake Of Poseidon' LP, but when I joined the band permanently it was with the specific purpose of getting the band out on the road. Greg Lake was still involved at the time that I joined, but he quit to form Emerson, Lake & Palmer while Crimson were still looking for their new drummer. So for a while, Crimson was just Robert, myself and Pete Sinfield, trying to get the band together. It took a year in fact, before we got the personnel together who recorded the album 'Lizard', which was the addition of Gordon Haskall on bass and Andy McCulloch on drums. Once the album was finished, this was going to be the band that went out on the road, but on the first day of rehearsals Gordon Haskall decided that he couldn't work with Robert anymore. Gordon and Robert had actually been at school together, but they'd had such a hard time in the studio - Fripp isn't always the easiest of people to work with - but the first day of rehearsing the tour and Gordon turns round and tells us he's leaving!"
Fripp confesses: I'm a very difficult person to work with, because in King Crimson there was a founding statement to be honoured, going back to '69. And if what is available fails to meet what I see as a responsibility to the larger Crimson, then that gap has to be met by someone. And it would fall to me. So it's not a comfortable place...The reason King Crimson had had so many members over the past few years is simple instability. You might take that to infer that I'm unstable, but most people would disagree with you… myself included...I am very fascinated in a way musicians work together as a unit. You see, I view King Crimson as the microcosm of the macrocosm. If one can't operate successfully with three other musicians, it stands to reason that one would find it difficult to work well in a larger unit...I form bands, but I'm not a leader. There are far more subtle ways of influencing people and getting things done than being a band leader, it's not a function I cherish. Who needs it?...Within the corpus of Crimson albums, Lizard is, historically, one of the least popular...Nevertheless, some strange characters in the listening community liked, even developed a passion for Lizard...Perhaps the leading very- strange-Lizard-lover is [reissue producer] Steven Wilson...And, from time to time, in different places, I have met others who admit to the same strange passion. Now I can hear why. The music of Lizard is redeemed."
Sinfield says: "I've been criticized; but a lot of it's quite valid, anyway. I do play games, endlessly, just for my own amusement. But I get annoyed about being called pretentious, because as far as can be worked out, and I checked in the dictionary, it means pretending to be something you're not. Now, if you're in the rock and roll business, and you're making money, I see absolutely no reason why you shouldn't make a comment on the world."
https://www.dgmlive.com/
http://www.songsouponsea.com/

"Prince Rupert Awakes" / "Bolero – The Peacock's Tale"
"Cirkus" (including "Entry of the Chameleons")
'Lizard'
full album:
All songs written by Robert Fripp and Peter Sinfield.
side one
1. Cirkus (including Entry Of The Chameleons) (6:28)
2. Indoor Games (5:41)
3. Happy Family (4:16)
4. Lady Of The Dancing Water (2:44)
side two
5. Lizard:
- a. Prince Rupert Awakes (4:36)
- b. Bolero - The Peacock's Tale (6:39)
- c. The Battle Of The Glass Tears (10:58)
- i) Dawn Song
- ii) Last Skirmish
- iii) Prince Rupert's Lament
- d. Big Top (1:13)
Total Time: 42:35