Nico expressed the word unknown in the grotesque gothic groanings of this cabalistic
confessional. The German model Nico (Christa Päffgen) become a member of The Velvet Underground for
their first album
before recording her solo debut
Chelsea Girl
in 1967. She was unhappy with the way the album was produced; and, with the encouragement of romantic partners like Leonard Cohen and Jim Morrison, she began writing her own songs. Her next album
The Marble Index
was co-produced with John Cale
in 1969 and established a darker sound that drew from classical influences.
Desertshore was recorded at Sound Techniques Ltd. in London, England; except "Le Petit Chevalier" which was done at Studios Davout in Paris, France. The sessions were co-produced by

John Cale and Joe Boyd and featured Nico on vocals and harmonium, with John Cale doing the arrangements and playing all other instruments except trumpet. John Cale, Annagh Wood, and Adam Miller did the harmony voices, while Nico's son Ari Boulogne performed the vocals on "Le Petit Chevalier". It is Ari that appears on the cover of the album with her.
Cale remembers: "She totally changed her image -- from being a blonde and wearing white into hennaing her hair and wearing totally black…And lived a dream. Everything that she did was part of this statement that now she was a different person. It was a solitary dream -- where occasional friendships were struck -- and abandoned. And the transitory nature of all of this was kind of the flotsam, the furniture of her life…with these somewhat derelict emotions. And it was so highly personal that it was very powerful."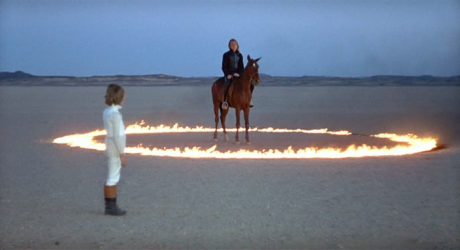 Nico would consider: "A true artist must self-destruct...I think I'm already doing it...Can't you tell by the way I live? It's a continual battle, a drama, being a stranger to myself. I don't have any references to know who I really am. I mean everyday...I mean to be really always in exile. I'm a total stranger to myself. Expect sometimes when I get reminded."
Janitor of Lunacy
Desertshore
full album:
All songs written and composed by Nico.
0:00 - Janitor of Lunacy
4:05 - The Falconer
9:49 - My Only Child
13:20 - Le Petit Chavalier
14:35 - Abschied
17:41 - Afraid
21:12 - Mutterlein
25:53 - All That Is My Own