Tim Burton and Danny Elfman collaborated to create a cartoonish catharsis in the surreal suburban shrubbery of this this magical musical romantic fable. Tim Burton collaborated with screenwriter Caroline Thompson to bring a story he conceived about his childhood in Burbank, California. Despite the massive success of his previous film Batman, he ran into resistance from Warner Brothers over this smaller, more personal project. 20th Century Fox bought the rights and gave Burton creative control. Burton worked for the first time with actor Johnny Depp as the title character of 'Edward Scissorhands'.
Burton would express: "It's harder because it's something I'm completely connected with. I feel more volatile. I feel myself in weirder moods. I'm more interiorized. Emotionally, it's harder, but it's more satisfying...The problem I have with some of the things I've done is that because they have such strong surface level images, I don't know if people see below that. In Edward Scissorhands, I feel like there is a little bit more below the surface that's obvious...A lot of it for me is the memory of growing up in suburbia. It's not a bad place. It's a weird place. It's a place where some people grow up and ask, 'Why are there resin grapes on the wall?' (and others don't). We're trying to walk the fine line of making it funny and strange without it being judgmental. It's a place where there's a lot of integrity...The character is both simple and complicated Both beautiful and off-putting, both creative and horrifically clumsy...They're an interesting invention; they cut through things...I mean, scissors are both simple and complicated. They're a very simple design. But I remember as a kid I could never figure out how they worked."
Burton had orginally conceived of the project as a musical. From the beginning he worked with Oingo Boingo frontman Danny Elfman, who had done the music for each of his previous films: Pee-wee's Big Adventure, Beetlejuice, and Batman: "It has gotten easier for [Elman and I] to work together, but I don't think we have had to work at it too much. I used to go see Danny in clubs, before I knew him. I just always connected with him and Oingo Boingo's music, even though it had nothing to do with film."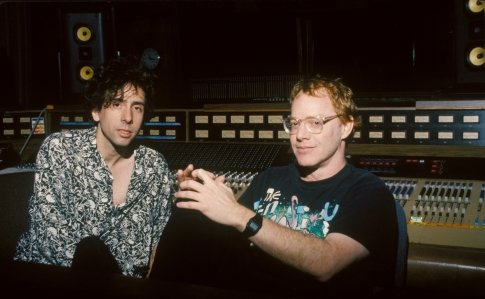 Elfman admits: "You search and search for compatible relationships. It's so rare that when you find it, you want to stick with it...It's getting harder, and that's why I am starting to pull back a little bit, touring less and doing fewer films. It was easier to pass between the two worlds in the beginning because I rarely spent more than four weeks on a film. But for the last couple of years, I've been getting so deep into it that it's become a barrier in both directions, and I really have to push through. When I'm in the middle of a film score, it's inconceivable for me to think about performing live or writing songs...But it's unheard of for a composer not to have formal musical training and write an orchestral score. Guys like me are supposed to write synthesizer-based scores or pop scores; we're not supposed to dive into the sacred well. I made the mistake of being honest early on and saying I had no training, and I know there are people who have a low opinion of me for that reason ... Tim opened every door for me. Every score for the next 10 years opened up a new side of my career. "Pee-wee's Big Adventure" got me offered every quirky comedy … made in Hollywood. Out of the blue, I'm offered 10 movies, and they're all kind of contemporary, slightly — some of them were not so quirky — comedies. Then "Beetle Juice." Oh, fantasy, you can stretch out a bit more. Then "Batman," that was the roughest of my career — the time where I really had to fight for something — [it was,] "Oh, do a big movie." … Then "Edward Scissorhands" and it's like, ah, well, romantic, sure. Every one of those was opening up another door. Suddenly, the offers after each of those would be of a more diverse nature...He said, "How are you doing all of these films in between each of my films?" I told him, if I don't, I'm not going to be able to do each of your films because each film was asking more of me. I didn't want them all to be like "Pee-wee" with a different melody or different tone.
Elfman recorded the soundtrack with a 79-piece orchestra: [Burton] can be very intense while working on the scores but he gets very fun and jokey when we're recording later in the studio. But his process can be very tortured and torturous — and isn't easy at all. People think, "Oh, I know what he's gonna like. I'll write something. He's gonna love this." I never have any idea what he's gonna like...It's always a mystery to me...Very little [direction]. Less than most directors. He'll tell me how he feels about a movie, but until I have music to play back, he's not gonna say, "Do it like this or like that." Often I think he has to learn what he's responding to by hearing. I can tell by his body language what he likes. But then, as intense as it can be developing the music, when we're actually recording, he can be hysterical and funny. It's almost like the pressure of the whole thing is now on my shoulders and he enjoys the fact that he doesn't have a lot of responsibility now. It's like I have to suffer...On Edward Scissorhands, I had a shrunken head that was present for the sessions. We named him Uncle Billy, and Uncle Billy was around while we're doing everything. And then suddenly the boys' choir had to come in to sing, and it's like "We have to hide Uncle Billy" There's gonna be a bunch of nuns in here with all these kids, and Tim would do like the voice of Uncle Billy. It's like [funny voice], "Where are you guys? Why don't you let me out?" And Uncle Billy became like the voice of the score and his feelings being hurt, and "we hid him when the children came over." That's very Tim."
Burton considers: "That [notion of chronicling my own uneasiness in the world] freaks me out too much. I wouldn't have approached a film like that. I don't want to get so interiorized that it's just . . . I'm hoping the feelings are fairly universal. It is not a new story. It's 'Frankenstein.' It's 'Phantom of the Opera.' It's 'Hunchback of Notre Dame,' 'King Kong,' 'Creature From the Black Lagoon,' and countless fairy tales ... Well, being a big monster-movie fan, the Universal monster movies and the Japanese science-fiction movies, like the ones by Ishir¯o Honda [ had the greatest impact on me]. Then there were the Italians, like Mario Bava...The thing I love about the old monsters is that they had such a strong, immediately identifiable image. I find that a lot of monsters today are just so busy. They have so many little tentacles and flaps and whatever else that they don't have the kind of strength in their images that the old monsters had. It's also due to the CGI heaviness. You're missing the human element—like Boris Karloff, who actually played the monsters. Even in Creature From the Black Lagoon, the guy had a complete costume, so you felt like there was a human being underneath. I think that's important. It's always an interesting challenge to see if you can create a character that's got emotion. It can be done and it has been done."
'Edward Scissorhands' was a commercial and critical success. The film received numerous accolades. Stan Winston and Ve Neill were nominated the Academy Award for Best Makeup. Production designer Bo Welch won the BAFTA Award for Best Production Design. Costume designer Colleen Atwood, and Winston and Neil also received nominations at the British Academy Film Awards. Winston was also nominated for his visual effects work. Johnny Depp was nominated for the Golden Globe Award for Best Actor in a Musical or Comedy. Edward Scissorhands won the Hugo Award for Best Dramatic Presentation and the Saturn Award for Best Fantasy Film. Danny Elfman, Ryder, Dianne Wiest, Alan Arkin, and Atwood received individual nominations. Elfman was also Nominated for 34th Grammy Award for Best Instrumental Composition Written for a Motion Picture or for Television.
'Edward Scissorhands'
trailer
'Edward Scissorhands'
full soundtrack:
1. Introduction (Titles) 0:00
2. Storytime 2:36
3. Castle On The Hill 5:11
4. Beautiful New World/Home Sweet Home 11:35
5. The Cookie Factory 13:43
6. Ballet De Suburbia (Suite) 15:55
7. Ice Dance 17:12
8. Edward Meets the World: Etiquette Lesson 18:58
9. Edwardo The Barber 20:35
10. Esmeralda 23:53
11. Death! 24:20
12. The Tide Turns (Suite) 27:50
13. The Final Confrontation 33:21
14. Farewell... 35:38
15. The Grand Finale 38:22
16. The End 41:50
17. With These Hands - Tom Jones 46:35
'Edward Scissorhands'
full film: