Fela Kuti and Afrika '70 laid out these extended funk jazz afrobeat expressions of polyrhythmic psychedelia as a perturbed pronouncement on post-colonial putrefaction. Born Olufela Olusegun Oludotun Ransome-Kuti on 15 October 1938 in Abeokuta, Nigeria, he was sent to London at the age of twenty to study medicine but decided instead to study music at the Trinity College of Music. He formed the rhythmic jazz ensemble Koola Lobitos, which became a club success around London. He returned to Nigeria in 1963 where he created a new version of the band. During a trip to Ghana, he developed a new musical direction he dubbed "afrobeat" and then took his group to Los Angeles where he was exposed to radical politics and recorded an album that would later be released as the '69 L.A. Sessions.
Back in Nigeria he renamed the group The Afrika '70 and started a commune he called the Kalakuta Republic. The prolific ensemble released a series of groundbreaking studio albums that included Fela Ransome Kuti and His Koola Lobitos in 1965; Fela Fela Fela in 1969; Why Black Man Dey Suffer, Open & Close, and Fela's London Scene in 1971; Roforofo Fight and Shakara in 1972; and Gentleman and Afrodisiac in 1973. Kuti also released two live albums (Afro Beat on Stage: Recorded Live at the Afro Spot in 1966 and Fela Ransome-Kuti and The Africa '70 With Ginger Baker - Live! in 1971) and appeared on Ginger Baker's Stratavarious album in 1972. By 1974, he had successfully made the transition to political artist and had centered on Nigeria's capital city of Lagos as his focus.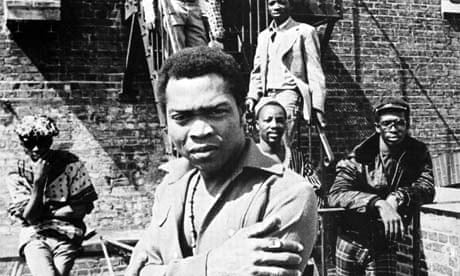 During the next year, he began working on several projects at once. The sessions that resulted in
'Confusion'
and
'Expensive Shit'
featured James Abayomi on sticks; Tony Allen on lead drums and solo drums; Lekan Animashaun on baritone saxophone; George Mark Bruce on bass guitar; Segun Edo on tenor guitar; Henry Kofi on first conga; Daniel Koranteg on second conga; Tony Njoku on trumpet; Emmanuel Odenusi on engineering and mixing; Isaac Olaleye on maracas; Remi Olowookere on graphics; Fela Ransome-Kuti on arrangements, tenor saxophone, piano, production, and vocals; and Tutu Shoronmu on rhythm guitar; as well as Ogene Kologbo on tenor guitar; Ukem Stephen on trumpet; Franco Aboddy on bass guitar; Tunde Williams on trumpet; Christopher Uwaifor on tenor saxophone; Leke Benson on rhythm guitar; Nicholas Addo on conga; James Abayomi on sticks; and Demola Odebiyi as recording engineer. The group would also record five other albums that year: Monkey Banana, Excuse O, Noise for Vendor Mouth, He Miss Road, and Everything Scatter.
http://www.felaproject.net/
http://www.afrobeatmusic.net/
Confusion
full album:
https://www.youtube.com/watch?v=WhqXJOoItOI
All songs were arranged, composed, and produced by Fela Ransome-Kuti.
Side one
"Confusion Pt. I" – 14:08
Side two
"Confusion Pt. II" – 11:28
Expensive Shit
full album:
Expensive Shit 13:07
The titular song was inspired by Kuti being jailed on charges of possession of marijuana. After he ate his stash, authorities waited for it to pass through him; but he was able to replace his own excrement with that of another prisoner.
https://www.youtube.com/watch?v=bmXvpuseXWU
Water No Get Enemy 11:02
https://www.youtube.com/watch?v=axcQwDGgTJg