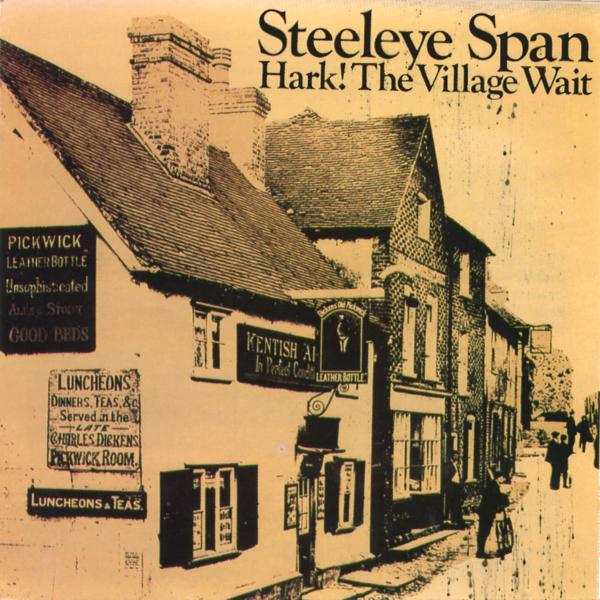 Steeleye Span harkened back to the sound of British townships with their folk rock interpretations of traditional medieval melodies. Ashley Hutchings had recorded four albums with Fairport Convention including their eponymous debut and three classic albums in 1969 (What We Did on Our Holidays, Unhalfbricking, and Liege & Lief) before deciding to leave the band. A fatal accident was the impetus for the change: "We were totally fractured, in more ways than one. People were asking us about the future, but we couldn't conceive of planning one."
Hutchings formed Steeleye Span with the intention of pursuing a more traditional folk sound. Maddy Prior looks back: "Terry and Gay Woods were looking to form a band with Ashley Hutchings. They were staying in the same house Tim and I were living in, and they asked 'Do you want to join the band?' We had some rehearsals and thought, 'Let's give it a go', but it's not always a good idea to get involved with people you don't really know. Ashley had just left Fairport after being in a bad car crash and was still struggling with it. He was like the referee between two couples - and the ref was poorly - but we did get on well, but then Terry and Gay did leave, so maybe we didn't!"
Taking their name from the traditional song Horkstow Grange, they recorded their debut album
'Hark! The Village Wait'
at Sound Techniques in London with producer Sandy Roberton. The sessions featured Tim Hart on lead vocals, vocals, electric guitar, 5 string banjo, electric dulcimer, fiddle, and harmonium; Ashley Hutchings on electric bass; Maddy Prior on lead vocals, vocals, 5 string banjo, and step dancing; Gay Woods on lead vocals, vocals, auto-harp, concertina, bodhran, and step dancing; Terry Woods on vocals, mandola, electric guitar, 5 string banjo, concertina, and mandolin; with Gerry Conway and Dave Mattacks on drums.
Gay Woods remembers: "It would have been late '69. I remember because it was wintertime and it was snowing and all the rest of it...I was married to Terry Woods then and he went over to England and met Ashley Hutchings and Ashley was wanting to form another band after Fairport because he had left them and wanted to do his own thing and Terry joined up. I went over to get a job as a typist - the old story so Terry said that I could sing, because I had always sung here in Ireland with my brothers and with Terry. I came from a singing family so they said, "Oh well, do you want to sing?". It was all very casual, there was no record deal, nothing. We just did it - like the way kids do nowadays. We had to set up in Ashley Hutching's bedroom and sing a few songs and see what we wanted. Then Tim and Maddy were asked and they decided to give it a go and that was how it formed. Terry Woods and me moved down to a place in Wiltshire and Ashley moved down south and Tim and Maddy came into it whilst they were doing the folk club gigs...There was definitely a project. Ashley Hutchings and Terry Woods were the mainstay - Terry had a huge repertoire of songs and a huge energy as well for playing. He was really into it. So was Ashley - he was the sort of driving force - the English connection. So we got a record producer and we got a deal - RCA and we were just astonished. I got a job as a typist and I had it about a week but I think that was the catalyst. When I went off to work down in London, they got the deal. I got a lovely phone call one day saying 'Gay, we've got the deal- you've got the job'. I was out there like a bullet!...Well it was very folk clubby, although Fairport had done 'Liege and Lief' but before that in Ireland 'Sweeney's Men' had brought in Henry McCulloch to play electric guitar with them. I had been to the Cambridge Folk Festival in 1968 to watch them and they were booed off the stage for applying an electric guitar but they got on and they did their short set but audiences were certainly reluctant to see electric music going into traditional folk music stuff...I think it has a certain identity about it that no one else captured at that time certainly. It has to do with the songs we chose how Ashley Hutchings plays the bass - I love bass playing. I think it's an integral part in that change of how traditional music was carried on, particularly with the instruments Terry Woods used. As well as that the two women singing - the collision of nasally English singing and throaty Irish singing - just a big bowl of ingredients that made it sound like it did with traces of sweetness. Although I have to say the people weren't sweet to each other whilst they did it...Then the fighting started because there were some clashes of personality so that was the end of that!"
http://steeleyespan.org.uk/
'Hark! The Village Wait'
full album:
https://www.youtube.com/watch?v=tkUQ0I_qc7o
1 A Calling-On Song 1:12
(Hutchings)
2 The Blacksmith 3:40
(Traditional)
3 Fisherman's Wife 3:14
(MacColl)
4 Blackleg Miner 2:47
(Traditional)
5 Dark-Eyed Sailor 5:58
(Traditional)
6 Copshawholme Fair 2:34
(Traditional)
7 All Things Are Quite Silent 2:39
(Traditional)
8 The Hills of Greenmore 4:01
(Traditional)
9 My Johnny Was a Shoemaker 1:11
(Traditional)
10 Lowlands of Holland 6:00
(Traditional)
11 Twa Corbies 2:06
(Traditional)
12 One Night as I Lay on My Bed 3:30
(Traditional)