Fairport Convention found the perfect voice for their cosmic folk with the addition of Sandy Denny on this stunningly seasoned sequel. With the commercial failure of their eponymous debut,
the group was ready for a change. They made the move to Island Records and sought to replace vocalist Judy Dyble who had moved on to another group Giles, Giles, and Fripp. Impressed with her work with the Strawbs,
Fairport Convention brought Denny into the fold for the recording of
'What We Did On Our Holidays'
with producer Joe Boyd at Kingsway and Olympic Studio No. 1. with "The Lord Is in This Place..." being recorded at St. Peter's Church in Westbourne Grove, West London.
Simon Nicol considered: "It was a one horse race really...she stood out like a clean glass in a sink full of dirty dishes."
Richard Thompson says: "Her voice would go from a whisper to full throttle in the space of a line or two. That was a great gift that she had...Her style was original. Her phrasing was original. There's nothing quite like Sandy. She had a very powerful voice. She was fabulously in tune — like someone like Patsy Cline. No one ever heard Patsy Cline sing out of tune. No one ever heard Sandy sing out of tune in any situation. She was just absolutely on it all the time."
Denny would reveal: "I wanted to do something more with my voice. Although I can play guitar adequately I was feeling limited by it, it was a kind of stagnation. I was developing; but the guitar was restricting ... It's funny, I never planned it definitely but somehow in the back of my mind I knew I would sing eventually. When I was very small, I used to sing a lot and then when I went to my grammar school, you know after I took my eleventh class. I never sang there at all except in a choir, very innocuously in the background, you know, and then when I left school I went to art college. I was at Kingston Art College and just down the road there was a little barge on the river, called "The Barge Folk Club" and I used to go down there and I thought "well I couldn't sing as well as these" you know, when I heard these people singing. So I learned to play the guitar very badly and I plucked up courage the next week to get up and sing a song and from then on, I've just always ehm… well I started doing just gigs around the country and then it got to be a little bit too much, going to college and doing gigs and turning up late and having people congratulate me for coming in at two o'clock in the afternoon and things, so I decided that rather than waste everybody else's time I just, you know, I'd get out and do it. And it was throughout my year at college that it just developed, you know."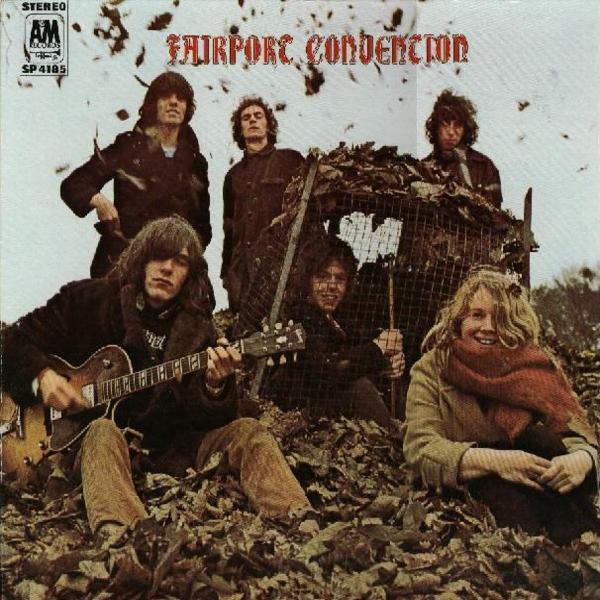 'What We Did On Our Holidays' features Sandy Denny (as Alexandra Elene MacLean Denny) on vocals, acoustic & 12-string acoustic guitars, organ, piano, and harpsichord; Iain Matthews on vocals and congas; Richard Thompson on electric, acoustic & 12-string acoustic guitars, piano accordion, and vocals; Ashley Hutchings on bass and backing vocals; Simon Nicol on electric & acoustic guitars, electric autoharp, electric dulcimer, and backing vocals; and Martin Lamble on drums, percussion, violin, tabla & footsteps; with Bruce Lacey & his robots on "Mr. Lacey"; Claire Lowther on cello on "Book Song"; Kingsley Abbott on coins on "The Lord Is in This Place...," backing vocals on "Meet on the Ledge"; Paul Ghosh, Andrew Horvitch, & Marc Ellington on backing vocals on "Meet on the Ledge"; and Peter Ross on harmonica on "Throwaway Street Puzzle".
'What We Did On Our Holidays'
didn't chart and, to add to the confusion, in the US the album was released under the title 'Fairport Convention'; which was the same title as their UK debut.
http://www.fairportconvention.com/
'What We Did On Our Holidays'
full album:
http://www.youtube.com/watch?v=yx2zh96YrJM
1.
"Fotheringay"
Sandy Denny
3:06
2.
"Mr Lacey"
Ashley Hutchings
2:55
3.
"Book Song"
Iain Matthews, Richard Thompson
3:13
4.

"The Lord Is in This Place...How Dreadful Is This Place"
(based on "Dark Was the Night, Cold Was the Ground" by Blind Willie Johnson)

Hutchings, Thompson, Denny
2:01
5.
"No Man's Land"
Thompson
2:32
6.
"I'll Keep It With Mine"
Bob Dylan
5:56
7.
"Eastern Rain"
Joni Mitchell
3:36
8.
"Nottamun Town"
traditional, arranged by Denny, Matthews, Thompson, Simon Nicol, Hutchings, Martin Lamble
3:12
9.
"Tale in Hard Time"
Thompson
3:29
10.
"She Moves Through the Fair"
traditional, arr. Denny, Matthews, Thompson, Nicol, Hutchings, Lamble
4:14
11.

"Meet on the Ledge"
Thompson
2:50
12.

"End of a Holiday"
Nicol
1:07
reissue bonus tracks:
13.
"Throwaway Street Puzzle"
Hutchings, Thompson
3:30
http://www.youtube.com/watch?v=EKBGaGWiue0
14.

"You're Gonna Need My Help"
(recorded live for BBC Radio's "Symonds on Sunday" show, producer John Walters and engineer Tony Wilson; first transmission: 9 February 1969)

McKinley Morganfield
4:11
http://www.youtube.com/watch?v=omQ-_xmieDc
15.
"Some Sweet Day"
Felice and Boudleaux Bryant
2:32
http://www.youtube.com/watch?v=DrmwT2wAhIM