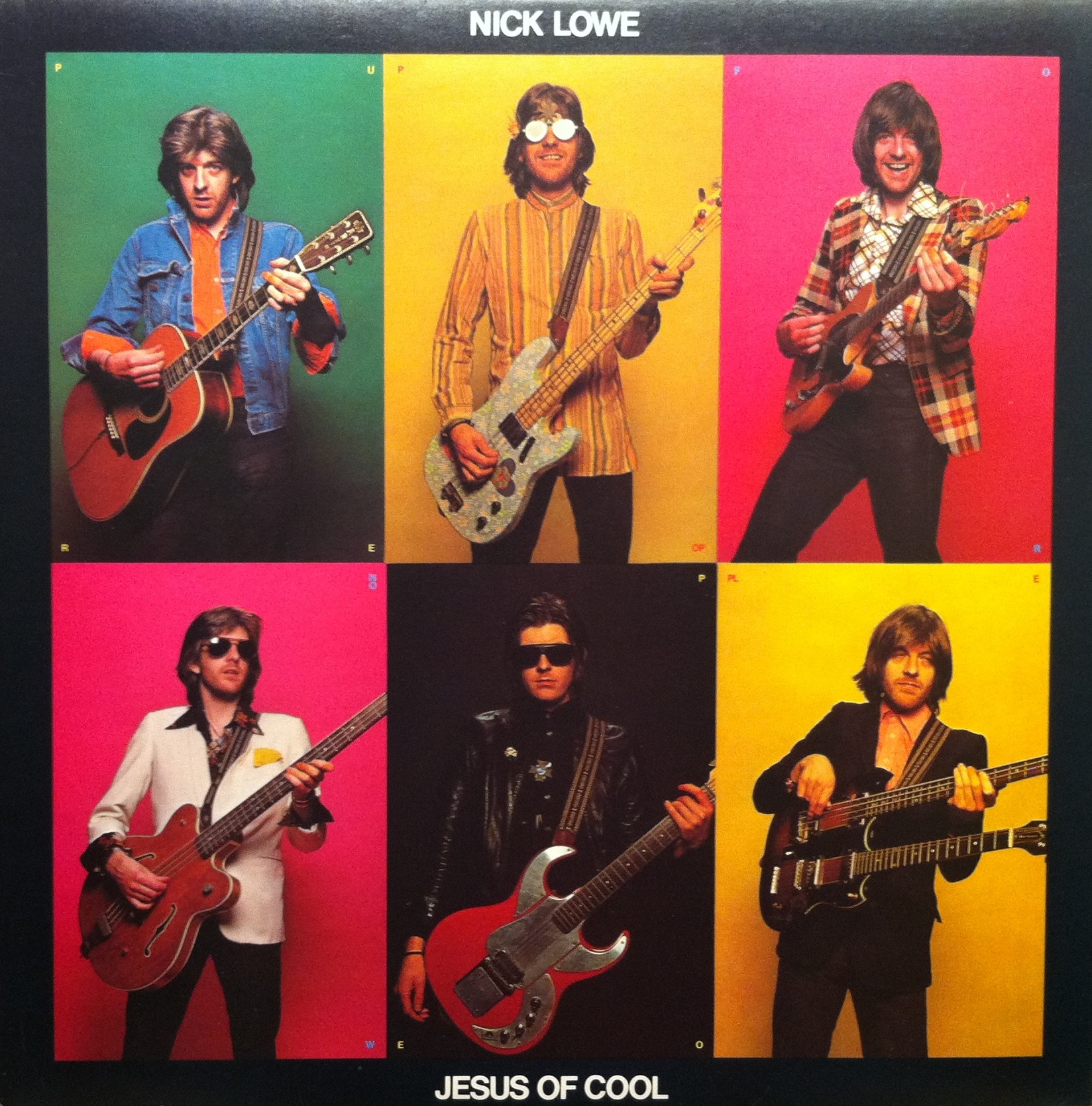 Nick Lowe bashed out his solo debut and cut a path between pub punk and power pop for an irresistibly irreverent introduction. Lowe spent years cutting his teeth with Brinsley Schwarz:
"I don't think it has a great place in rock history, really. It's true that we were one of the first groups on that pub rock scene that happened in London in the early 1970s – but it really was only in London. They tried to get it going in other cities in the U.K., but it never really worked. It was just a, sort of, London-centric thing...But at the time, when pub rock started out, it was tremendously good fun, and was anything but earnest and blues-boogieing ...
We used to copy other bands that we admired. As with any artistic endeavor—pop songwriting being absolutely the lowest head on the totem pole—you're just a product of everything you've ever admired, really. Obviously, when you start off writing songs, your heart and your influences are very much on your sleeve. You just rewrite another group's material that you like. And then you sort of get fed up with that and move on to another group and rewrite all their stuff. And so and so on, until the day comes when you're doing one artist's stuff and then you decide to add some other earlier influence you had in with that as well. As this starts to happen more and more often, you've got so many influences in there that you've got your own style...If you will put up with the premise that pop music started in the mid 50s—I'm talking about rock 'n' roll—I would contend that by about 1974, it all had been done. And I don't actually think that really anything new has been done since. It's just that every generation has sort of reinvented the styles that were done before it. And this was bang on the time when I and my contemporaries were the next generation. And we were most dissatisfied with what we saw. The pop business was full of these dreadful groups...And it was all safe and run by these bean counters and know-nothings. That's why, over here, the pub rock thing started up. When punk came along a few years later, that was the thing that it really needed, but I would say that pub rock was spawned for the same reasons—dissatisfaction that it was all rubbish and needed to be pulled down. Because it had gotten to a point where you just couldn't have another concept album or triple bullshit thing."
Dissatisfied with his contract with United Artists, Lowe put out two songs that he thought would irritate them:
'Bay City Rollers We Love You'
and
'Let's Go the the Disco'.
"I really needed a complete change…I wanted to get fired."
Lowe joined his old manager Dave Robinson and his new manager Jake Riviera at their fledgling Stiff Records, where he became the in-house producer, putting out seminal records like the Damned's 'New Rose',
Elvis Costello's first album,
and his own 'So It Goes' which became the label's first release. Lowe also began playing with Dave Edmunds and Rockpile
.
A year later, Lowe went with Riviera to Radar Records, which had been formed by former United Artist execs Martin Davis and Andrew Lauder. Lowe recruited members of Rockpile for the recording of his own album at Chalk Farm Studios, London, England; Eden Studios; Jackson Studios, Rickmansworth, Hertfordshire, England; and Pathway Studios, Stoke Newington. He produced the sessions himself, sang, and played bass and guitar; with Billy Bremner on guitars; Dave Edmunds on guitars and vocals; Roger Bechirian on organ and backing vocals; Bob Andrews on keyboards; Andrew Bodnar on bass; and Terry Williams, Steve Goulding, and Pete Thomas on drums. John McFee did the guitar solo on "Tonight"; and "Nutted by Reality" featured John Turnbull on lead guitar, Steve Nieve on piano, Norman Watt-Roy on bass, and Charley Charles on drums.
'Jesus of Cool' became the first release on Radar Records. In the US, Columbia Records decided to change the title and the order of the songs, calling it 'Pure Pop for Now People'. Lowe quiped at the time: "
My vision is to tease people. I never make a stand, you know, never put my feet down. If I write a love song, I'll always make fun of it to my friends. As a matter of fact, I'm sickeningly smug."
The album went to number one hundred and twenty-seven in the US and number twenty-two in the UK. Lowe looks back:
"I can understand how people have an affection for a lot of that stuff. I find it quite hard to perform those songs now, because at the time, they sort of fitted in with what I was talking about earlier on: I never really liked the punk rock music, but it was the mischief that was being made that really attracted me to the whole thing. The thing with Stiff Records, as well. There was something so great about having an idea and being able to put it into action straightaway. And for the mainstream record business, certainly in the U.K., could be miles behind you. They just couldn't keep up with us, because we knew all the journalists and the music magazines. The music papers came out weekly, and they had enormous readerships. And they were written by about five people, who were all friends of ours. We used to go to about the three pubs and one nightclub that existed in London in those days that everyone used to go to. And so we could say 'Look, we've got this great idea about so-and-so and so-and-so,' and they would print it! And suddenly, it would be a big news story that week. And we were in a really unbelievable position to be able to do our subversive thing."
"So It Goes" – 2:23
"I Love the Sound of Breaking Glass" (Lowe, Andrew Bodnar, Steve Goulding) – 3:05
went to number seven in the UK and became his biggest hit.
http://www.youtube.com/watch?v=xn0cuAYC5jk
http://www.youtube.com/watch?v=80A26-uo-CA
"Tonight" – 3:45
http://www.youtube.com/watch?v=sBcsyxXTxhQ
"Marie Provost" – 2:41
Lowe says the song was inspired by the book 'Hollywood Babylon: I just thought 'That's a gruesome story. I'll write a song about that.' And it was quite shocking. Now, it's kid's stuff, compared to what people get up to. So, as a result, I can't really sing those songs, because I feel a bit, sort of, foolish. It's 30 years ago, after all. Some of them, I can – but that one in particular, I'm terribly sorry to say, it'll have to just remain a record. It's a good little record, too – a really good sound, and it's fun...And writing songs like Marie Provost doesn't seem like much now, really. But at the time, it was quite shocking to do that sort of thing. And so I didn't really think much more about it, other than a little statement. I wasn't obsessed by Marie Provost, I'm rather ashamed to say now. I feel rather bad. For instance, I feel rather bad that her name has appeared misspelled, mainly, though the years. It's actually spelled P-r-E-v-o-s-t."
"Heart of the City" – 2:01
"They Called It Rock" (Lowe, Terry Williams, Billy Bremner, Edmunds) – 3:10
http://www.youtube.com/watch?v=hlCxGDMvvNw
"Rollers Show" – 3:31
http://www.youtube.com/watch?v=wHjS_nRxLf0
"No Reason" – 3:25
http://www.youtube.com/watch?v=VQFhteNBZ5A
"Little Hitler" (Lowe, Dave Edmunds) – 2:51
http://www.youtube.com/watch?v=N5qNk7H9gF8
"Nutted by Reality" – 2:46
http://www.youtube.com/watch?v=2e6MzUxsOEU
"36 Inches High" (Jim Ford) – 2:50
http://www.youtube.com/watch?v=N7DbnjszRzk
"Music for Money" – 2:09
http://www.last.fm/music/Nick+Lowe/_/Music+for+Money
http://open.spotify.com/track/4jKGH7JVhTOFXzWr7opZ2U
http://www.artistdirect.com/nad/window/media/page/0,,4537004-13870995,00.html
extras:
"Cruel to Be Kind" (Lowe, Ian Gomm)
(original Brinsley Schwarz version) - 2:52
http://www.youtube.com/watch?v=f4MLEznnKEg
"Shake That Rat" - 2:12
http://www.youtube.com/watch?v=-_bRC-P12AE
"I Love My Label" (Lowe, "Profile") - 3:00
http://www.youtube.com/watch?v=Nn4AOQeiR0w
"I Don't Want the Night to End" 1:57
http://www.youtube.com/watch?v=aT7gfpEFyOY