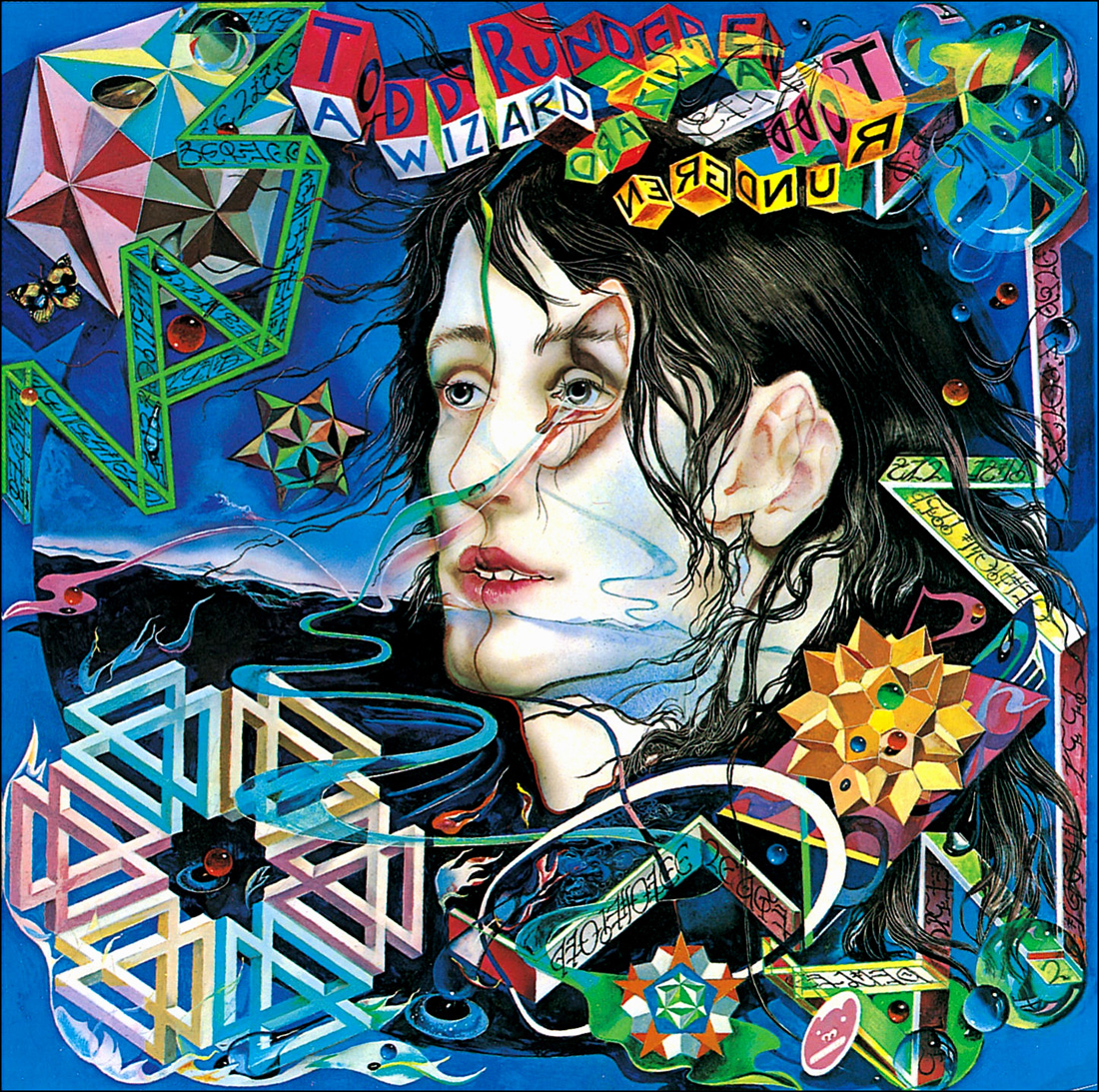 Todd Rundgren built his own Secret Sound Studio to unleash the medley of medleys that comprise the

psychic

collage of this magical animated dream. The studio was put together at "Moogy" Klingman's Manhattan loft and the sessions included Todd Rundgren on vocals and guitars; Michael Brecker and David Sanborn on saxophone; Randy Brecker on horn; Rick Derringer on guitar; Mark "Moogy" Klingman and Ralph Schuckett on keyboards; Jean-Yves "Frog" Labat on synthesizer; Barry Rogers on trombone; John Siegler on acoustic bass and cello; and John Siomos on drums. Rundgren remembers:
"There's certainly been a whole evolution in working. After 'Something/Anything?' I got into engineering as well. I built a studio [Secret Sound] for the recording of 'A Wizard, A True Star', because my approach to music was so unrestricted that it was impractical to pay a studio by the hour. I engineered almost everything that happened there. In most cases this involved pushing a button and running out into the studio to participate in the performance. I also was punching in and out for myself when recording vocals...For me the challenge in the studio has never been the technology. I absorbed everything I possibly could from doing my own recordings, and so when I got to do recording for other people, I had a fair amount of knowledge. You learn things like that the most important thing is mic choice and placement. Boards have nearly nothing to do with the end sound. People get fixated about signal paths and other things, but it all starts from the point where the sound is picked up. If you don't have the right mics and right placement, there's no way you can recover what you actually want. I was never a big splicer. For a long time I did not want to have to stop and start a mix and then splice it. For me the process of mixing was the discipline of learning exactly where the faders were supposed to be at every point in the song, and riding the vocals 12-20 times until you knew exactly where the peaks and drops were. And then being able at one glorious moment to take a big breath, push the Record button and do the mix from beginning to end and have it perfect! But at a certain point I started to work more with splicing, because I said, 'Yes, the little mistakes become part of the character of the song. But if they're going to bother you at all, why put up with them if it's easy just to stop the machine, roll back a couple of feet and do the splice?"
Following on the success of
'Something/Anything?'
,
'A Wizard, A True Star'
charted at number eighty-six on the US album chart. There were no singles; but 'Just One Victory' became a staple on the radio. Rundgren said:
"The 'Wizard' album was a picture of the average brain at work. Now there's a distinction between the brain and the mind. Because the mind tells the brain what to think. And the average person's brain resembles the clutter of the 'Wizard' album. In fact, that was my brain, until I cleared it all out. That was my first stream of consciousness album. It's not supposed to have a concept other than a picture of the average brain at work. The subsequent albums were more like organizing the brain, so that you can bring some inspired thought through it. People don't usually think inspired thoughts because they're usually too preoccupied with the immediate things that clutter up their brain...The thing was, I was really trying to smash away the preconceptions about my records. As a personal statement, it was quite a provocation, wasn't it? Not what you might call Easy Listening. More like some sort of psychic collage of erupting brain patterns. That was it, man. A deliberate provocation. It came out of a certain sense of being cornered stylistically. A lot of people were just presuming that I only wrote 'Hullo, It's Me' - 'I Saw The Light' type songs...whereas, I had originally been into a hard rock/heavy metal style. The reason I did both was that when I started the Nazz, I had this thing about being eclectic. Like the Beatles had no style other than being the Beatles. So the Nazz used to do, like heavy rock, and also these light, pretty ballads with complex ballads. And at the time that was something that people just didn't do. You were supposed to have an easily associable style. And that's always been part of my problem. I've always had this incongruity of style and influence. A lot of people still find it remarkable that I have a penchant for the conventional and pretty and the weird and abstract. That's because I don't make divisions in terms of music. I never have. If I hear something I like, that's it. It's mine. The thing about music is that if you're a good listener you can go window-shopping and own everything you see."
http://www.todd-rundgren.com/





"Just One Victory"
'A Wizard, A True Star'
full album:
All songs written by Todd Rundgren except as indicated.
Side one – "The International Feel (in 8)"
"International Feel" – 2:50
"Never Never Land"

(Betty Comden, Adolph Green, Jule Styne)

– 1:34
"Tic Tic Tic It Wears Off" (Instrumental) – 1:14
"You Need Your Head" – 1:02
"Rock and Roll Pussy" – 1:08
"Dogfight Giggle" – 1:05
"You Don't Have to Camp Around" – 1:03
"Flamingo" (Instrumental) – 2:34
"Zen Archer" – 5:35
"Just Another Onionhead/Da da Dali" – 2:23
"When the Shit Hits the Fan/Sunset Blvd." – 4:02
"Le Feel Internacionale" – 1:51
Side two – "A True Star"
"Sometimes I Don't Know What to Feel" – 4:16
"Does Anybody Love You?" – 1:31
"Medley" – 10:34
"I'm So Proud" (Curtis Mayfield) – 2:46
"Ooh Baby Baby" (Smokey Robinson, Warren "Pete" Moore) – 2:54
"La La Means I Love You" (William Hart, Thom Bell) – 2:16
"Cool Jerk" (Donald Storball) – 2:33
"Hungry for Love" – 2:18
"I Don't Want to Tie You Down" – 1:56
"Is It My Name?" – 4:01
"Just One Victory" – 4:59