Roxy Music worked through their creative tensions for the artsy luxurious decadence and obsessive nocturnal elegance of this fabulous creation.
'For Your Pleasure'
was produced at AIR Studios in London by Roxy Music with Chris Thomas and John Anthony. The sessions featured Bryan Ferry on voice, keyboards, piano, Hohner Pianet, Mellotron, and harmonica; Andy Mackay on Farfisa electronic organ, oboe and saxophone; Eno on VCS3 synthesizer, tapes, and backing vocals; Paul Thompson on drums; Phil Manzanera on electric guitar; and John Porter on guest artist bass.
In the months after the release of their eponymous debut, bassist Graham Simpson had been replaced by Peter Paul who
had been
replaced by Rik Kenton who
had been
replaced by John Porter. Ferry muses:
"People make mountains out of molehills. You know, on... what's that thing... 'For Your Pleasure' ... there's a guy all over it called John Porter, who nobody ever mentions to this day. He rang me the other month; he's moved to New Orleans and produces blues albums. His bass lines on 'For Your Pleasure' are so great, yet no-one ever says, ooh, when's the reunion with John Porter?"
Eno considered:
"I think the first album stressed all the things about us that are esoteric, ethereal and spacey, but as far as I'm concerned those things don't come off unless they're anchored to a strong base, and they've generally gone deeper into more limited range of ideas than on the first record. I think that one of the things that attracted people to the band before was that feeling of dilettantism - a lot of ideas being just touched on but I felt that nothing was really being taken far enough, and this album's got over that to an extent. But really an album's so short there's so many things we want to do, and 40 minutes, isn't a long time to do them. The album might be criticised for not showing enough ideas, but the ideas in there have been investigated much more thoroughly."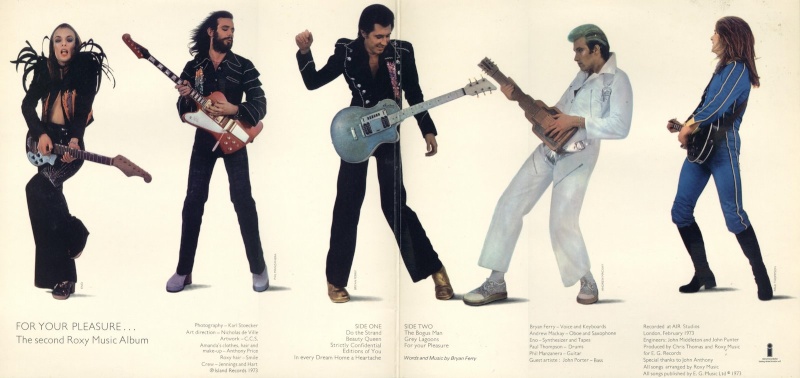 Ferry reflects: "
The music - I know everyone says this - is the most important thing. It seems to me that once you've got the music which you think is really good, comparatively speaking, you should try... if you try and produce it in the most attractive way possible, instead of looking embarrassedly at the floor, it's the whole theatrical thing of rock. Just because we've got a couple of bizarre and photogenic characters in the band it doesn't mean that we're a commercial venture. The whole thing is that we change from one record to another. We could have brought out a Virginia Plain Part 2 instead of Pyjamarama, which was very different. I think the first album tried too hard. There was more breathing space on the second album, and I think the standard of playing was much higher. I think it's improved so much in a year of hard slogging. I think the ideas were ahead of the musical ability on the first album ...
Looking back, I think the second album was much better than the first: it's better produced - and better played."
Eno elaborates:
"I suppose you could describe it as luxurious decadence. It upsets some people...they expect you to be pigeonholed, fully committed to one type of music like rock and roll. Well we certainly don't expect to spend the remainder of our musical days driving up and down the M1 in a van, living in rat holes. We plan to do it in style...It wasn't deliberate, but it was really inevitable considering all our different musical backgrounds. Musically we are a mixed up bunch. I am interested in Fifties rock and roll, early Sixties pop, and electronics. Paul is interested in the Thirties style of music and so on. With all that experimentation going on at the same time something was bound to happen...We were even accused of cashing in on Gary Glitter and that syndrome, but really it was he who cashed in on us. We were around before him...We wrote a song called 'Bitter End' which is just about a cocktail ... that's all. All we are saying is at least enjoy the luxury before it's too late. Well, if the apocalypse does approach, at least rock music can now greet it in true decadent style."
'For Your Pleasure'
hit one hundred and ninety-three in the US and number four in the UK. Ferry's girlfriend Amanda Lear was the cover model.
After the album was released, Eno left the band:
"It's very hard to know just how honest I should be about the reasons for my demise from Roxy. The problem is that when it gets printed, it all seems to look much more meaningful and serious when unqualified by that chuckle at the back of the throat. My thirsting for revenge has died down somewhat over the last few days, anyway. People who do great hatchet-jobs on the members of their old band usually come out looking like losers when it all appears in print. I started off by wanting to call a Press conference so that I could state my case, but that's all so pointless. Another reason for my reticence is because I don't want to damage Roxy for the sake of the other people in it. I mean, I really like the other members, and I (pause) really like Bryan in a funny way...Actually the real truth is that Bryan Ferry and I are secretly breaking away, and we're going to form a duo called the Singing Brians. Does that sound like it could be true? I dare you to print it." An affected sigh. "I don't know. I think I'll probably just give up music altogether and become a full-time poseur."
http://www.roxymusic.co.uk/
"Editions of You"
"In Every Dream Home a Heartache"
"The Bogus Man"
"Grey Lagoons"
"For Your Pleasure"
For your pleasure
In our present state
Part false part true
Like anything
We present ourselves
The words we use tumble
All over your shoulder
Gravel hard and loose
There all night lying
With your dark horse hiding
Abhorring such extremes
You're rubbing shoulders
With the stars at night
Shining so bright
Getting older
But you'll wake up soon
And fight
In the morning
Things you worried about
Last night
Will seem lighter
I hope things
Will turn out right
Old man
Through every step a change
You watch me walk away
Tara Tara
http://www.youtube.com/watch?v=eVCGTsiedEY
'Pyjamarama' was released as a single to promote 'For Your Pleasure'; but was not included on the album. It rolled up to number ninety-six in Australia and number ten in the UK.
http://www.youtube.com/watch?v=lnXD6VWsbIw
'For Your Pleasure'
full album:
All tracks written by Bryan Ferry.
1. Do The Strand (0:00-4:03)
2. Beauty Queen (4:04-8:44)
3. Strictly Confidential (8:45-12:32)
4. Editions Of You (12:33-16:24)
5. In Every Dream Home A Heartache (16:25-21:53)
6. The Bogus Man (21:54-31:14)
7. Grey Lagoons (31:15-35:27)
8. For Your Pleasure (35:28-42:20)