Alan Parker brought Roddy's Doyle's novel about building a soul band in Dublin to life by building a soul band with actual working musicians. Parker remembers: "I had said from the outset, rather rashly, that in our search for the Commitments members I would consider anyone who sang or played a musical instrument. It was pointed out to me that there were as many as 1200 bands playing in Dublin, which is extraordinary in a city of just over a million people. There was a little Irish blarney attached to this, however, as I discovered that many of the young musicians often play in three or four bands at a time and "The Boneshakers" this week can inexplicably be called "Hep Cat Huey" the next. Each evening a different pub offered us up yet another band belting away in the cramped upstairs rooms. They say forming a band in Dublin is one thing, but finding somewhere to play is a little more difficult. Also on every street corner there seemed to be a busker who was dutifully dragged in to audition. Many reasons are put forward for the music explosion in Ireland. The international success of performers like U2, Sinéad O'Connor, Van Morrison and Bob Geldof are obvious beacons for young Dubliners. Ireland also has the youngest population in Europe and (in 1990) the high unemployment amongst young people is an important factor in why so many struggle to buy their guitars and form their garage bands as a way of gaining some dignity for the present and hope for a future...Also, in order to cast our net as widely as possible, we had organized an open casting call at the Mansion House (town hall) where we invited anyone in Dublin who wanted to be considered for the film. Over 1500 young hopefuls turned up reading a page of the script and singing and playing everything from guitars to tin whistles, banjos to bagpipes (quite a miraculous turnout considering Ireland was doing rather well in the World Cup at the time, consequently bringing Dublin to a halt). The truth is, of course, if you ask absolutely anyone to sing in Ireland they'll gladly oblige —often quite beautifully and sometimes even without a glass of Guinness in their hand."
The group was assembled using ten musicians and two actors (Bronagh Gallagher and Johnny Murphy). The film stars:
Robert Arkins as Jimmy Rabbitte, manager.
Sixteen year old Andrew Strong as Declan "Deco" Cuffe, lead singer. His father, Rob Strong, was the film's vocal coach and when Parker heard his son singing, he asked him to audition for Deco.

Glen Hansard from the band The Frames as Outspan Foster, guitar.
Kenneth McCluskey as Derek Scully, bass.
Johnny Murphy as Joey "The Lips" Fagan, trumpet. Rory Gallagher and Van Morrison had been approached to play the part.
Félim Gormley as Dean Fay, sax.
Michael Aherne as Steven Clifford, piano.
Dick Massey as Billy Mooney, first drummer.
Dave Finnegan as Mickah Wallace, second drummer.
The Commitmentettes
Angeline Ball as Imelda Quirke, backup singer.
Maria Doyle as Natalie Murphy, backup singer
Bronagh Gallagher as Bernie McGloughlin, backup singer.
Colm Meaney as Jimmy Rabbitte, Sr.
Anne Kent as Mrs. Rabbitte

All four siblings from The Corrs appear in the film.
Andrea Corr as Sharon Rabbitte, Jimmy's younger sister. She does not sing in the film.
Jim Corr as a "Avant-Garde-A-Clue" band member
Sharon Corr (uncredited) as Fiddle Player in Country & Western band
Caroline Corr (uncredited) as Drummer in Country & Western band
Peter Rowen (who featured on the cover of U2's Boy and War) as the skateboarding boy who wants to audition for the band.
Colm Mac Con Iomaire as an auditioning fiddler
Sean Hughes as Dave from Eejit Records
Alan Parker as Eejit Records producer
Parker says: "Our music priority was to lay down the basic tracks for the twenty-four chosen performed songs. We had decided to use a new system for shooting and recording the music which had never been used before on a film. Most film music from "Singing In The Rain" to MTV uses pre-recorded tracks and vocals which are played back as the camera takes up different positions with the artists miming. I wanted to capture the reality of the rehearsals and performing by recording the vocals live on set. This is very difficult as modern film requires many different angles to be covered and a constant sound track is needed in order for the finished edited scene to match cut by cut. We used a new system of out-of-phase speakers which enabled us to play the pre-recorded constant backing tracks at maximum volume on set to give us a live performance atmosphere for the vocalists to sing to. Each vocal was then recorded live onto a twenty-four track recorder that was on set with us. Because of the out-of-phase speakers the vocals could be recorded cleanly, as they were filmed, for re-mixing later. This allowed us the technical precision needed for a complicated cut but gave us the truth, energy and spirit of a live performance. It also enabled us to interweave dramatic dialogue with the songs. By the end of the month we had rehearsed each scene in the film over and over until our ten musicians had become actors and our two actors had become musicians and all of them had become an accomplished ensemble theatrical group. By the time we were ready to film, all the songs could be performed by the cast and we could run through the whole script, from beginning to end, in one stretch, just like a play."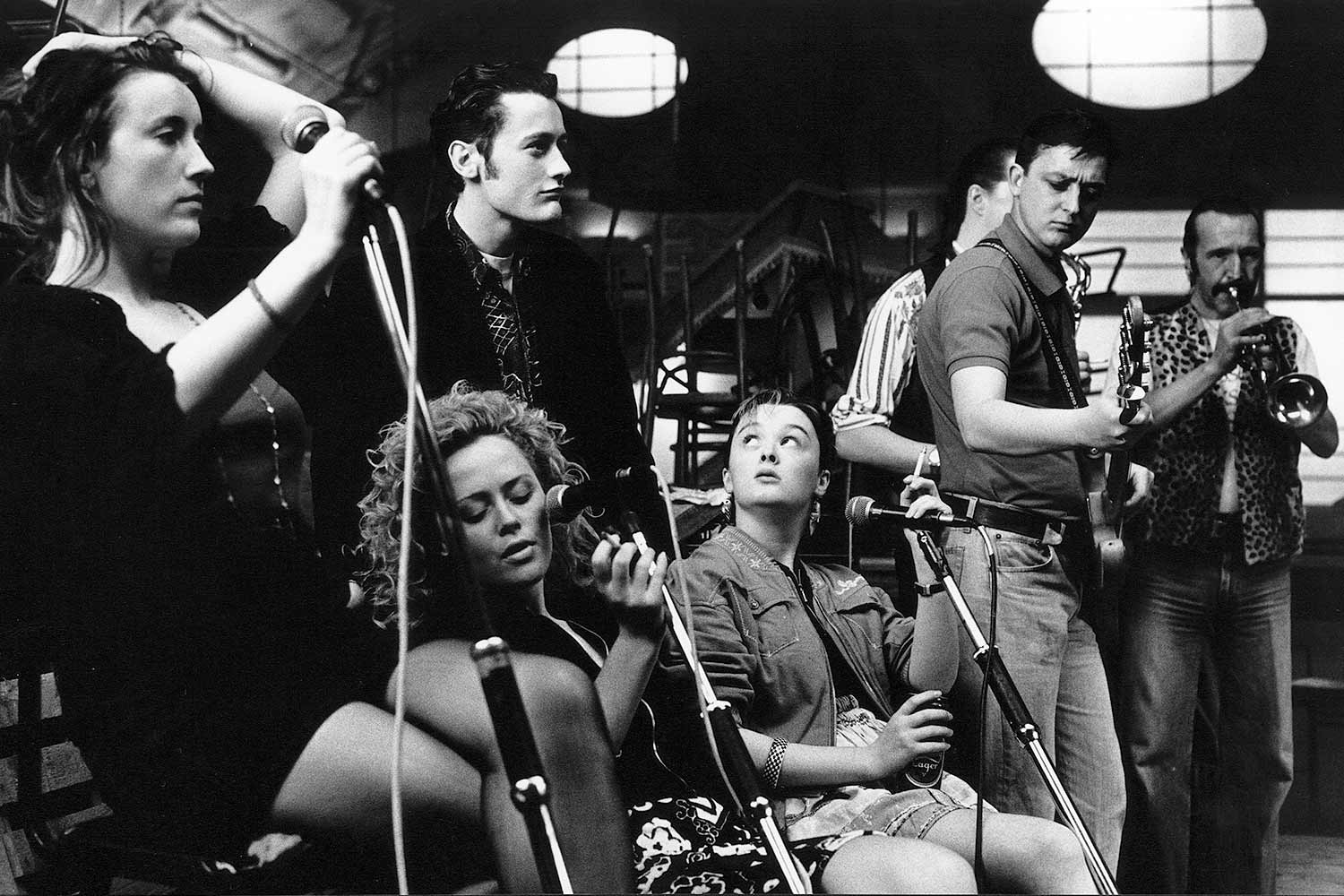 'The Commitments'
earned almost fifteen million at the box office and won the BAFTA Award for Best Film, as well as Best Director, Best Editing, and Best Adapted Screenplay. It was nominated for the Golden Globe Award for Best Motion Picture - Musical or Comedy and for the Academy Award for Best Film Editing. In a poll done in 2005 by Jameson Irish Whiskey, The Commitments was voted best Irish film of all time.
'The Commitments'
trailer
"Mustang Sally"
"Try A Little Tenderness"
The Commitments - Try a Little Tenderness
by algizdk
The soundtrack produced two volumes of music. The original soundtrack went to number seventeen in Sweden, twelve in Austria, eight in the US, six in Switzerland, four in the UK, two in Australia, and number one in New Zealand. Volume 2 charted at number one hundred and eighteen in the US, thirty-two in Austria, twenty-five in Sweden, fifteen in Switzerland, thirteen in the UK, eleven in Norway, six in Australia, and number three in New Zealand.
'The Commitments'
soundtrack Volumes 1&2
full albums
VOLUME 1
1. "Mustang Sally" Mack Rice 00:00
2. "Take Me To The River" Al Green, Mabon "Teenie" Hodges 04:00
3. "Chain Of Fools" Aretha Franklin 07:39
4. "The Dark End Of The Street" Dan Penn, Chips Moman 10:37
5. "Destination Anywhere" (Niamh Kavanagh)

Nickolas Ashford, Valerie Simpson 13:13
6. "I Can't Stand The Rain" Ann Peebles, Don Bryant, Bernard "Bernie" Miller 16:22
7. "Try A Little Tenderness" Jimmy Campbell and Reg Connelly, Harry M. Woods 19:34
8. "Treat Her Right" Roy Head and the Traits

24:09
9. "Do Right Woman, Do Right Man" (Niamh Kavanagh)

Penn, Moman 27:48
10. "Mr. Pitiful"

Redding, Steve Cropper 31:04
11. "I Never Loved A Man" Ronny Shannon 33:15
12. "In The Midnight Hour" Pickett, Cropper 36:27
13. "Bye Bye Baby"

Mary Wells 38:52
14. "Slip Away" William Armstrong, Marcus Daniel, Wilbur Terrell 42:16
VOLUME 2
1. "Hard To Handle"

Allen Jones, Al Bell, Otis Redding

46:47
2. "Grits Ain't Groceries" Titus Turner 49:10
3. "I Thank You" Isaac Hayes, David Porter 52:53
4. "That's The Way Love Is" Norman Whitfield, Barrett Strong 56:33
5. "Show Me" Joe Tex 1:00:42
6. "Saved" Jerry Leiber and Mike Stoller 1:03:36
7. "Too Many Fish in the Sea" Whitfield, Eddie Holland 1:06:33
8. "Fa-Fa-Fa-Fa-Fa (Sad Song)" Redding, Steve Cropper 1:09:18
9. "Land Of A Thousand Dances" Chris Kenner 1:12:11
10. "Nowhere To Run" Holland–Dozier–Holland 1:15:24
11. "Bring It On Home To Me" Sam Cooke 1:19:05
12. "Are You Lonely for Me" 1:22:50
13. "(She's) Some Kind of Wonderful" 1:26:46
14. "Too Many Cooks (Spoil the Soup)" 1:30:08
15. "Same Old Me" 1:33:34
16. "Ain't Nothing You Can Do" [Long Version] 1:38:40
where are they now?