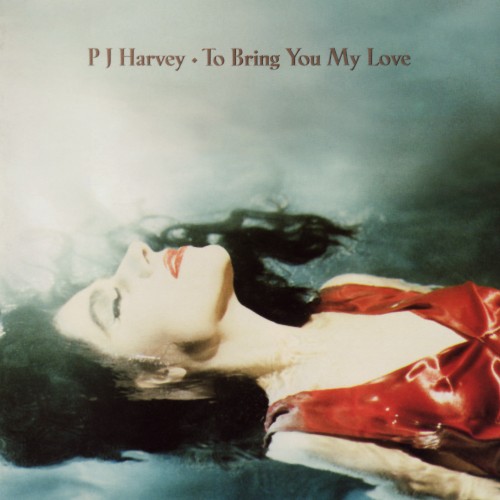 PJ Harvey cast down off heaven like a phoenix outta fire flames to get her voodoo working with this monsta monsoon. She had taken a break from performing
(with the exception of one appearance with Björk at the BRIT Awards
) and bought a new house by the sea near her childhood home of Yeovil with the royalties from her albums (
Dry
and
Rid of Me
) and compilation (
4-Track Demos
). It was there that she composed the songs for her next album
'To Bring You My Love'
: "My house is completely in the countryside. I have no neighbors. When I look out the window, all I see are fields. And I think you can hear that when you listen to the album. There's a lot of space there...I don't talk to people about the way I'm feeling. I wouldn't be writing music if I could...I'm taking on music, head on. It relates very much to the way I write songs. I start off with a large mass of material and strip it down to the bare essentials. I try to finish with the minimal amount you need...The guitar was quite a restriction. Now, I'm using my whole body to sing, and it frees me up to use all the stage space and think about the lighting and the design...It gets back to the idea of stripping things down. I'm always drawn to strong colors. It's got to be red or it's got to be green. There's absolutely no purple allowed anywhere. It has to be one extreme or the other."
The sessions took place during September and October of 1994 at Townhouse Studios in London with PJ Harvey on vocals, guitar, piano, organ, vibraphone, marimba, bells, chimes, and percussion; John Parish on guitar, organ, drums, percussion; Joe Gore on guitar and e-bow; Mick Harvey on bass and organ; Jean-Marc Butty on drums and percussion; Joe Dilworth on drums; Pete Thomas on string arrangements; Sonia Slany on violin; Jocelyn Pook and Jules Singleton on viola; and Sian Bell on cello. The album credits John Parish as producer; PJ Harvey as producer and engineer; and Flood (Mark Ellis) on production, engineering, and mixing.
Harvey drew from religious imagery for much of the album: "I look towards religion as possibly one means to finding an answer, to making sense why we're here. That's what drives the creative force, to make sense of one's life. A very natural place to look is in that divine area, because it's so strong and has been here long before us."
'To Bring You My Love'
charted at number sixty-nine in the Netherlands, forty-seven in Germany, forty in the US, thirty-nine in Canada, thirty-eight in Australia and Switzerland, twenty-four in New Zealand, twenty-three in France, twelve in the UK, eleven in Norway and Sweden, and number five in Belgium. The album was named the best of the year by several music publications including Rolling Stone, The New York Times, People, USA Today, Hot Press, and the Los Angeles Times, as well as The Village Voice's Pazz & Jop critics poll, It was nominated for two Grammy Awards for Best Alternative Music Performance and Best Female Rock Vocal for"Down by the Water". It was also nominated for the Mercury Music Prize.
http://www.pjharvey.net/
"Down by the Water"
https://www.youtube.com/watch?v=lbq4G1TjKYg
"C'mon Billy"
https://www.youtube.com/watch?v=pr1j3GfJuR4
"Send His Love to Me"
https://www.youtube.com/watch?v=rsUIl7qVzYw
'To Bring You My Love'
full album:
https://www.youtube.com/playlist?list=PLTUlTwlsdlFQhGYG43lE63cOThHmtSVLi
All songs written and composed by PJ Harvey.
1.

"To Bring You My Love"

5:32
2.

"Meet Ze Monsta"

3:29
3.

"Working for the Man"

4:45
4.

"C'mon Billy"

2:47
5.

"Teclo"

4:57
6.

"Long Snake Moan"

5:17
7.

"Down by the Water"

3:14
8.

"I Think I'm a Mother"

4:00
9.

"Send His Love to Me"

4:20
10.

"The Dancer"

4:06
limited edition b-sides
1.

"Reeling" (demo version)

3:00
2.

"Daddy"

3:16
3.

"Lying in the Sun"

4:30
4.

"Somebody's Down, Somebody's Name"

3:40
5.

"Darling Be There"

3:46
6.

"Maniac"

4:01
7.

"One Time Too Many"

2:52
8.

"Harder"

2:05
9.

"Goodnight"

4:17
live 2/22/95
https://www.youtube.com/watch?v=u-pMchfyClw
live 5/11/95
https://www.youtube.com/watch?v=oDjGRHH8H5A