Hüsker Dü went looking beyond the big disguise for answers in every everything to make sense of a game that anyone can play and set the soul free. In less than three years they had put out five acclaimed releases (
Land Speed Record
in 1982;
Everything Falls Apart
and the
Metal Circus
EP in 1983; the double disk concept album
Zen Arcade
in 1984; and
New Day Rising
in the beginning of 1985) before going into the studio between March and June to record
'Flip Your Wig'
. The sessions at Nicollet Studios in were produced Minneapolis by Bob Mould and Grant Hart and featured Greg Norton on bass; Bob Mould on guitar, vocals, piano, bass, and percussion; and Grant Hart on drums, vocals, vibraphone, percussion, and slide whistle.
'Flip Your Wig'
went to the top of the independent UK album chart.
Mould would reveal: "Some of it is less live-oriented and more studio-oriented, more listening-oriented. There's also more emphasis on the vocals, they're a little more out front. The general sound overall is a lot cleaner, a lot more defined. You can hear what's going on. On 'New Day Rising' and 'Zen Arcade' I think we consciously buried the vocals. This time we said, 'Let's put them out front so people can hear what's going on.' I think it paid off. Also, the songwriting's a lot better. Everything has progressed. The production is the main thing - clearer vocals and less emphasis on guitar, the crazy solos...I think we're a little out of that now. Not that we're out of it live. "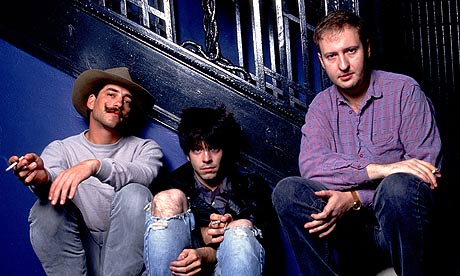 Hart looks back: "I was sure that I could compete with the twenty-something brats from the Western suburbs. I knew there was more to it than imitating the bigger city music scenes. I knew I knew more about the origins of rock & roll music, and art, etc… I have a great memory for things I can link with sounds or pictures, concepts come easy for me...The three of us were very astute. I was a visionary, Bob was special and Greg worked hard. At the beginning, we practised all of the time, we went to shows when we were not. Greg and I worked in record stores, we were determined."
http://bobmould.com/
http://granthart.com/
http://www.thirdav.com/hddb.shtml
"Makes No Sense at All / Love Is All Around"
https://www.youtube.com/watch?v=VXPPlWkNPoY
'Flip Your Wig'
full album:
https://www.youtube.com/watch?v=Xs5mUZfchNg
side one
Flip Your Wig
(Bob Mould)
- 0:00
Every Everything
(Grant Hart)
- 2:30
Makes No Sense at All
(Mould)
- 4:24
Hate Paper Doll
(Mould)
- 7:04
Green Eyes
(Hart)
- 8:56
Divide & Conquer
(Mould)
- 11:48
Games
(Mould)
- 15:35
side two
Find Me
(Mould)
- 19:42
The Baby Song
(Hart)
- 28:01
Flexible Flyer
(Hart)
- 28:48
Private Plane
(Mould)
- 31:51
Keep Hanging On
(Hart)
- 35:11
The Wit and the Wisdom
(Mould)
- 38:30
Don't Know Yet
(Mould)
- 42:12
live Camden Palace
1985
https://www.youtube.com/watch?v=gsGw8DyWkik