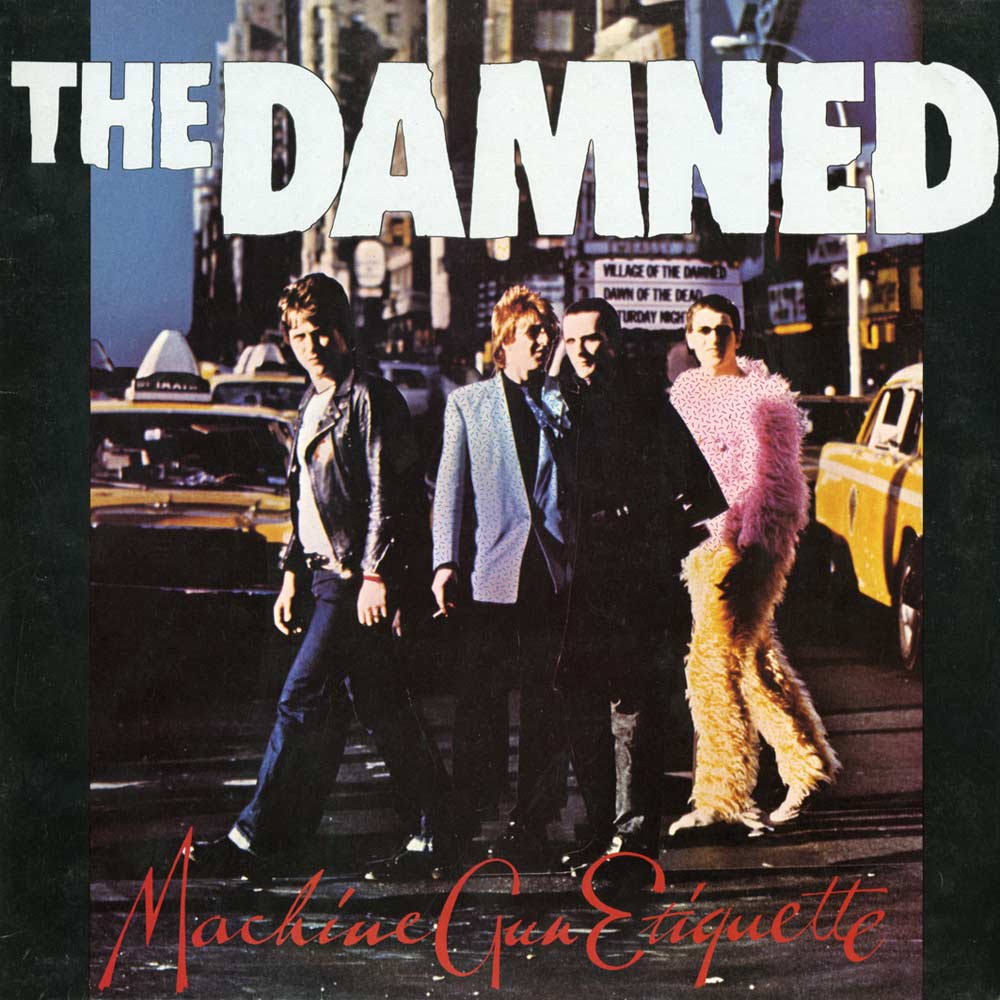 The Damned got back together to smash things up with this scorching smorgasbord of sass and style.
The band had been the first British punk group to release a single (
'New Rose'
) in the UK, the first to release an album (
'Damned, Damned, Damned'
), and the first to tour the US. With the poor response to their second album
'Music For Pleasure'
, they went their separate ways. For more than a year (from February of 1978 to april of 1979) they were involved in various projects that involved an increasing circle of other musicians like Les Punks and The Doomed. Eventually Algy Ward from The Saints took over on bass and Captain Sensible switched to guitar to fill the void left by Brian James. They signed a deal with Chiswick Records and got back into the studio with producer Roger Armstrong.
'Machine Gun Ettiquette'
features Vanian on vocals; Captain Sensible on guitars, bass, vocals, and keyboards; Rat Scabies on drums and vocals; and Algy Ward on bass and guitar. Some tracks feature members of the Clash on background vocals as they were recording 'London Calling' in Wessex Studios at the same time. Lemmy fom Motörhead played bass and sang backup on "Ballroom Blitz". There is some disagreement over how much bass was played by whom.
The Captain reports: "Well Algy had this thing about whisky. Algy's a lovely bloke but he could get quite aggressive. If the bloke from the record company (Roger Armstrong). Who was also producing the album with us didn't get the bevies in Algy would get extremely agitated and would smash things. So you had to get him a bottle of whisky to keep him quiet. He would drink half the bottle and then would be good for about half an hours bass playing. Anything he did after that would be completely out to lunch unfortunately. So I would have to repair bits and bobs, yeah. He knew all the songs he just couldn't handle the liquor."
Algy Ward counters: "Well,Well,Well naughty Captain, Bad Captain, On your rug, Captain played bass on Smash It Up, Just Can't Be Happy Today, and the bass solo on Antipope and I played bass on EVERYTHING ELSE, I also played guitar on Machine Gun Etiquette(The Motorhead And Gary Glitter Bits). Rat played the motorbike, And I also played all guitars on Liar (including the solo). As for enjoying the bottle? Of course my dear old things! Oh the reason why I didn't play on those songs: /Smash It Up (Wasn't at Wessex Studios when Captain & Rat recorded the drums) Can't Be Happy(Wasn't at SMS Studios when Captain & Rat recorded the drums) Antipope(Thought it a bit pompous, We Didn't Play the song a lot live, I couldn't come up with anything suitable in the studio so Captain did the bass solo, It's funny how they go on about MY drinking, No one else was pissed or speeding were they?"
Vanian considers: "We've pretty much always had a keyboard player around. Captain used to play on some of the albums and things at the beginning, but we've always had keyboard players after the first two years, once you get into Machine Gun Etiquette and all that...Yeah, well I guess personally I got into music more through film soundtracks and orchestral music first, rather than rock and roll, which is kind of weird. When people were buying that Beatles record I was kind of listening to... My father had brought back all of these 78s from Germany after the war and he had all of these tango records. And, we had falsetto singing, orchestral, orchestrated tango songs and all that, and Radio Four, and God knows what else and I gradually got into music. The weird thing is I had a transistor radio like kids did back then. You put it under your pillow and your parents don't know you're staying up all night listening to it. And I used to listen to pirate stations and there was this channel for the American forces stationed in Europe at the time, and Wolfman Jack used to do a midnight show where he would play like the old 60s garage American bands, you know, like The Seeds, The Shadows of Night and stuff. And, that really got me into that kind of frenetic energy sort of music, the weird experimentation and the psychadelia and the... The fact that some of them were so bad, but they were gloriously good because they were bad, you know?...Yeah, real, real passion in their playing, you know. Yeah, so that's a smorgasbord."
'Machine Gun Ettiquette'
ripped its way to number thirty-one on the British album chart and has been certified silver.
http://www.officialdamned.com/
"Plan 9 Channel 7"
https://www.youtube.com/watch?v=qdsphOafVlI
"I Just Can't Be Happy Today"
https://www.youtube.com/watch?v=jaYayknwQ0A
"Love Song"
https://www.youtube.com/watch?feature=player_embedded&v=muqmhYu8-Yk
"Smash It Up"
https://www.youtube.com/watch?v=YZ76LC_l8yk
'Machine Gun Ettiquette'
full album:
All songs written and composed by The Damned (Dave Vanian, Captain Sensible, Rat Scabies, Algy Ward), except as noted.
1.

"Love Song"

2:21
2.

"Machine Gun Etiquette"

1:48
3.

"I Just Can't Be Happy Today"
(The Damned, Giovanni Dadomo)
3:42
4.

"Melody Lee"

2:07
5.

"Anti-Pope"

3:21
6.

"These Hands"

2:03
7.

"Plan 9 Channel 7"

5:08
8.

"Noise, Noise, Noise"

3:10
9.

"Looking at You"
(MC5 cover, Rob Tyner, Wayne Kramer, Fred "Sonic" Smith, Michael Davis, Dennis Thompson)
5:08
10.

"Liar"

2:44
11.

"Smash It Up (Part 1)"

1:59
12.

"Smash It Up (Part 2)"

2:53
bonus tracks
13.
"Ballroom Blitz" (Sweet cover)
Mike Chapman, Nicky Chinn
3:30
14.

"Suicide"

3:14
15.
"Rabid (Over You)"
Rat Scabies, Captain Sensible, Dave Vanian, Andy Le Vien
3:41
16.

"White Rabbit (Extended Version)"
Grace Slick
5:13
17.

"Burglar"

3:33
18.

"I Just Can't be Happy Today (DJ Edit)"

3:00
19.

"Turkey Song"

4:04