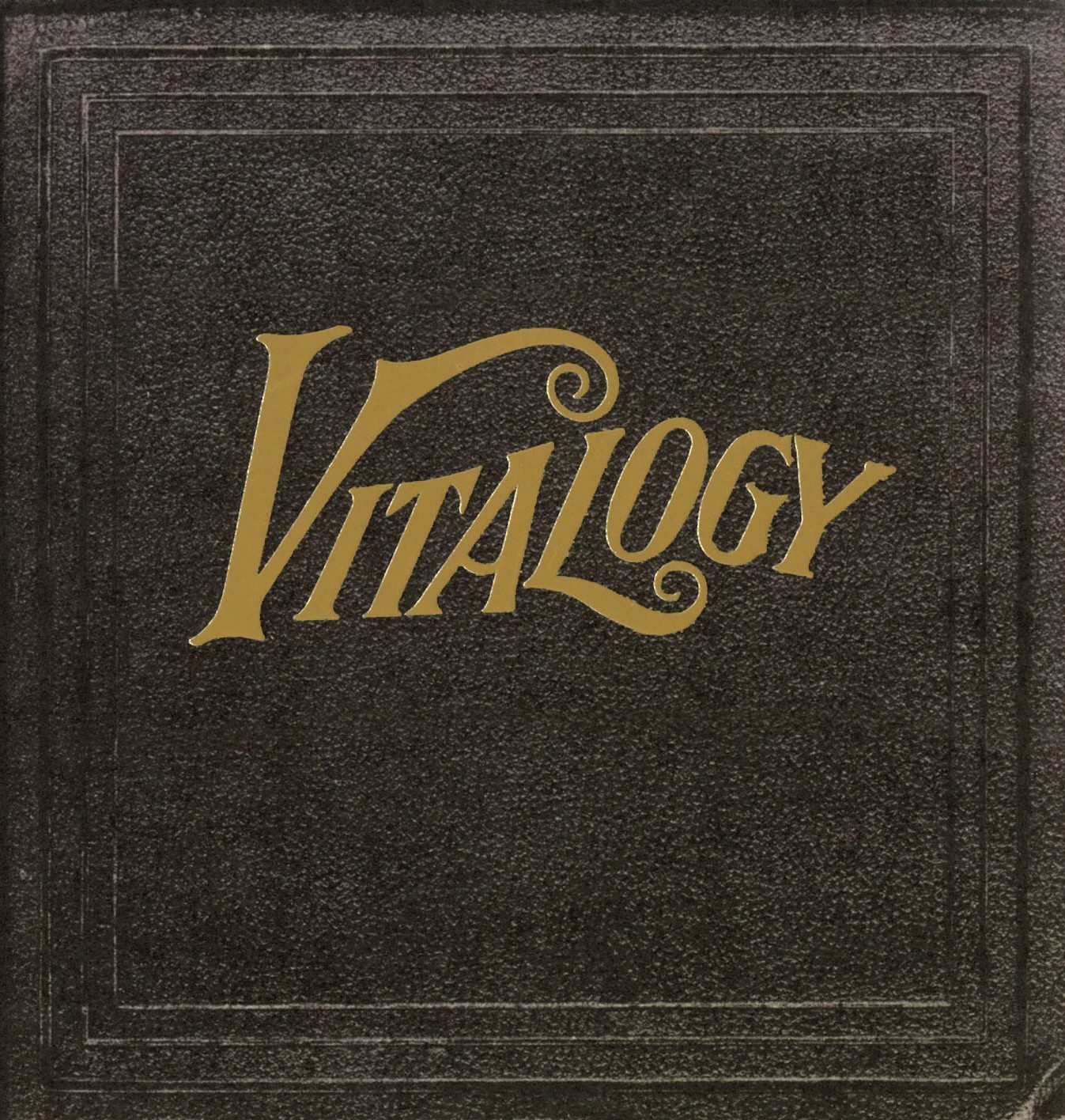 Pearl Jam wrestled with fame and each other to find the truant tremors of this restless rapture. During the tour for their sophomore album 'Vs.', the band worked on new material in between shows and recorded at different studios around the US during breaks in performing.
'Vitalogy'
was produced by Pearl Jam with Brendan O'Brien at at Bad Animals Studio in Seattle, Washington; Southern Tracks Recording and Doppler in Atlanta, Georgia; and Kingsway Studio in New Orleans, Louisiana. The sessions featured Dave Abbruzzese on drums; Jeff Ament on bass guitar, standup, vocals, and black and white photography; Stone Gossard on guitar, vocals, and mellotron; Jack Irons on drums for "Hey Foxymophandlemama, That's Me"; Mike McCready on guitar, vocals, and slide guitar; and Eddie Vedder on vocals, guitar, accordion, book concept, theory of Vitalogy, and typing; with Brendan O'Brien on pipe organ and Hammond organ; and Jimmy Shoaf on drums for "Satan's Bed".
Ament considers: "Probably more so on the 'Vitalogy' or 'No Code' era, I wish I had more time with those songs. Those records, Ed would show us a song and play it twice and that's sort of what would end up going out there. Luckily you get to play those songs live and there's lots of pretty good versions of those songs live."

Stone Gossard: "You can kind of fix your part live if it's pretty subtle. There's things you can do to be better for some of those old songs where somebody wouldn't necessarily pick up on it. But it's probably about leaving more space, or those songs came pretty quick so you didn't have a lot of time to hear what was going on. You were flying by the seat of your pants, you know those songs now and can be better for them. I don't think that we've made a perfect Pearl Jam record, like oh there's not a moment that could be better."
Vedder would expound on their struggles with fame and with the music industry: "
I don't want credit, it's not like I'm trying to claim that. But when they start acting like they own you that they are the reason... that's something that's not true. These attitudes out there that the music is theirs that it's the industry's music... And it's not. It's mine. And it's yours. Whoever's listening to it. It's mine and it's yours. And everybody in between, they're the distributors. I think that something like a music channel can be very powerful. Sometimes they think they're the ones who decide what's heard. I think that's a dangerous situation. And, I think, what's more dangerous is that they think it belongs to them. That's probably what Not For You is about...
We didn't know what we were doing at the beginning. People produced it so it came out a little more slick than we would've liked it, whatever. But, we've learnt a little about speaking our minds and having control artistically and using that control. But it's a good example, because I feel there's a lot of text in the songs. They're meaningful songs on certain levels, and another fact that people would say it's all hype, well that's actually completely separate from the music. It's not necessary and, at that point, it was not our fault ...
The only thing that worries me musically is that everything we put out is so under the microscope that it ends up seeping into the songs, and suddenly the music is bombastic just to be able to resist or survive the inspection. There are things on Vitalogy that are definitely not typical, so I'm trying to battle against that. There's two ways: You either give the people what they want, or you become cynical and that protects you...
I'm not good at either. We're still just being brutally honest and giving it our best. I'd like to say I don't care what anybody thinks, and that I don't play this music to have it be liked. But I certainly don't put it out so everyone can tear it up, either. Actually, I don't know why I put it out. In the old days, it was a dream to maybe not have to work the midnight shift, and somehow pay your rent by getting a check for your art. And, believe me, the first check I got from a publishing company was an emotional moment for me, because it was given to me for something that came out of my head...
A lot of times, music is like a wave, so once it starts, you get caught up in it. And if the sound on the stage is good, I can get lost in whatever we're doing, and I'm fine. But I know for sure, right before you go on or as you're pulling into a town, it starts getting heightened. I'm getting notes backstage from people who are left out in the cold, that couldn't afford the $150 that the scalpers were charging, and how could we be playing if they can't get in...
This could be the cause of everything. I'm worried about everybody else, and I'm absolutely just a fucking mess myself. I think I was like this from the beginning. And it's just gotten worse and worse and worse. And now I'm the enabler for a million people. I don't feel like I can survive it right now...
Three years ago, this was so new to us. I think that it's almost confidence that enables us to record "Bugs" or confidence in our listeners that they can open up to something like that. Back then I had my mind on the business at hand, and I probably wouldn't have felt so free to take up two hours of studio time working on Eddie's wank-off accordion piece. For a long time after recording it, I was playing it for friends saying it was the best thing we'd ever done. [laughs] We just decided to do something that was fun to listen to and wasn't bombastic and wasn't everything that the band had become...
I can definitely listen to every song on the record and get something out of it. "Nothingman" was written in an hour, and so I like listening to that 'cause it just happened and somehow captured a mood there, at least for me in the vocal. Any time I can nail down a song, a thought, in a half hour, that feels really good. We recorded "Tremor Christ" in a very short period, one night in New Orleans, and I remember what that night was like. I can see how the lights were turned down low. I can see the room. And so I like listening to that. I wrote "Better Man" before I could drink -- legally -- on a four-track in my old apartment."
'Vitalogy'
was another major success for the band, going to number twenty-eight in Japan; twenty-two in France; seventeen in Switzerland; sixteen in Switzerland; eleven in Spain; eight in Germany; seven in Austria, the Netherlands, and Norway; four in Denmark, Portugal, and the UK; three in Finland; and number one in Australia, Ireland, New Zealand, Sweden, and the US.
During its first week of release, it was only available on vinyl selling in record amounts for the time.
http://pearljam.com/
http://www.pearljamonline.it/lyrics/vitalogy.htm
live








'Vitalogy'
full album:
https://myspace.com/pearljam/music/album/vitalogy-17501168
All lyrics written by Eddie Vedder. All music is credited to Pearl Jam with the exceptions as (*). Actual music composers listed below.
1.
"Last Exit"
Abbruzzese, Gossard
2:54
2.

"Spin the Black Circle"
Stone Gossard
2:48
3.

"Not for You"
Vedder
5:52
4.

"Tremor Christ"
Jeff Ament, Mike McCready
4:12
5.
"Nothingman"
Ament
4:35
6.
"Whipping"
Vedder
2:35
7.

"Pry, To"
Abbruzzese, Ament, McCready, Gossard, Vedder
1:03
8.
"Corduroy"
Vedder
4:37
9.
"Bugs"
Vedder
2:45
10.
"Satan's Bed"
Gossard
3:31
11.
"Better Man"
Vedder
4:28
12.

"Aye Davanita"
Abbruzzese, Ament, McCready, Gossard, Vedder
2:58
13.
"Immortality"
Vedder
5:28
14.
"Hey Foxymophandlemama, That's Me" (AKA "Stupid Mop")
Ament, Gossard, Jack Irons, McCready, Vedder
7:44