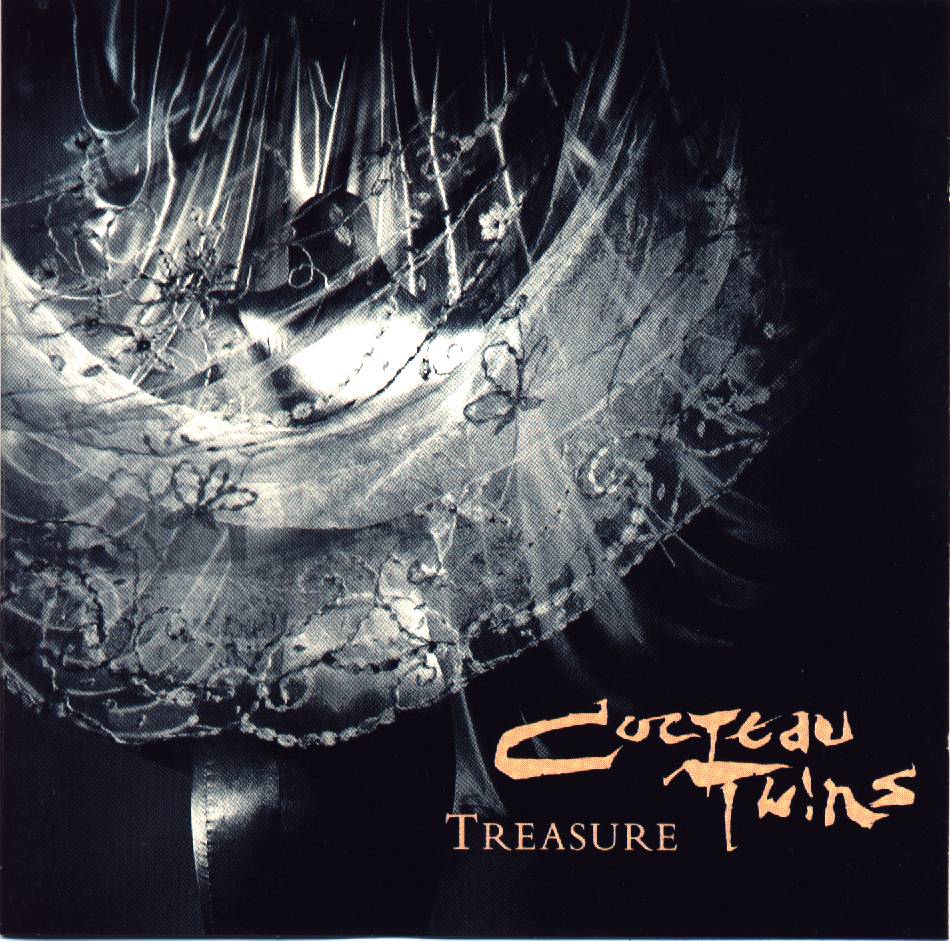 Cocteau Twins found a dramatic new depth in the mythic murmurings and crystalline textures of this sensual sacred fire. Formed in Grangemouth, Scotland, they recorded their debut album 'Garlands' as a trio; but when bassist Will Heggie left, Guthrie and Frasier carried on as a duo for 'Head Over Heels'. At this point, Guthrie and Frasier also took part in the collaborative This Mortal Coil project 'It'll End in Tears'. Simon Raymonde from The Drowning Craze joined the group and they released the 'Pearly Dewdrops Drop' seven inch and 'The Spangle Maker' twelve inch before setting to work on a new album.
'Treasure'
was recorded at Palladium Studios in Edinburgh and Rooster in West London and features Elizabeth Fraser on vocals, Robin Guthrie on guitar, and Simon Raymonde on bass guitar. The band produced the album themselves with engineering by Droston J. Madden and Jon Turner.
Raymonde recalls:
"We spent a month doing the album...and, because we never really spent any time properly in each other's company, we were still getting to know each other. We'd only been friends for a little while...We just sort of recorded loads of things and then the album came out. It's like an unfinished record with probably two good pieces in there somewhere. It's our worst album by a mile."
'Treasure'
was an immediate success, breaking the band into international territory for the first time charting in New Zealand at thirty-four and Sweden at thirty-two, while reaching twenty-nine in the UK and two in the UK independent album chart. The mythologically suggestive titles led one reviewer to call them "the voice of God".
Fraser demurs: "They're beautiful words...It's strange; there's three buildings around Hammersmith, on the way from the Odeon to The Riverside, with names off Treasure. Also, in Holland, there's three buildings right next to each other and they're names off Treasure as well. It's incredible. We didn't know about them. The names didn't come from anywhere. They just came. I don't think it helped sales at all. All that 'Persephone' business...I thought it was a really good idea because I thought, Well, what are people gonna see in these names? They're gonna realise it's got nothing to do with mythology and all that bollocks. Well, it's not bollocks, but I foolishly thought people wouldn't think that we were into that sort of thing."
Guthrie grumbles:
"I've always detested
Treasure
. Not because of the record, but because of the vibe at the time, when we were pushed into all that kind of arty-farty pre-Raphaellite bullshit. And so I was just really ashamed of that record."
Regardless of the band's opinion of the album,
'Treasure'
became a major milestone in their career and a huge influence on bands to come. It remains a fan favorite.
http://www.cocteautwins.com/
https://myspace.com/cocteautwinsmusic/
Ivo
https://www.youtube.com/watch?v=ZWcgFUpypXg
"Lorelei"
https://www.youtube.com/watch?v=3diz8I0AVVk
https://www.youtube.com/watch?v=FbpM8UWOtAU
"Beatrix"
https://www.youtube.com/watch?v=RvaQXDhg5G4
"Pandora"
https://www.youtube.com/watch?v=h_ICl20EJjY
'Treasure'
full album:
http://grooveshark.com/#!/album/Treasure/170332
https://www.youtube.com/playlist?list=PLsn9xS2-yuBvKTsko_TPM16ebCiA1pHfZ
https://www.youtube.com/playlist?list=PLrY0Cn5NiagZfApOgCNfID21c2V-zWAYK
"Ivo" – 3:53
"Lorelei" – 3:43
"Beatrix" – 3:11
"Persephone" – 4:20
"Pandora (for Cindy)" – 5:35
"Amelia" – 3:31
"Aloysius" – 3:26
"Cicely" – 3:29
"Otterley" – 4:04
"Donimo" – 6:19