The Roches showed how it runs in the family with the warm and whimsical eclectic folk and breathtaking vocal acrobatics of this joyously off key three ring harmonic circus that was pretty and high and only partly a lie. The trio of sisters Maggie and Terre and Suzzy started out singing Christmas carols on the streets of Park Ridge, New Jersey as well as New York City when they were growing up. Maggie remembers: "When we were kids we all shared the same bedroom for a while and we used to just play and make things up and sing and write stories, and it seems like what we do now is simply an extension of that. There's still that element of those three kids in that room making up stuff...We'd find ourselves mixing it up with people from [the punk] scene. What we had in common is we both wanted to do it. There were so many rules and regulations, and the punks were kind of saying we just want to play what comes out of us. We could always relate to that, because we never passed any of the tests with any of the organized music scenes."
Maggie and Terre quit school to pursue music full time as a duo and caught the attention of Paul Simon, who invited them to sing backup vocals on his album 'There Goes Rhymin' Simon'. He also got them a record deal with Columbia Records and produced their debut album
'Seductive Reasoning'.
When the album flopped, they considered giving up on their career and moved to Louisiana; but when their youngest sister Suzzy finished school, she convinced them to give it a go as a trio and they returned to busking on the streets of New York.
Suzzy says: "We were trying to get enough money to go over to Ireland. This is actually true: somebody actually wanted us to come over and do a tour of clothing-store windows, to sing in windows of clothing stores so people on the street would walk by and buy clothing. It wound up not happening. That's the sort of business sense that we had [Laughs]. But, honestly, one of the things about us is that we've always been able to make something out of nothing. With the caroling, it was a sense of we didn't have any money or any prospects, but we can learn these songs and make money in the streets. Plus, there's something very liberating about singing outside. There's no pressure to get it right, to make it perfect. It's also dramatic,and pretty profitable. Police would come up to you and chase you away and people would feel sorry for you and give you more money [Laughs]."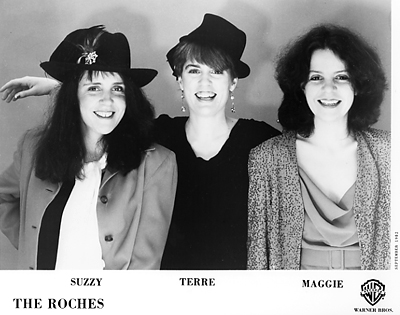 The sisters would eventually get into the studio with producer Robert Fripp for their eponymous debut as a trio. The sessions at The Hit Factory in New York featured Suzzy Roche on vocals and guitar; Maggie Roche on vocals, guitar, and synthesizer (on "Quitting Time"); Terre Roche on vocals and guitar; with Robert Fripp on electric guitar and Fripperies; Tony Levin on bass guitar; Jim Maelen on triangle and shaker; and Larry Fast as synthesizer programmer. Fripp would express at the time how he sought to get a genuine sound: "There's two senses to audio verite. The first is that it's a commitment to discover whatever the essence of the artists might be and try and express it on record. And this is done in the second sense of the term by, as far as possible, not interfering with the performance by equalization, limiting and so on. So in the second sense, yes, this is audio verite, though with a whole battery of technology which has failed, conceived to validate the main premise of the second aspect of audio verite, that too much technology gets in the way. All that one needs is a small and appropriate level of technology. I could do it on a far smaller and simpler machine than that and probably get better sound."
'The Roches' became a sensation among critics, if not the general public. They were also invited to perform on Saturday Night Live later that year. Terre considers: "We were at that point every music career gets to where the honeymoon was over. The Roches had burst onto the music scene in 1979 with a shower of press infatuation rarely accorded a folk group. The unlikely pairing of King Crimson's Robert Fripp, with his hard-driving English art rock, and the three singing sisters from New Jersey had caught the attention of music writers even before the album was released. Liz Rosenberg, our publicist at Warner Brothers, told us the press was calling her for interviews. She told us this was extremely unusual. When the actual record came out, the momentum accelerated. The sound of three fairly soft voices and three acoustic guitars, with songs about waitress jobs, commuter trains and longing to be accepted by your parents, issued forth into the 1970s climate of disco fever like a drop of powerful medicine into a compromised bloodstream. Fripp, in an interview, put forth that people don't realize gentle music can be revolutionary. Some of his fans were upset that he'd traded in bombastic male music for lily-white warbling so delicate you had to turn up the dial to hear it. 'The Roches' was No. 1 on The New York Times's list of the year's best albums. We were on our way."
http://www.roches.com/
"We"
is a musical resume.
We are Maggie and Terre and Suzzy
Maggie and Terre and Suzzy Roche
We don't give out our ages
And we don't give out our phone numbers
Give out our phone numbers
Sometimes our voices give out
But not our ages and our phone numbers
Guess which two of us made a record
Guess what the other one did instead
The two who made the record
Have been a singing group for ten years
Singing group for ten years
And now a trio we are
Born on the fourth of December
We come from deepest New Jersey
But now we live in New York City
We better get outa there
Before the shit hits the fan
Shit hits the fan
You might say where have they played
All over the country and in England
Who have we worked with
Do we know anybody famous
Anybody famous
Do we know anybody famous
Anybody famous
And as a point of interest
We spell our last name R-o-c-h-e
We are Maggie and Terre and Suzzy
We spell our last name R-o-c-h-e
"Hammond Song"
This heartbreaking ballad was later
covered by the Colourfield.
If you go down to Hammond
You'll never come back
In my opinion you're
On the wrong track
We'll always love you but
That's not the point
If you go with that fella
Forget about us
As far as I'm concerned
That would be just
Throwing yourself away
Not even trying
Come on you're lying to me
Well I went down to Hammond
I did as I pleased
I ain't the only one
Who's got this disease
Why don't you face the fact
You old upstart
We fall apart
You'd be okay if you'd
Just stay in school
Don't be a fool
Do your eyes have an answer
To this song of mine
They say we meet again
On down the line
Where is on down the line
How far away?
Tell me I'm okay
If you go down to Hammond
You'll never come back
"The Troubles"
"The Train"
"The Married Men"
became
a hit for Phoebe Snow.
"Runs in the Family"
'The Roches'
full album:
https://myspace.com/theroches/music/album/the-roches-15244053
"We"
(Suzzy Roche, Terre Roche, Maggie Roche)
– 2:35
"Hammond Song"
(Margaret Roche)
– 5:46
"Mr. Sellack"
(Terre Roche)
– 4:03
"Damned Old Dog"
(Margaret Roche)
– 4:07
"The Troubles"
(Suzzy Roche, Terre Roche, Maggie Roche)
– 3:27
"The Train"
(Suzzy Roche)
– 3:30
"The Married Men"
(Margaret Roche)
– 4:32
"Runs in the Family"
(Terre Roche)
– 3:29
"Quitting Time"
(Margaret Roche)
– 4:19
"Pretty and High"
(Margaret Roche)
– 4:05