Nina Simone ran to the rock with trouble in mind to find power and then some in the dark spiritual yearning of this edgy eclectic catharsis.
She had defied expectations with her unique blend of jazz, classical, pop, and blues with ten albums
(
Little Girl Blue
in 1958;
Nina Simone and Her Friends
,
The Amazing Nina Simone
, and
Nina Simone at Town Hall
in 1959;
Nina Simone at Newport
and
Forbidden Fruit
in 1960;
Nina at the Village Gate
and
Nina Simone Sings Ellington
in 1962;
Nina Simone at Carnegie Hall
in 1963; and
Folksy Nina
in 1964) before transitioning to Mercury Records subsidiary Philips in 1964. Her first album for that label
Nina Simone in Concert
featured the controversial song
"Mississippi Goddam"
inspired by the the murder of Medgar Evers and the bombing of a church in Birmingham, Alabama, in which four black schoolgirls were killed. The song was banned by some radio stations and brought her to the forfront of the civil rights movement.
Simone would express: "I hope the day comes when I will be able to sing more love songs, when the need is not quite so urgent to sing protest songs. But for now, I don't mind."
She released two more albums (
Broadway-Blues-Ballads
in 1964 and
I Put a Spell on You
in 1965) before going into the studio to record
'Pastel Blues'
with producer Hal Mooney. The sessions featured Nina Simone on piano, vocals, and arrangements; Al Schackman on guitar and harmonica; Rudy Stevenson on guitar and flute; Lisle Atkinson on bass; and Bobby Hamilton on drums.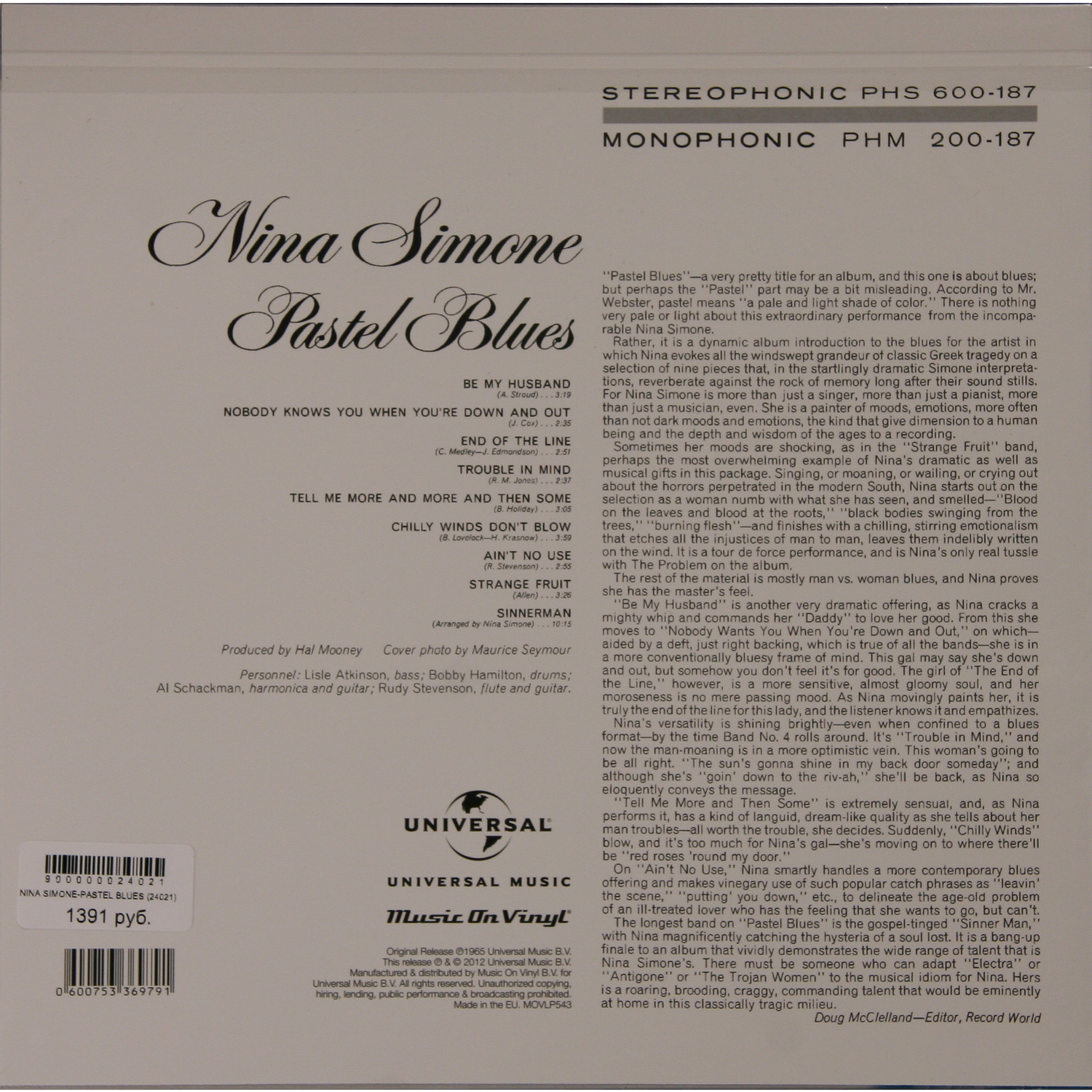 The album draws heavily from blues and gospel, with the sophistication of her jazz classical idiom. Simone considered: "Some of my most fantastic experiences - experiences that really shake me, now that I think of them - happened in the church when we'd have these revival meetings. I'd be playinnnnng, boy! I'd really be playing. I loved it! Folks would be shoutin' all over the place. Now that's my background!"
'Pastel Blues'
reached number one hundred and thirty-nine on the US pop album chart and number eight on the R&B album chart.
http://www.ninasimone.com/
lyrics:
http://genius.com/albums/Nina-simone/Pastel-blues
"Sinnerman"
'Pastel Blues'
full album:
"Be My Husband"
(Andy Stroud)
– 3:20
"Nobody Knows You When You're Down and Out"
(Jimmie Cox)
– 2:38
"End of the Line"
(John Edmondson, Cynthia Medley)
– 2:54
"Trouble in Mind"
(Richard Jones)
– 2:40
"Tell Me More and More and Then Some"
(Billie Holiday)
– 3:08
"Chilly Winds Don't Blow"
(Hermann Krasnow, William Lovelock)
– 4:01
"Ain't No Use"
(Rudy Stevenson)
– 3:00
"Strange Fruit"
(Lewis Allan)
– 3:29
"Sinnerman"
(traditional)
– 10:19
Live In Holland 1965
01. Brown Baby
02. Four Women
03. The Ballad Of Hollis Brown
04. Tomorrow Is My Turn
05. Images
06. Go Limp
07. Mississippi Goddam