U2 got themselves together and walked on through heartbreak and hopelessness to find grace in this soulful pop elevation. Despite charting at number one and selling over seven million copies each, their previous two albums ('Zooropa' and 'Pop') had alienated many fans with their experimental sounds and ironic presentation. Bono reveals: "We spent most of the '90s experimenting and I think we finally realized on the PopMart tour that it was time for us to start stripping back again...We got into Washington, D.C., before all our equipment arrived and rehearsed with just guitar, bass and drums--none of the loops or samples that we had been attaching to the songs. Howie B. came in during the middle of the rehearsal and he said, 'Wow, what a sound. What is this?' We told him it was us, it was what U2 sounds like. I think that's when we realized that it was time for us to get back to the essence of what we do."
Edge says that they were revitalized by a return to their 'classic' sound: "It sounded fresh again. We had been exploring the fringe of what we could be and what rock 'n' roll was all about, and that was essential. I think the group would have died creatively if we hadn't moved into uncharted territory. But eventually we needed to return to the center. I don't know if we've made a great record or not, but it is our record. It's us standing there naked, if you will...Why are you still around?...You know, you made some great records. But why are you still making records?' Part of what we decided is that we had a sense or belief that we can still make the album of the year."
Bono: "There was a moment that had to do with one's mortality...It was a time when I saw how you could suddenly lose everything, and it woke me up in a way...Suddenly the person in the bar who was very interesting before becomes boring. You want to spend more time with your family, with your kids. You also realize you don't have the time anymore for things like the irony and the masks. There was never any irony in the songs, just the way we presented them..."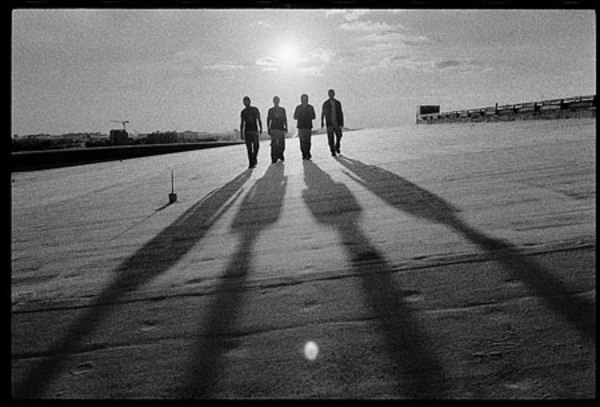 'All That You Can't Leave Behind'
saw the band reunited with the production team of Daniel Lanois and Brian Eno for the first time since their blockbuster
'Achtung Baby'
album nearly a decade before. They began working in late 1998 on new material in the studio at Hanover Quay Studios in Dublin; but sessions were delayed with Bono's political work on debt relief. During the summer of 1999, the members of the band relocated to the south of France to continue the creative process; which continued in Dublin at Windmill Lane Studios, Westland Studios, and Totally Wired. Some additional production work was done by Mike Hedges, Richard Stannard, Julian Gallagher, and Steve Lillywhite. The sessions were engineered by Richard Rainey with Bono on vocals, guitar, and synthesisers; The Edge on guitar, piano, vocals, synthesisers, and strings; Adam Clayton on bass guitar; and Larry Mullen, Jr. on drums and percussion; with Brian Eno on synthesisers, programming, backing vocals, and string arrangement; Daniel Lanois on backing vocals, and additional guitar; and Paul Barrett on brass.
Mullen mused: "Bono did something recently that he probably shouldn't have done. He did a book as a favor for a friend of his in Ireland that 'explained' all the lyrics. I think that was a mistake because one of the most valuable things about his lyrics is that you can adapt them to any particular situation."
Released in October of 2000 on Interscope Records,
'All That You Can't Leave Behind'
made its debut at number one in over thirty countries. In the US, it debuted (and peaked) at number three. In 2001, the album received three Grammy Awards for the song "Beautiful Day": Song of the Year, Best Rock Performance by a Duo or Group with Vocal, and Record of the Year. In the wake of the tragedy of September 11, 2001; the album struck a responsive chord with the American public and began to sell again (rising to number twenty-five on the album chart) as the band incorporated a tribute to the fallen police, firefighters, and victims to their live performances. Mullen says:
"There was anger, rage, patriotism, sadness. Everything became frighteningly extreme."
Clayton confesses: "I have to say I wasn't sure about it at first. It seemed like we were really pushing a button. But Bono is a pretty unique individual, and he's got great judgment. He's able to perform open-heart surgery and zap people with a bit of brain surgery at the same time."
In 2002,
'All That You Can't Leave Behind'
won four more Grammys: Record of the Year for "Walk On", Best Rock Performance by a Duo or Group with Vocal for "Elevation", and Best Pop Performance by a Duo or Group with Vocal for "Stuck in a Moment You Can't Get Out Of", as well as Best Rock Album. It is the only album ever to have two singles win Record of the Year in two consecutive years. It has sold over twelve million copies worldwide.
Bono: "It's funny. When people kept making fun of us as this band that wanted to change the world, we'd say, 'No, no, we just want to be musicians.' The truth is we really did want to change the world...Megalomania, if you will, set in at a very young age with us. But it wasn't just megalomania. We came out of punk rock, but not the [outrageous] Sex Pistols. We bought into the [politically minded] Clash. We have always been ideologues. We were in the back of the bus reading Bibles instead of Playboy when we were 19 or 20...I'm tired of dreaming. I'm into doing at the moment. It's, like, let's only have goals that we can go after. U2 is about the impossible. Politics is the art of the possible. They're very different, and I'm resigned to that now. Music's the thing that stopped me from falling asleep in the comfort of my freedom. I learned about South America from listening to the Clash. I learned about Situationism from the Sex Pistols. But that's a long way from budget caps and dealing with a Congress that is suspicious of aid because it has been so misused...When you sing, you make people vulnerable to change in their lives. You make yourself vulnerable to change in your life. But in the end, you've got to become the change you want to see in the world. I'm actually not a very good example of that -- I'm too selfish, and the right to be ridiculous is something I hold too dear -- but still, I know it's true...[We're] reapplying for the job. What job? The best band in the world job...Initially, I felt that it would be difficult for U2 to be relevant. The only way to puncture the indifference out there toward rock bands was to make each song a single,,,This was no time to waffle, no time for art. That was the only way we could deal with the competition. At times we feel these are the best songs we've ever written...I hope it's a soulful record, but it's also a rock record. I always like to say, 'It kicks ass.'"
http://www.u2.com/
lyrics:
http://www.u2.com/music/Albums/4013/All+That+You+Can't+Leave+Behind
"Beautiful Day" was a number one smash around the world; but in the US, where it won three Grammy Awards, it peaked at number twenty-one.
"Stuck in a Moment You Can't Get Out Of" was another international hit (number one in Canada and Ireland) that didn't even make the top forty in the US; yet, it still won a Grammy for Best Pop Performance by a Duo or Group with Vocal.
"Elevation" didn't chart in the US; but won a Grammy for Best Rock Performance by a Duo or Group with Vocal. Around the world it was another big hit, going to number one in Canada, Ireland, and the Netherlands.
"Walk On" won their second consecutive Grammy for Record of the Year. It was a number one hit in Canada; but didn't even chart in the US. This song got the album banned in Burma for its dedication to imprisoned activist Aung San Suu Kyi.
Peace On Earth/Walk On (from "America: A Tribute to Heroes")
'All That You Can't Leave Behind'
full album:
All lyrics written by Bono except where noted, all music composed by U2.
1.

"Beautiful Day"

4:06
2.

"Stuck in a Moment You Can't Get Out Of"
(Bono, The Edge)
4:32
3.

"Elevation"

3:45
4.

"Walk On"

4:55
5.
"Kite"
(Bono, The Edge)
4:23
6.

"In a Little While"

3:39
7.

"Wild Honey"

3:47
8.

"Peace on Earth"

4:46
9.
"When I Look at the World"
(Bono, The Edge)
4:15
10.

"New York"

5:28
11.

"Grace"

5:31
bonus tracks
"The Ground Beneath Her Feet"

Salman Rushdie

Lanois, Eno

3:44
"Always"
"Summer Rain"
"Big Girls are Best"
live in Boston 2001 Elevation tour
1 - Elevation 0:00
2 - Beautiful Day 05:10
3 - Until the End of the World 09:50
4 - Stuck in a Moment 15:07
5 - Kite 20:50
6 - Gone 26:12
7 - New York 31:09
8 - I Will Follow 37:00
9 - Sunday Bloody Sunday 42:08
10 - In a Little While 50:35
11 - Desire 56:40
12 - Stay 59:45
13 - Bad 1:04:35
14 - Where the Streets Have No Name 1:11:15
15 - Bullet the Blue Sky 1:17:45
16 - With or Without You 1:25:40
17 - The Fly 1:31:09
18 - Wake Up Dead Man 1:38:45
19 - Walk On 1:40:30