Something changed when Pulp came out of the side-lines with a thirst for knowledge to sort out a case of haves against haven'ts in the triumphant glam mess of this semi-naked misfit manifesto . After more than a decade of struggles releasing three albums (It in 1983, Freaks in 1987, and Separations in 1992) with three different lineups, the band had found success with His 'n' Hers in 1994, riding the rising wave of Britpop.
Front man Jarvis Cocker came up with a dramatic new song that would catapult them further: "I realised that we had written something that had pretensions to being anthemic. It was an anthem. A class anthem...It all started with me getting rid of a lot of albums at the Record And Tape Exchange in Notting Hill. With the store credit I went into the second-hand instrument bit and bought this Casio keyboard. When you buy an instrument, you run home and want to write a song straight away. So I went back to my flat and wrote the chord sequence for 'Common People', which isn't such a great achievement because it's only got three chords. I thought it might come in handy for our next rehearsal...Part of the tension in that song is that I might have been repelled by what she was saying, but I was sexually attracted to her and wanted to cop off with her. I never did make a move. But I changed the song so she was attracted to me and wanted to sleep with me. Which was, you know, a lie. It was an anthem. We wanted to find someone to produce it who would give us a big sound but not make us sound like twats. Which is what brought us to Chris Thomas. He produced the Sex Pistols."
The song took nine days to finish and the band convinced Island Records to put it out as a single immediately. It was released in May of 1995 and became a runaway hit, going to number two on the UK singles chart. Mark Webber: "When we recorded that song, it had become inevitable that what we did next would be really successful, and that continued right through that album. There was this feeling of urgency within the group."
As the sessions for
'Different Class'
continued at The Town House in London, the band was tapped to replace The Stone Roses at the Glastonbury Music Festival in June. Candida Doyle:
"
We heard that John Squire had been injured. We were recording Different Class at the time, so we went that day and stayed that night. And we had to stay in tents, because we'd turned up so late. It was like, 'God, we've made it'."
The show was a triumph; and the momentum carried them through the remainder of the album.
'Different Class'
features Jarvis Cocker on vocals, vox marauder guitar, ovation 12 string guitar, sigma acoustic guitar, roland vocoder plus vp-330, roland sh-09, mellotron, micromoog, and synare; Russell Senior on fender jazzmaster guitar and violin; Candida Doyle on farfisa compact professional ii organ, ensoniq asr 10, korg trident ii, minimoog, fender rhodes piano, roland juno 6, and roland sh-09; Steve Mackey on musicman sabre bass; Mark Webber on gibson es 345 guitar, gibson les paul guitar, gibson firebird guitar, sigma acoustic guitar, casio tonebank ct-470, fender rhodes piano, and roland juno 6; and Nick Banks on yamaha drums, zildjian cymbals, and percussion; with programming by Matthew Vaughan and Olle Romo, additional programming by Anthony Genn and Mark Haley; additional guitar and keyboards by Chris Thomas; orchestral arrangement and conducting by Anne Dudley; and Gavyn Wright as orchestra leader.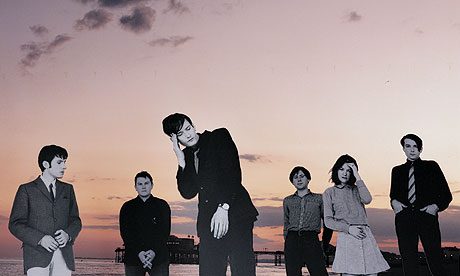 Banks: "A lot of the lyrics at that time were about a class divide. "Common People" was the pinnacle of that idea. And you thought, 'It's reaching out to people who do feel pissed off you get these poncey knobs poncing about. The audience are getting into that angry, us and them feeling, that idea of upstarts working their way up'."
When it was released in late October,
'Different Class'
went straight to number one in the UK. The album also charted around the world at number ninety-one in Japan, seventy-one in Germany, sixty-nine in the Netherlands, forty-seven in Belgium, forty-four in Australia, thirty-seven in Finland, thirty-six in Canada, thirty-four on the US heatseekers album chart, twenty-four in Austria, nineteen in Norway, seventeen in New Zealand, and number seven in Sweden.
'Different Class'
went on to win The Mercury Prize the next year.
Cocker contends: "It's quite strange when suddenly you feel locked into synch. I always think it's like - I haven't got my watch on, so I can't do a mime - people say, 'Your watch has stopped', at least it's right twice a day. It's like that. Somehow there's a congruency or whatever the proper word is, and for two or three months you're in tune with the times. It's funny, because for a long time we were completely out of step with what was going on. Painfully so...It's what I always wanted, right back to the time when I felt I was marginalised," he says with some relief. "For a start, it makes you feel that you haven't wasted the last 15 years of your life, that you were right to have carried on. It makes you feel you weren't mentally ill at that time."
http://www.acrylicafternoons.com/
lyrics:
http://genius.com/albums/Pulp/Different-class
"Common People"
"Sorted for E's & Wizz"
"Disco 2000"
"Mis-Shapes"
"Something Changed"
'Different Class'
full album:
All lyrics by Jarvis Cocker, all music written by Pulp (Cocker, Nick Banks, Steve Mackey, Russell Senior, Candida Doyle and Mark Webber), except tracks 3 and 10 music by Cocker, Banks, Mackey, Senior, Doyle.
"Mis-Shapes" – 3:46
"Pencil Skirt" – 3:11
"Common People" – 5:50
"I Spy" – 5:55
"Disco 2000" – 4:33
"Live Bed Show" – 3:29
"Something Changed" – 3:18
"Sorted for E's & Wizz" – 3:47
"F.E.E.L.I.N.G.C.A.L.L.E.D.L.O.V.E" – 6:01
"Underwear" – 4:06
"Monday Morning" – 4:16
"Bar Italia" – 3:42
Glastonbury 1995
Do You Remember the First Time?
Razzmatazz
Monday Morning
Underwear
Sorted for E's & Wizz (Live Debut)
Disco 2000 (Live Debut)
Joyriders
Acrylic Afternoons
Mis-Shapes (Live Debut)
Pink Glove
Babies
Common People