The Replacements had one more chance to get it all wrong and stumbled into the perfect balance of daring depth and androgynous adolescent aggression in the rooftop warning sound of this underground classic. The band had cut their teeth in the Minneapolis hardcore scene and built up a following with their first two albums 'Sorry Ma, Forgot to Take out the Trash' and 'Hootenanny' (and an EP 'Stink'); but they were ready to break out of that mold on their next go around.
Paul Westerberg reveals: "Playing that kind of noisy, fake hardcore rock was getting us nowhere, and it wasn't a lot of fun. This was the first time I had songs that we arranged, rather than just banging out riffs and giving them titles ... I'd matured a bit. Enough to go back and listen to the records I didn't break – the records I just stuck up the back of the rack – Jackson Browne, Joni Mitchell, Gordon Lightfoot, Dylan. We'd just come off touring 'Stink' and 'Hootenanny', and everyone else was hardcore, in black, deathly serious. We weren't the loudest or the meanest, we weren't the scariest, and I thought, 'Well, we're not gonna get anywhere down that path – perhaps we should try to craft songs that are a bit better than what we've been hearing.' Writing songs like 'Androgynous' and 'Answering Machine' wasn't difficult – I'd been tinkering with stuff like that early on. Presenting them to the group was. It was hard getting across the idea we should just put the best songs on the record, even if there wasn't always a place for Bob to have a hot lead. Bob was the hard one to get to acquiesce. So the breakthrough LP ended up putting the chink in the armour of the idea of us as a four-piece rock band ...
[The title
'Let It Be'
] was our way of saying that nothing is sacred, that the Beatles were just a damn fine rock & roll band. We seriously were gonna call the next record Let It Bleed...We didn't have a producer looking over our shoulder, saying, 'This isn't done, boys...The jump from a wild punk band to one that actually plays songs and has some interesting stuff came at the right time."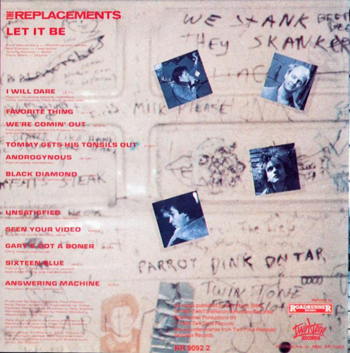 Steve Fjelstad, Peter Jesperson, and Paul Westerberg produced the sessions at Blackberry Way Studios in Minneapolis for Twin/Tone Records.
'Let It Be'
features Paul Westerberg on lead vocals, rhythm guitar, piano, mandolin on "I Will Dare", and lapsteel on "Unsatisfied"; Chris Mars on drums and vocals; Bob Stinson on lead guitar; and Tommy Stinson on bass guitar; with Chad Polling on piano and the guitar solo on "I Will Dare" played by Peter Buck.
'Let It Be'
did not chart; but the critical acclaim led to a deal with major label Sire Records.
Westerberg considered the band's outsider status:
"They see it as there's a hundred bands like us who would die for our chance, who are starving hungry and would do whatever they're told. And they don't understand that we want to go as far as we can, but we don't want to be like A-Ha and shit. We're not like the Cult. We don't have a strong, hip image that's going to sell right now, and they don't know what to do with us...We were heavily influenced by that. We weren't punks. We tried to be, but we realized that...It's the attitude. We're as rooted in that as the Beatles were in Chuck Berry. We can't shake it if we tried. I mean, we were punks. We weren't punk rockers, but we'll never be...anything slick or showbizzy. And that's what punk rock was. It was amateurism, for yourself, for fun. That's what we were. And then we heard punk rock and said 'Yeah, this is cool. This is easy.'...Lately, we've been trying to get a happy medium. We get a lot of people coming now to see us for the image and shit. And it's not something we contrive, it's what we are. But we'll try to play some of the songs good. It's like we won't try to purposely mess up. But there are some songs we'll just wing … And sometimes we're going for like a big kamikaze thing. I'd rather have them hating our guts in some circumstances, so they can at least go 'Who the fuck was that band?'"
Tommy Stinson added: "They think we're trying to piss them off, but we're just being ourselves. This isn't like a job. Or a big thing to make us popular and pick up chicks. We just like doing this – it's fun. They just sit there and go, 'You guys are just trying piss us off. You want to be the bad kids of the rock business'...We're such outsiders to say this again, but we get onstage, all our amps are far behind us, and you got a crowd that's real far in front of you, and you feel weird because you're standing there in the middle of nowhere with a guitar in your hand. You don't know what to do with it. Still, to this day, and we've been like in the band for five or six years. And you can't get up there and be nervous...But see, it's people like that who create a bad image for us that we have to try to live down. Or just say "fuck it" and don't even try to live it down. Might as well try to live up to it for that matter."
http://thereplacementsofficial.com/
I Will Dare
https://www.youtube.com/watch?v=sd7Hd6gRFIs
Androgynous
https://www.youtube.com/watch?v=73HSwpa5IXU
Unsatisfied
"I was not terribly happy. It was just the feeling that we're never going anywhere and the music we're playing is not the music I feel and I don't know what to do and I don't know how to express myself. I felt that one to the absolute bone when I did it."
https://www.youtube.com/watch?v=1n2EOgvPYN0
Sixteen Blue
https://www.youtube.com/watch?v=_SkV_QooeEU
Answering Machine
"try to free a slave from ignorance
try to teach a whore about romance"
https://www.youtube.com/watch?v=6BHGzCoWKps
'Let It Be'
full album:
Side one
1.
"I Will Dare"
Paul Westerberg

3:18
2.
"Favorite Thing"
Westerberg, Tommy Stinson, Bob Stinson, Chris Mars

2:19
3.
"We're Comin' Out"
Westerberg, Stinson, Stinson, Mars

2:21
4.
"Tommy Gets His Tonsils Out"
Westerberg, Stinson, Stinson, Mars

1:53
5.
"Androgynous"
Westerberg

3:11
6.
"Black Diamond"
Paul Stanley

2:40
Side two
7.
"Unsatisfied"
Westerberg

4:01
8.
"Seen Your Video"
Westerberg

3:08
9.
"Gary's Got a Boner"
Westerberg, Stinson, Stinson, Mars, Ted Nugent

2:28
10.
"Sixteen Blue"
Westerberg

4:24
11.
"Answering Machine"
Westerberg

3:40
deluxe edition bonus tracks
12.

"20th Century Boy"
Marc Bolan

3:56
13.

"Perfectly Lethal"
Westerberg

3:30
14.
"Temptation Eyes"
Harvey Price, Dan Walsh

2:30
15.

"Answering Machine"
(demo)

Westerberg

2:43
16.
"Heartbeat – It's a Lovebeat"
Michael Kennedy, William Hudspeth

2:55
17.

"Sixteen Blue"
(alternate vocal)

Westerberg

5:08
interview
https://www.youtube.com/watch?v=xEn8aiap8V4