Frank Zappa pluked this scrutinizingly satirical rock opera out of the nouveau-abstruse utility muffin research kitchen and backed the greasey tour bus into his imaginary loading zone. The success of his first album on Zappa Records
'Sheik Yerbouti'
, an idea for a single quickly ballooned into the three act concept of
'Joe's Garage'
.
The album features Frank Zappa on lead guitar and vocals; Warren Cuccurullo on rhythm guitar and vocals; Denny Walley on slide guitar and vocals; Ike Willis on lead vocals; Peter Wolf and Tommy Mars on keyboards; Arthur Barrow on bass, guitar, and vocals; Patrick O'Hearn on bass; Ed Mann on percussion and vocals; Vinnie Colaiuta on drums, combustible vapors, and optometric abandon; Jeff (Jeff Hollie) on tenor sax; Marginal Chagrin (Earle Dumler) on baritone sax; Stumuk (Bill Nugent) on bass sax; Dale Bozzio and Al Malkin on vocals; and Craig Steward on harmonica.
Zappa would relate: "
Peter Wolf and Tommy Mars, the keyboard players, were already in the band from
'Sheik Yerbouti'
, as was Ed Mann, Ike Willis was a roadie at a college date in St. Louis; he was helping set up the equipment.
He said he played the guitar and sang, so I told him I'd give him an audition. I did, and he turned out to be fantastic. Warren Cuccurullo was a fan up until the time he got into the band. In fact, he's in the movie, as a fan. He always told me that he played the guitar, and I said, 'Well, I'll try you out.' Shortly thereafter I flew him out to California and gave him an audition, and he turned out to be really great...
Found [Craig Steward, the harmonica player] in a bar in Wichita Kansas, about six years ago. He sounds like Coltrane on a harmonica. And I mean fast like you won't believe. This guy is like the Al DiMeola of the harmonica. I brought him out to California to audition when we were putting together the
'Roxy & Elsewhere'
album. But he was kind of a primitive musician; he'd never worked in a band before, and he didn't know how to learn parts. We were doing a lot of written stuff, and he couldn't read, and he had some difficulty manipulating the instrument in order to play some chromatic passages – because he only plays regular diatonic harp. I told him to go back home and develop his ear to the point where somebody could say, 'It goes like this', and he could hear it and play it. Five years later I got a letter from him; he said, 'I've been practicing and I want to try it again.' I got on the phone to him right away and got him out here."
The sessions for the album(s) took place at Village Recorders "B" in Los Angeles between March and June of 1979. Zappa confessed:
"I've always got too much material. But aside from putting out four-disc boxed sets every time, there's no way to do it except to string it out. So usually the material is years behind where I'm at when the thing comes out, with the exception of
'Joe's Garage'
. That was started off April 11th, so it's pretty much up to date...Take this album as an example of continuity imposed on a series of events that were never meant to be contiguous. When we went into the studio to cut "Joe's Garage" as a single and "Catholic Girls" as the B side, we stayed in there and cut about sixteen tracks. Then I figured out a story that would hold 'em together. It's all exercise. It's like doing crossword puzzles. In looking at it, I saw that not only did it make a continuous story, but it made a good continuous story...I've been in a garage, but so have a million other people. That's a highly romanticized, fantasy garage situation, you know, where the teenage girls all walk in and clap their hands and dance and stuff. Well, it ain't like that in a garage. No matter how much beer you drink, it's still out of tune, and there's only so many hours a day you can strum that E chord. That's an idealized garage that is probably more accessible to other people's idea of the garage. If I wrote a song about the way it really was in the garages I played in, it would be totally disgusting...I'm talking about a character named Joe, and there are a lot of Joes out there who have trouble with record companies and run up against bullshit every day. Maybe I do more interviews than they do. Maybe they don't want to talk bout it because they're scared that the record company will withdraw tour support, or whatever. Maybe they're just not the writers to come up and say something like that. One of my favorite philosophical tenets is that people will agree with you only if they already agree with you. You do not change people's minds. If you already suspect that's what's being said in
'Joe's Garage'
is true, then you will agree with it and like it...I think that cynicism is a positive value. You have to be cynical – you can't not be cynical. The more people that I can encourage to be cynical, the better job I think I have done ... Not bad for a comedy record."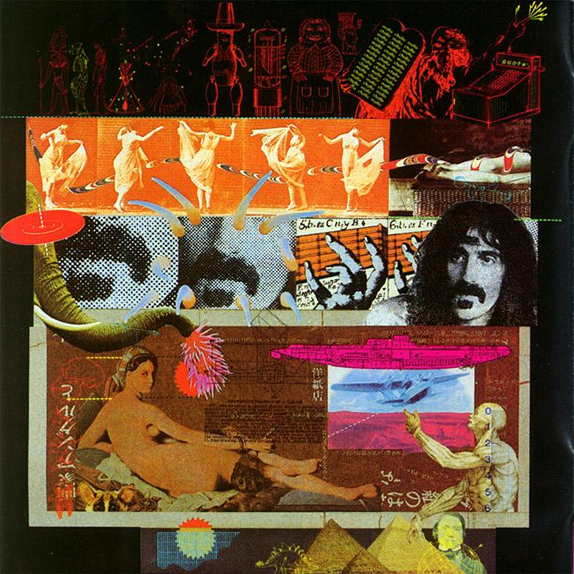 The concept of a futuristic society in which the horrible force of music is outlawed as a corrupting influence is a thinnly veiled swipe at conformity. Zappa considered:
"There's always unknown bands, there's always garage bands, and there's always upsurges. Some of it is wonderful and some of it is not. It's only because everybody is looking at it. Somebody writes in the newspaper, 'Punk is really happening,' bingo bango bongo, a thousand punk groups. The same guy who was singing like the Eagles the other day has just slashed his face with razor blades, stuck pins all over his nose, dyed his hair blue, got a mohawk haircut, ripped all his clothes, forgotten everything he ever learned on his instrument, bangs the fuck out of it and gets a contract for a hundred thousand dollars-because that's the way record companies think...Usually, when a trend starts, once you've assessed from photographs what the clothing style is supposed to be, you're in. That's what constitutes the bulk of the participants in any movement: this army of people wearing the uniform...The profile of a Zappa record buyer is not very uniform...Such a narrow spectrum is broadcast that a person doesn't have much to choose from. Your options are being narrowed down. Your taste is being manufactured for you by a program director."
'Joe's Garage, Part 1'
peaked at number twenty-seven while
'Joe's Garage, Parts II & III'
made it to number fifty-three.
The Cast:
Frank Zappa – Central Scrutinizer, Larry, L. Ron Hoover, Father Riley & Buddy Jones
Ike Willis – Joe
Dale Bozzio – Mary
Denny Walley – Mrs. Borg
Al Malkin – Officer Butzis
Warren Cuccurullo & Ed Mann – Sy Borg
Terry Bozzio – Bald-Headed John
The Utility Muffin Research Kitchen Chorus – Al Malkin, Warren Cucurullo, Dale Bozzio, Geordie Hormel, Barbara Issak & most of the people who work at Village Recorders
http://www.zappa.com/
"Watermelon in Easter Hay"
https://www.youtube.com/watch?v=B9DqykUsqRY
https://www.youtube.com/watch?v=OcDHUeCPs0c
"Joe's Garage" / "Why Does It Hurt When I Pee?"
https://www.youtube.com/watch?v=VX8415wWqU4
"Keep It Greasey"
https://www.youtube.com/watch?v=ly79mkffp7M
Sy Borg
https://www.youtube.com/watch?v=1PRjivglNzQ
'Joe's Garage'
full album:
https://myspace.com/frankzappa/music/album/joe-s-garage-acts-i-ii-iii-18668035
http://grooveshark.com/#!/playlist/Joe+s+Garage+Frank+Zappa+both+Albums/17767236
https://www.youtube.com/watch?v=epjesXIoFAo
All songs written and composed by Frank Zappa.
Act I
1.

"The Central Scrutinizer"

3:28
2.

"Joe's Garage"

6:10
3.

"Catholic Girls"

4:26
4.

"Crew Slut"

6:31
5.

"Fembot in a Wet T-Shirt"

4:45
6.

"Toad-O Line"

4:19
7.

"Why Does It Hurt When I Pee?"

2:36
8.

"Lucille Has Messed My Mind Up"
5:43
9. Scrutinizer Postlude 1:35
Total length: 39:32
Act II
1.

"A Token of My Extreme"

5:30
2.

"Stick It Out"

4:34
3.

"Sy Borg"

8:56
4.

"Dong Work for Yuda"

5:03
5.

"Keep It Greasey"

8:22
6.

"Outside Now"

5:50
Total length: 38:15
Act III
1.

"He Used to Cut the Grass"

8:35
2.

"Packard Goose"

11:34
3.

"Watermelon in Easter Hay"

9:09
4.

"A Little Green Rosetta"

8:15
Total length:
37:33