XTC loosened up and got carried away in the studio with the production of this sprawling sampling of psychedelicized citrus. Despite the critical and commercial success of 'Skylarking', the band was not happy with the experience of recording with producer Todd Rundgren. They worked with John Leckie again on their jokey Dukes of the Stratosphere side project 'Psonic Psunspot'; but, when it came time for the next XTC album, they decided to work with Paul Fox on what was to be his first album. Colin Moulding would reveal: "Paul's been kicking Los Angeles for about ten years as a session keyboard player, and he did a single with Boy George called "Living My Life," which he virtually took George's vocal and re-wrote all the arrangement around his vocal. It had previously been recorded with another producer, and I think Virgin Records weren't too pleased with the results, so they got Paul in to re-arrange the music, and he just re-wrote the whole song around George's vocal, so we thought - That's very impressive! So we thought maybe we should use this guy, so we got him down to Swindon, and had a chat, and we seemed to talk the same language and...He drunk more beer than what we could, so we were pretty pleased with that."

Andy Partridge adds: "Well, he was - just to finish off the Foxy tale here, he was literally the only producer we saw. We were supposed to meet up with lots of others and then put all their names in a great big hat, in an empty tape spool box, and draw one out, you know - 'So the producer will be (whssh!) seven and a quarter!' No, we didn't see any of the other producers. After this meeting with him, we thought, 'Mm, fine, we'll go with him.' And I think it was just the right choice. Of course, it wasn't till about three quarters of the way through that his wife let the cat out of the bag and said (atrocious American accent) 'Paul's very, very excited about the mixing that we're going to start in a day or so, this being his first album!' We thought - (makes horrified sound). A bit like being told you're about to land at Heathrow Aiport - 'Uh, is there any pilots on board? Can anyone fly one of these things?' But he landed it brilliantly and we're all cock-a-hoop with the results."
The sessions took place at Ocean Way Recording in Los Angeles and featured Colin Moulding on vocals and bass; Andy Partridge on guitar and vocals; and Dave Gregory on guitars, vocals, and keyboards; with Pat Mastelotto on drums, Mark Isham on horns, Paul Fox on keyboards, and Franne Golde on backing vocals.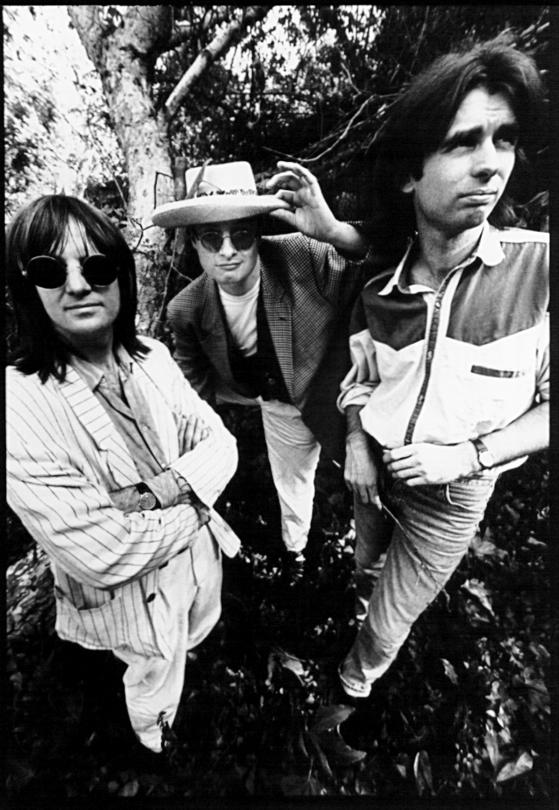 Partridge says: "I never went out at all. I'm really anti-sun. Los Angeles is not my idea of a dream place to live. Everything about it I find rather 'waaaaah!' - from the weather to the people. I don't think I can honestly say I believed anything a Los Angeleno told me...I wanted to make a very simple, banal-sounding record and it got lost in translation a little and came out rather multi-layered - in fact, very dense. We just got swept along with the enthusiasm: For the first time since our very first few albums, we were making an album that people actually wanted to hear...I like people to buy the records but I'd be quite happy if we were faceless musicians and it was just the name XTC they bought, like a steak sauce. I always felt uncomfortable with fame. Howard Hughes is my hero...It was nice to have somebody who listened to and tried our suggestions, even if they failed. It's difficult to play tennis on your own. You have to have somebody to whack the ball back; that's what keeps it going...Sometimes you have a definite image of what you want. You hand the song over to other members of the band and say, 'Do what you will; I'd like this kind of atmosphere'. Sometimes they get it totally wrong and it can be surprisingly rewarding. Sometimes they get it totally wrong and they'll smother it."
Gregory mused: "The more tracks you have in the studio, the bigger the temptation to fill them up is. So with this album, we were using two 24-track machines, with 48 tracks to mess about with, and pretty much all of them we used up. So there's an awful lot going on, and it becomes very difficult actually editing out the stuff when it comes to mix the thing - the decision-making process is [difficult]...We do tend to fill up all the available tracks on the tape machine, that's one of the problems actually."
Partridge considers: "It's harder, faster and slicker than our last album ('Skylarking'), which was produced by Todd Rundgren,. Todd's a quiet sort of chap, so the record ended up having a pastoral, paisley kind of feel to it. For the new record, we brought in Paul Fox, who's produced albums for Boy George and Yes. The result is more like a psychedelic dragster-very fast and flashy, with lots of chrome and huge flames coming out of the back. I suppose it is a bit of a risk releasing a double album, but we're the sort of band that'd rather put out a body of work than dribs and drabs over a couple of years. As it is, we had to be persuaded not to record a triple album ... This album was - put together, played, just everything about it, we were in, I think, a really positive state of mind, and I think that this album is made with verve, which is kind of down on the last couple of albums, the verve level, the verve controls, only at number three. . . On this one, the verve control's right up there - that was the reason it was called 'Oranges and Lemons', it is played - I don't know what the Italian term you put on music is, but it's played briskly and brightly, and really, our state of mind, I mean, we were making an album that we knew the public out there was actually waiting to hear. That's the first time in our history we've ever done that, because we just don't sell enough records, and we'd been running on empty now for twelve years, and then suddenly we get the idea that the public is waiting to hear this record, because Skylarking did so well for us. And the state of mind was great, because it just made you want to get in there and kind of crank that thing up and go (yells) YEEAAAYYY!!"
'Oranges and Lemons' went to forty-four in the US, thirty-one in Sweden, and twenty-eight in the UK.
http://chalkhills.org/
A "History of XTC puppet show" film used to promote the release of Oranges And Lemons
http://www.youtube.com/watch?v=nMIC_66l-YE
http://grooveshark.com/#!/album/Oranges+and+Lemons/1187054
The Mayor Of Simpleton
http://www.youtube.com/watch?v=5Da9sc6YDBo&feature=kp
King for a Day
http://www.youtube.com/watch?v=depsFULhqV8&feature=kp
The Loving
http://www.youtube.com/watch?v=FveVGRUFhmU
'Oranges and Lemons' / 'Nonsuch'
full albums:
http://www.youtube.com/watch?v=bYBTQ8hDYq0
0:00:00 Garden Of Earthly Delights
0:05:03 Across This Antheap
0:09:52 Scarecrow People
0:14:05 Poor Skeleton Steps Out
0:17:34 Omnibus
0:20:54 That Wave
0:24:27 Then She Appeared
0:28:20 Wrapped In Grey
0:32:07 The Ballad Of Peter Pumpkinhead
0:37:07 King For A Day
0:40:28 One Of The Millions
0:44:54 Merely A Man
0:48:21 War Dance
0:51:43 Rook
0:55:29 Humble Daisy
0:59:08 The Vgly Vnderneath
1:03:03 Miniature Sun
1:07:02 Chalkhills And Children
1:11:52 The Disappointed
1:15:17 Holly Up On Poppy
1:18:21 My Bird Performs
1:22:12 Books Are Burning
1:27:02 Dear Madam Barnum
1:29:55 Bungalow
1:32:45 Here Comes President Kill Again
1:36:19 The Loving
1:40:32 Pink Thing
1:44:19 The Mayor Of Simpleton
1:48:17 Cynical Days
1:51:34 The Smartest Monkeys
1:55:53 Hold Me My Daddy
1:59:41 Crocodile