Joni Mitchell worked with a band and had her greatest success with these impressionistic jazz pop character studies about love, freedom, and the idiomatic logic that went on in her head. She had released five albums in five years with increasing success; but for 'Court and Spark' Mitchell took a year composing, working on a new sound, and finding a band to back her. Mitchell recounts:
"'Court and Spark' which was my sixth album -- see, I had five without really like a band. There was no real chance of air play without the bottom end on it, and it took me that long to get my band. So I get my band, the record has some commercial success, some nominations, and it's viewed as a kind of a peak. And after that -- okay, because I was so long to develop, six albums, that's as much of a run as people get in the public eye without -- your name is boring. It doesn't matter what you do after that. But I was still in a state of growth, right?"
She worked with jazz fusion group L.A. Express which included Max Bennett, John Guerin, Larry Carlton, and Joe Sample. 'Court and Spark' was produced by Joni Mitchell with Henry Lewy, who co-engineered with Ellis Sorkin. The sessions featured Joni Mitchell on vocals, including background; acoustic guitar; piano; and clavinet on "Down to You"; John Guerin on drums and percussion; Wilton Felder on bass; Max Bennett on bass on "Trouble Child"; Jim Hughart on bass on "People's Parties" and "Free Man in Paris"; Milt Holland on chimes on "Court and Spark"; Tom Scott on woodwinds and reeds; Chuck Findley on trumpet on "Twisted" and "Trouble Child"; Joe Sample on electric piano, and clavinet on "Raised on Robbery"; David Crosby on background vocals on "Free Man in Paris" and "Down to You"; Graham Nash on background vocals on "Free Man in Paris"; Susan Webb on background vocals on "Down to You"; Larry Carlton on electric guitar; Wayne Perkins on electric guitar on "Car on a Hill"; Dennis Budimir on electric guitar on "Trouble Child"; Robbie Robertson on electric guitar on "Raised on Robbery"; José Feliciano on electric guitar on "Free Man in Paris"; and Cheech Marin and Tommy Chong on background voices on "Twisted".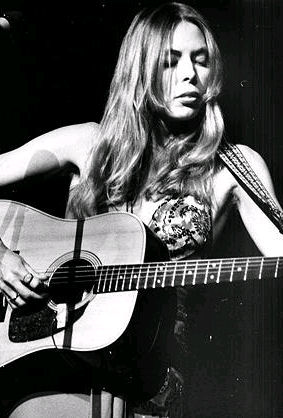 'Court and Spark'
went to number thirty-four in Australia, eighteen in Norway, fourteen in the UK, two in the US, and number one in Canada. It became her biggest selling album, going double-platinum in the US and gold in the UK. It received Grammy nominations for Record of the Year for "Help Me", Pop Female Vocalist for "Court and Spark", and Album of the Year; winning for Best Arrangement Accompanying Vocalist(s) for "Down To You".
'Court and Spark'
was also voted the 'Best Album of the Year' in The Village Voice Pazz & Jop critics poll.
Mitchell says:
"I don't think of myself as confessional. I would call myself a penitent of spirit, not a confessor. The point is not to confess and the things where I have revealed my own foibles or frailty were generally within the context of the work to -- in order to create first a very human character and therefore a rich character full of human experience -- okay, you have to work with the fodder that you have. I've also used the songwriting process as an investigation of self, self-analysis of sorts, but not just for the sake of spilling my guts or taking off my clothes, so to speak, in public. It had to have something accompanying it in order for me to think of it as a work of art and therefore something I'm proud to present because I'm not necessarily showing myself in a particularly flattering light, not in the pop arena... I wanted to create a persona that was actual, that was really who I was, you know, so that if I had any insight -- because I took this job very responsibly -- to pass on since I had a public voice I felt I better be presenting something nourishing and useful. But if I do it with a certain kind of voice, I will be mistaken for some kind of guru, you know, and I'm no guru. I'm muddling around here with everybody else. Therefore, the character must deliver the light as it emerges from darkness. It's got to be a balanced portrait. I never wanted to act the part of a poet, so all these pearls of language, wisdom were falling from my lips."
http://jonimitchell.com/
"Help Me"
"Free Man in Paris"
"Raised on Robbery"
'Court and Spark'
full album:
All songs composed by Joni Mitchell
1. Court and Spark 0:00
2. Help Me 02:45
3. Free Man in Paris 06:08
4. People's Parties 09:11
5. Same Situation 11:27
6. Car on a Hill 14:24
7. Down to You 17:26
8. Just Like This Train 23:05
9. Raised on Robbery 27:29
10. Trouble Child 30:36
11. Twisted 34:35